Susan Sarandon on robot rights in "Robot & Frank" and her "Cloud Atlas" role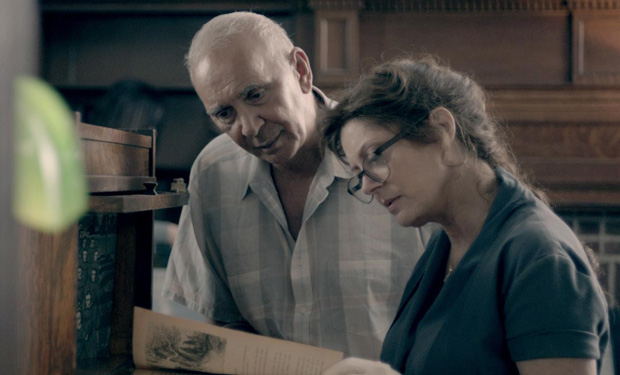 Posted by Rick Marshall on
In the new film "Robot & Frank," Susan Sarandon plays a librarian coping with the near-future implications of a world in which print material is quickly going the way of the dinosaur, soon to be replaced with digital data. The only person less at ease with the shift from physical books to virtual information is her library's last remaining customer, Frank (Frank Langella) — an aging former thief whose creeping Alzheimer's has made every trip to the library a unique experience.
It's a heart-warming — and occasionally heart-wrenching — film written by Christopher Ford that has a fair share of surprises for its audience, as it drifts away from the expected tropes under director Jake Schreier, who makes his feature debut with the movie. According to Sarandon, those surprises were a big part of the project's appeal.
"When I read the script, I didn't know where it was going," Sarandon told IFC during the press junket for the film. "I loved the take they had on the future. I met with the director, who was incredibly excited, and I saw his reel, which was very fun and different. I was filming another big movie at the same time, but they worked out the dates and I thought why not give them a shot? Let's jump in."
And jump in she did, adding even more star power to a film that's now generating quite a bit of buzz on the festival circuit. While Langella's character and his evolving relationship with his robot caretaker (voiced by Peter Sarsgaard) are the focal points of the story, characters played by Sarandon, Liv Tyler, and James Marsden also factor prominently in the film.
"You look at the cast, and you look to see who's in the cast and maybe there's someone you haven't worked with before, someone you know, which was the case in this," explained Sarandon. "I'd worked with Jimmy before and I knew Liv and I knew Frank a little bit, but I'd never worked with him. He's great."
"You can tell by the casting the tone of what's going to happen, and then you just jump," she laughed. "You throw caution to the wind and hope that some part of what they discuss in their vision ends up happening."
Sarandon said it was also the "near future" setting of the film that piqued her interest, which presents a softer version of sci-fi in what is essentially a futurist, sci-fi movie set not too far down the road.
"It was described to me as being in the future, but really the future hasn't turned into the Jetsons the way we thought would happen," she explained. "But at the same time, look at how we're giving every piece of information about ourselves to everybody. Nobody thought that would happen unless a police state happened, and instead we just joyfully hand it over."
"I think sometimes that what you project is going to be the future, some of those shinier things don't happen, but a lot of it did," she continued. "I think ['Robot & Frank'] is a very realistic idea of what the future would be like. It says it's not that far in the future, but the way books are disappearing, I could see it."
And even though the story unfolds around Frank, he's only half of the title's duo. One of the other "near-future" notions touched on in the film is the nature of robots' role in the world, and exactly where their rights begin and end for both society at large and in Frank's mind.
Never one to shy away from voicing her views on such matters, Sarandon offered some food for thought when IFC asked her where she might align in the "robot rights" debate.
"This robot doesn't seem to want to be considered human and doesn't expect certain rights, but we're programming more and more intelligence into them and they will probably have a union at some point when they get in everybody's homes," she said. "I'm definitely very lucky to have a job that pays me the way it does and to be able to pay for my kids' education and health care, but I don't need to have billions of dollars to feel okay. And I think it's a stronger society when we do spread things around."
"Even in 'Harry Potter,' I was definitely down for that house elf," she laughed. "He was fabulous and I felt very strongly about elves' rights and stuff like that. It just makes for a happier place if everyone's feeling good about themselves. No matter if they're metallic or elves, let everybody feel like they're being respected."
Still, not all is well and good in Frank's life — or the robot's version of "life," for that matter. As their relationship blossoms, Frank finds himself itching to get back to old habits, and as his awareness and grip on reality grow, so does his desire to jump into the next heist.
"I think you definitely cheer for him to be involved in his old habit, because when people have something they're excited about, they tend to stay alive," said Sarandon of the unique dilemma the film presents. "That's why pets are so important for people when they get older. For me, the sinister part of it was this idea that he's losing his mind. That really scares me — the idea of losing touch with everything and ending up having to have somebody make sure you don't just walk into the woods and disappear. . . . But I didn't mind him stealing from the bad [people]. That idea is a very Robin Hood approach. . . . It didn't bother me."
Of course, "Robot & Frank" isn't the only film with the futurist bent that Sarandon is involved with these days, and while we had the chance to talk with her, we couldn't help asking for more information about her role in "Cloud Atlas," the new film based on David Mitchell's award-winning 2004 novel. The first trailer for the film debuted recently, and Sarandon can be seen in a brief scene, though she's simply credited as "actress" in the movie.
"I play five different characters, one of which is a guy," she explained. "I don't want to tell you anything more, but they're small parts everybody plays. It was a boisterous atmosphere, with people putting on noses and chins and mustaches and playing different genders, different colors, different everything."
"I think that's what they were trying to say, is that we're all connected," she continued. "And all the rest of it is just details, and underneath, whatever kindness or meanness you exhibit somehow determines the future — that it will continue the cycle. If you listen to my voiceover you'll hear all about it. But my parts are really small. I was just so thrilled ot be asked to be in any part of it."