"Star Trek 2" to be titled "Star Trek Into Darkness"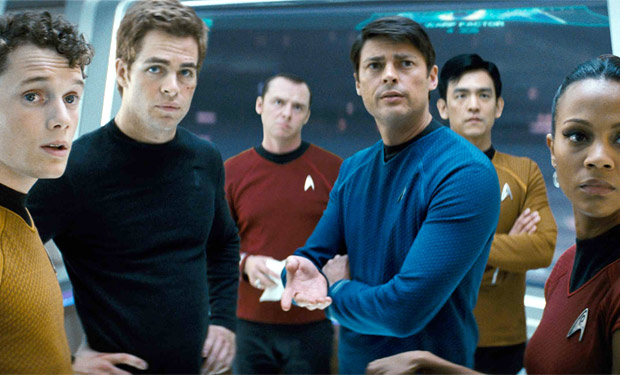 Posted by Terri Schwartz on
It's official: Kirk and Spock will soon be going on a "Star Trek Into Darkness."
The title for "Star Trek 2" has been announced and it's deviating from the previous series' formula. Instead of a name like "Star Trek II: The Wrath of Khan," J.J. Abrams and company have instead opted to go the "Dark Knight" and "Die Hard" route. The title, "Star Trek Into Darkness," has divided fans, but we sort of think it has a nice ring to it. At least they're trying to go where no "Star Trek" creator has gone before.
TrekMovie was the first to learn that a title had been chosen for "Star Trek 2," with Coming Soon discovering soon after that Paramount had registered domain names using the title "Star Trek Into Darkness." Both Deadline and TrekMovie have since confirmed that's the official title.
Writer Damon Lindelof had previously said that "Star Trek 2" will have a title that drops the colon.
"There have been more conversations about what we're going to call it than went into actually shooting it at this point," he told MTV News at Comic-Con, adding that it can't be "Star Trek 2" because that's what "Wrath of Khan" is technically called. "That was the genius of Nolan. There was 'Batman Begins,' and now they're just going to be the 'Dark Knights' and not going to have 2's. It's hard to do movies without colons."
He added, "There's no word that comes after the colon after 'Star Trek' that's cool. Not that 'Star Trek: Insurrection' or 'First Contact' aren't good titles, it's just that everything that people are turned off about when it comes to 'Trek' is represented by the colon."
"Star Trek Into Darkness" is due in theaters on May 17, 2013.
What do you think of "Star Trek Into Darkness" for a title? Tell us in the comments section below or on Facebook and Twitter.