Exclusive premiere: Angus Stone "Clouds Above"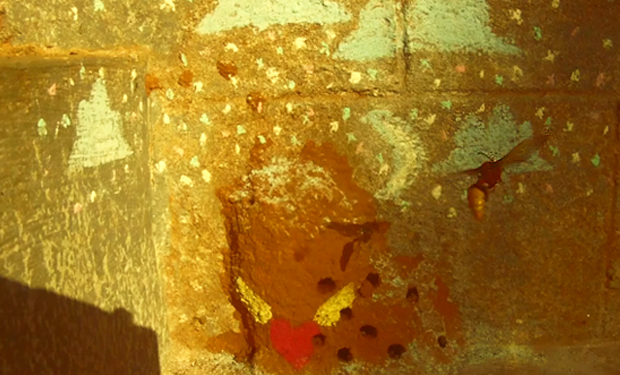 Posted by Brandon Kim on
Angus Stone is that rare breed of man who is both rustic and sensual, something that comes across with apparent ease in his music. He also finds satisfaction in hand decorating hornet's nests, while waiting for new hatchlings to emerge — even more impressive once you see the size of the beasts. As one half of Australian brother/sister duo, Angus & Julia Stone, he just released his debut solo album "Broken Brights," but he is far from new to the scene.  In this gorgeously realized psychedelic video for "Clouds Above," which he shot and edited himself, Stone finds beauty in rural India.
"I was living with a family in the hills of Southern India and I brought my camera along to film my stay," Stone said. "The one thing I spent the most energy on was sitting by the hornets' nest for hours, just waiting for them to hatch." Apart from sessions in Australia and the Swiss Alps, the singer-songwriter recorded part of the album in a wood cabin overlooking the verdant Indian countryside.
"When I think back, I was very much coming to life again through my journey to India," Stone reflected, "Just as [these] hornets were seeing the world for the first time."
video player loading
.
.
.
Stone rolls out his first solo North American tour today:
09/11 – Los Angeles, CA @ Troubadour
09/12 – San Francisco, CA @ Slim's
09/14 – Portland, OR @ Doug Fir Lounge
09/15 – Seattle, WA @ The Crocodile
09/16 – Vancouver, BC @ Electric Owl
09/18 – Salt Lake City, UT @ The State Room
09/19 – Boulder, CO @ Fox Theatre
09/21 – Chicago, IL @ Park West
09/22 – Pontiac, MI @ The Crofoot – Pike Room
09/23 – Toronto, ON @ Opera House
09/24 – Montreal, QC @ Caberet Du Mile End
09/25 – Allston, MA @ Brighton Music Hall
09/28 – Washington, DC @ Rock And Roll Hotel
09/29 – New York, NY @ Bowery Ballroom
09/30 – Philadelphia, PA @ World Café Live
Let us know what you think of this multi-talented man in the comments below or on Twitter or Facebook!