Norman Reedus chats about the upcoming season of "The Walking Dead," apologizing to Naomi Watts, and his upcoming film slate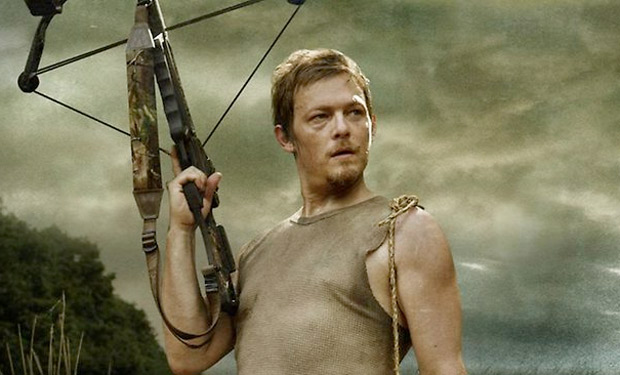 Posted by Scott Neumyer on
Norman Reedus may have broken onto the scene with roles in films like "Mimic" and "8MM," but it's his role as Murphy MacManus in Troy Duffy's 1999 cult classic "The Boondock Saints" that really made the actor a star. Fast forward a decade to 2010 and Reedus would soon become a household name by playing a foul-mouthed (but often lovable) redneck that kills zombies with pinpoint accuracy with the help of his trusty crossbow. Reedus' star power exploded with his role in AMC's "The Walking Dead" and it's about to get even brighter with the premiere of the show's third season on October 14th.
Reedus sat down with IFC.COM recently to chat about his upcoming film slate, how he found himself apologizing to Naomi Watts on a daily basis, and just how "crazy" the upcoming season of "The Walking Dead" is going to be.
IFC: Do you feel like Daryl's more of a likeable guy now than he was when "The Walking Dead" first started?
Norman Reedus: It's funny because we're almost wrapped up with season three – we've got maybe four or five more episodes – and I've had to go back and forth between this ferocious guy and the "please help me, I'm a wounded animal" guy that I don't know what to ask for. They ask me what kind of things I want to do as the character, and I can't decide if I want to poke a bunch of people's eyes out and cut their throats or just curl up in a ball and cry because they're both kind of fun.
IFC: I think Daryl and Carol became closer to each other this past season than almost anyone else on the show. Tell me a little bit about your relationship with Melissa McBride.
REEDUS: I adore Melissa. She's one of my favorite actors on the show. She's such a good actress and she has so much inside that she can just open her eyes and stare at you and listen and so much stuff comes out of her. I've been very fortunate in the fact that I've had a lot of scenes with Melissa – private scenes. It's just the luck of the draw, I think. Both of our characters are very similar – they're damaged people gravitating towards damaged people – but I love Melissa. She's one of my dearest friends and she's just awesome to watch. She's really magnificent.
IFC: Any hints you can give us about what we can expect for Daryl in season three?
REEDUS: Rick has sort of become the brother than Merle wasn't. So now that Merle's back, there's a lot of confrontation. There's a lot of bullets. There's a lot of kills. There's a ferociousness to this season that wasn't in seasons one and two. The first season was kind of an introduction. The second season we sort of treated the zombies like we were terrified of them. The third season it's like a plague. It's like an infestation of giant man-eating rats. Everyone's just pissed off. So everyone's demeanor is different in the third season, and everyone's just fed up. It's a new animal this year.
IFC: This little movie you made with Sean Patrick Flanery and Troy Duffy has become a huge cult classic. Do you still get people coming up to you and telling you that "The Boondock Saints" is their favorite movie? Do they want to see your hands to see if the tattoos are there?
REEDUS: Every day. Every day, all day long. (Laughs) I did the USO tour with Sean. We got to meet the troops in Dubai and Bahrain and Djibouti and Ethiopia and to have that many people who are just complete badasses and love that film and know every single quote in that film, it was pretty humbling. I have firemen and policemen, all the time, tell me that's their favorite movie.
I remember talking to Willem Dafoe a long time ago and he's like "All I ever wanted to be was a really good cult actor," and I was like "What the hell's he talking about? What's that mean?" And then I discovered the legions of fans that come with cult films. It's pretty awesome. I thank my stars every day that Troy gave me that shot.
IFC: Obviously you still love the movie at this point. You're not tired of talking about that one yet?
REEDUS: Nah, man. I love that film. It's one thing to do a big film and have every billboard on the planet to promote it, and every commercial. But we did this little film and had none of that. No had no P&A [publicity and advertising] at all. It was just passed around through word of mouth and it became this big deal. And, you know, that never happens. That's cooler than being the big film that's overly promoted and doesn't do anything. It's a much bigger prestige for me. It's sort of like the people's movie and I'm super proud of it.
IFC: You have a few movies coming up that people are excited about. In "Sunlight Jr." you get to work with Naomi Watts and Laurie Collyer. How has that experience been for you?
REEDUS: Yeah, and Matt Dillon too. You know, Laurie's great. I met Laurie in Little Italy back in New York, right around the corner from my apartment and I just fell in love with her. I was like "I'll do anything you want to do." She's such a strong woman with a vision. So I sat down with her and she had this punk rock t-shirt on and I was like "Who is this chick?" I totally fell in love with her.
This film? I'm all sorts of fucked up in this film. I think my first line ever on "Sunlight Jr." was to Naomi and it was "I can smell your pussy through the glass." (Laughs) Every day I was like "I apologize. I'm sorry. I'm sorry about tomorrow." (Laughs) It's gonna be interesting.
IFC: That's your Hannibal Lecter line.
REEDUS: I know, right? (Laughs) I'm all sorts of white trash in that flick. Not like Daryl, though. I'm like "city white trash." I'm more meth-head white trash. I've got the tank top and the big gold chain. I've got flip-flops with the white socks on. The whole thing.
IFC: So you move from "Sunlight Jr." over to "Pawn Shop Chronicles," which is more of an action-comedy. Does that mean we get to see you do a little bit of comedy too?
REEDUS: Well, it's interesting in that movie because you gotta look for me. I decided that I wanted people to see me in that film and be like "Was that so-and-so?" They kept asking me "Can we see your face a little bit more?" and I'm just like "No. Not at all." It's one of those cameos that will be super fun to watch.
Even on that film with all these big stars in it, though… I sat around in Florida doing that film and all I wanted to do was go back to Georgia and be Daryl Dixon again. So, my heart's really in Daryl Dixon.
You can see Norman Reedus as Daryl Dixon in "The Walking Dead" when Season 3 premieres on AMC on October 14.