Call-In Commentary: Watch the "Looper" trailer with writer-director Rian Johnson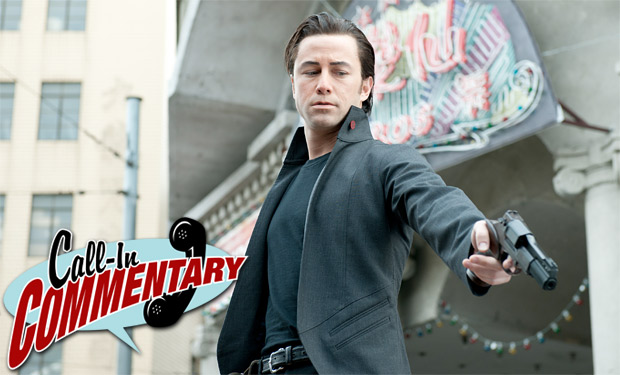 Posted by Brian Jacks on
One of the most underrated talents in Hollywood, Rian Johnson ("Brick," "The Lookout") finally makes his major studio debut with "Looper," a taut sci-fi mindbender starring frequent collaborator Joseph Gordon-Levitt, Bruce Willis and Emily Blunt. The film takes place in a grit-filled near-future where time travel has yet to be invented, but will be in the even farther future. In that more distant time, killing folks is near-impossible so the leading crime syndicate zaps their would-be victims back into the past where loopers wait for their prey, and then blast them as soon as they arrive at a meticulously coordinated time.
Gordon-Levitt plays Joe, one of the youngest loopers whose life comes to a crossroads when the intended victim sent back is…himself, 30 years removed. When the older version of him manages to escape, it sets in motion one of the most exciting and intelligent movies of the year.
That's exactly why we were thrilled to enlist Johnson for our Call-In Commentary series, where filmmakers provide narration to their movie trailer. In the video below, Johnson takes you through his picture, laying out behind-the-scenes anecdotes and interesting factoids, such as how one diner scene used more film than the entire making of "Brick." Check it out below; "Looper" opens nationwide this Friday.
video player loading
.
.
.
MORE CALL-IN COMMENTARIES:
– Watch the "For a Good Time, Call…" trailer with writer-director Jamie Travis
– Watch "The Babymakers" trailer with director Jay Chandrasekhar of Broken Lizard
– Watch the "Robot & Frank" trailer with director Jake Schreier
– Watch the "Iron Sky" trailer with director Timo Vuorensola
– Watch "The Imposter" trailer with director Bart Layton
– Watch the "Dark Horse" trailer with writer-director Todd Solondz
View more Call-In Commentaries…
Will you be checking out "Looper"? Let us know in the comments below, or on Facebook or Twitter.