"Looper" director Rian Johnson talks time travel, genre-bending, and capturing the essence of Bruce Willis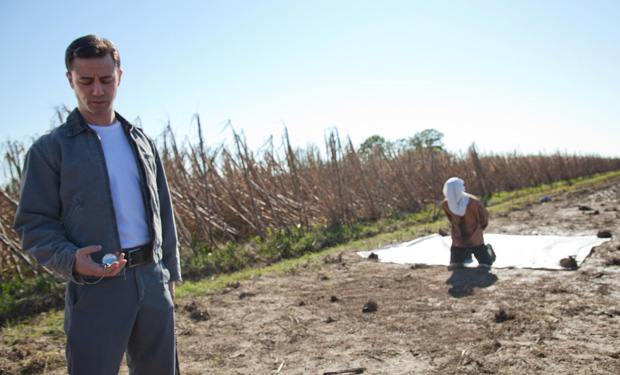 Posted by Rick Marshall on
How do you hunt your future self? That's the question posed by "Looper," the new time-travel blockbuster from writer/director Rian Johnson, who first made a name for himself with the brilliant high-school noir mashup "Brick."
In "Looper," Joseph Gordon-Levitt plays Joe, a hired assassin in the year 2042, tasked with dispatching the mob's enemies after they're sent back in time and disposing of the bodies in the best hiding spot of all: the past. However, when Joe discovers that his future self (Bruce Willis) will be his next victim, things take a time-twisting turn that puts Joe, his future self, and everyone around them into the middle of an explosive chase that could change the present and the future.
IFC had the chance to sit down with Johnson for a brief chat about "Looper," keeping track of Joe's timelines, and why it's so easy to believe Gordon-Levitt really is a younger version of his veteran co-star.
IFC: My first question for you is the one that everybody seems to be asking: How did you make Joseph Gordon-Levitt look so much like Bruce Willis?
RIAN JOHNSON: We had a really talented makeup designer, Kazuhiro Tsuji, who's just a brilliant guy. But when we first showed him Joe and Bruce next to each other and told him what the challenge was, he basically said, "You can't do it. It's impossible." He refused to do it. I had to pester him for a few months to get him to agree to do it. Because Joe and Bruce, they look so dissimilar. He showed me their faces and diagramed them out and said, "This is why they look different: their head shapes are different, their eyes are spaced differently…" Eventually, the way I won him over was I told him, "Look, we're not going to try to make Joe look like Bruce in 'Moonlighting.' We're just going to pick a couple of key features and nudge them a little closer to Bruce."
IFC: Yeah, there's definitely this confusing moment when you first see Joe, because you know what he looks like normally, but certain features of his face are very, very different…
JOHNSON: Yeah, it's the nose, and then the lips and brow… We put these very uncomfortable contact lenses in Joe's eyes, too. But it was all prosthetics. None of it was CG, it was all practical makeup.
IFC: I was particularly impressed by how much Joe sounded like Bruce — his inflection and general way of speaking were spot-on.
JOHNSON: Really, at the end of the day, if Joe feels like Bruce, it's mostly because of his performance. It's the voice and the mannerisms. He really dialed it in so that it doesn't feel like a Saturday Night Live impression. He really captured the essence of Bruce. [Laughs]
IFC: One thing with time-travel stories that I'm always fascinated to know more about is how you, as the writer of the film, kept track of the different timelines and who needed to be doing certain things at certain times to make it all work out, and so forth.
JOHNSON: I did kind of diagram it out. The truth is that the diagram is fairly simple, though. If you step back and look at it, there's really only one alternate element, and that's Old Joe's timeline. Other than that, it goes along in a completely linear way. I made it a little easier on myself than I could have with a time-travel movie. That was intentional, though. I've mentioned the first "Terminator" film before in terms of looking at a movie where time travel sets a situation going and then gets out of the way and lets that situation play out. That was the intention here, too.
IFC: Yeah, it felt like you were speaking to the audience at one point in the film when Joe and Bruce are discussing their characters' timelines and how the actions Joe's character takes affect Bruce's character, and Bruce basically just says, "Stop thinking about all of that stuff. You'r just going to make your head hurt."
JOHNSON: Yeah, I hope it's speaking to audience, and to a certain degree speaking for the audience, too. Hopefully that's where the audience's head is at when we get to that point. As interesting as this stuff is and as many questions as we have in our heads at that point, we don't want to see a 20-minute scene where he explains all of the time-travel rules in the movie. At least, I hope not. But at the same time, I'm always nervous because I'm a sci-fi nerd myself. I'm nervous that the line you mentioned is going to make people think we didn't take the time-travel element of the movie seriously. Because I really did. I came up with a set of rules, and I can't say that they'd hold up if you dig into them deep enough, but I had a set of rules that were consistent and that we applied to this story. And we showed the effects of those rules instead of having a scene where we explain them.
IFC: You have this great knack for superimposing one genre over another, or rather using the tone and setting that's typical to a certain genre as the storytelling vehicle for a different genre. It was most obvious in "Brick," but we see it again here in "Looper," with the '50s tone of Joe's future world and the use of those "Blunderbuss" guns and so forth. Where does all that come from?
JOHNSON: I think when you're working in a specific genre, it's always nice to look for influence outside of that genre. It just infuses everything with a breath of fresh air and keeps it interesting for you. With sci-fi, a genre I'm such a big fan of, I grew up watching all these movies and I kind of know "Bladerunner" is going to be in there somewhere. I know that "Star Wars" and "Back to the Future" and "12 Monkeys" will all be in there and seep in naturally. So I try to push that out of my conscious mind and look for influences that are a little more far afield. In the beginning, I was looking at the [Jean-Luc] Godard films and the French new-wave films for the kind of loose anarchy of how these guys live their lives in "Looper." But the back half of the movie probably owes much more to the film "Witness" than any science-fiction movie. For me, that's always a way to keep things fresh and interesting: looking outside the typical range of inspiration.
IFC: You've mixed and matched so many genres at this point, so is there a genre you still haven't worked in that you'd like to play around with?
JOHNSON: A musical would be fun to do. Joe has to do a musical, whether I do it with him or not. He needs to be in a proper musical. The truth, though, is right now I'm in the middle of coming up with ideas for the next film, and a lot of the things I'm coming up with are still in the sci-fi world — just vastly different from "Looper." There's such a breadth and range of what you can do there, and there are so many storytelling possibilities that sci-fi affords you. I had a lot of fun working with that in "Looper," so I might actually stick around there for a little bit longer. I'm also a big Agatha Christie fan, and I have a whodunit idea that could be a lot of fun. I've got stuff all over the map.
IFC: What about television? I was pleasantly surprised to see that you directed some episodes of "Breaking Bad" a while back…
JOHNSON: Yeah, I did that and an episode of my friend Ted Griffin's show, "Terriers." It's fun to do stuff like that when you're a fan of it. So if something else presented itself that was awesome like that — the equivalent of Vince Gilligan knocking on my door — that's hard to down. He's Heisenberg, after all. [Laughs]
"Looper" opens Friday, September 28, and stars Joseph Gordon-Levitt, Bruce Willis, and Emily Blunt. Look for our review of "Looper" on IFC.com later this week.