Check out Lindsay Lohan and Charlie Sheen in bed together for "Scary Movie 5"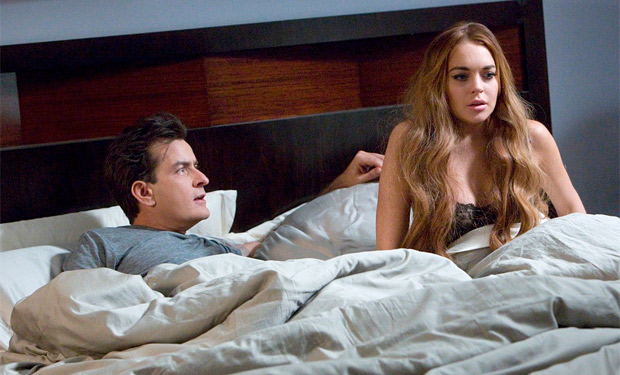 Posted by Brian Jacks on
Professional American trainwreck Lindsay Lohan made news last week when she reportedly attributed missing a "Scary Movie 5" shoot day due to "walking pneumonia." Whether or not that was actually true, now we have our first glimpse of the erstwhile teen starlet in the film alongside fellow tabloid fodder Charlie Sheen. The photo shows the two in bed together, and it's unknown whether the pair's cameos extend beyond this scene.
The film is the first new addition to the perennial "Scary Movie" franchise since 2006's "Scary Movie 4." Originally started by the Wayans brothers, the latest addition doesn't feature a Wayne in site, relying on a new director and a new co-writer in comedy legend David Zucker. Whether he can bring his "Airplane" and "Naked Gun" success to the "Scary Movie" franchise is an open question, but if the franchise's past box office successes are any indication, it should do well with some audiences.
"Scary Movie 5" is slated to open April 13, 2013.