"Kick-Ass 2" director Jeff Wadlow teases Mother Russia in new set picture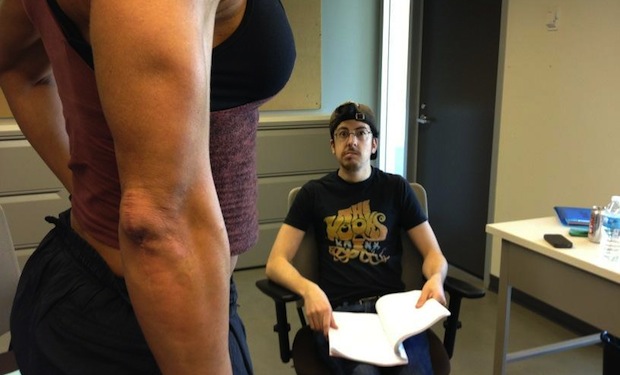 Posted by Terri Schwartz on
Mother Russia is everything we dreamed she would be. We just wish we could see her face.
"Kick-Ass 2" director Jeff Wadlow has tweeted the first image of the movie's new villainess from the set but hasn't yet revealed the actress who will be playing her. The photo shows Christopher Mintz-Plasse looking terrified of the buff woman who will be playing his character's bodyguard in the new comic book flick.
"2 days till we start shooting… and Chris just met Mother Russia!" Wadlow tweeted.
We've been waiting for Mother Russia to be cast since mid-July, and it seems like we will have to wait a bit longer. At least we have official confirmation that Jim Carrey has joined the cast as Colonel Stars, an ally of title character Kick-Ass.
Wadlow has been teasing various elements of "Kick-Ass 2's" production in the days leading up to shooting. He's already shown Hit-Girl's shiny new Ducati and Mother Russia's weapon of choice.
"There's a lot of blood and a lot of murdering in ['Kick-Ass 2']," Mintz-Plasse said during Comic-Con. "If I'm playing my character, you know, it's got to happen. … ['Kick-Ass 2' is] going to be rated X. NC-17."
"Kick-Ass 2: Balls To The Wall" stars Aaron Johnson, Christopher Mintz-Plasse, Chloe Moretz and Nicolas Cage. It also introduces Donald Faison as Doctor Gravity, Robert Emms as Insect Man, Lindy Booth as Night-Bitch, Claudia Lee as Brooke, Carrey as The Colonel, John Leguizamo as Red Mist's bodyguard and Morris Chestnut as Hit-Girl's guardian. Directed by Wadlow, it's due in theaters on June 28, 2013.
Are you looking forward to "Kick-Ass 2"? Tell us in comments section below or on Facebook and Twitter.