Kevin Feige teases Thanos in the Marvel Cinematic Universe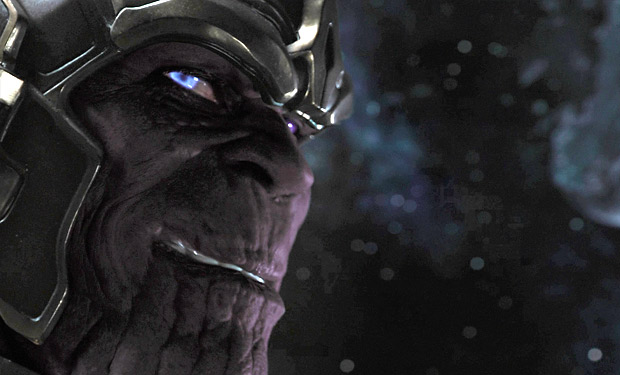 Posted by Terri Schwartz on
Kevin Feige knows how to play coy. After Jim Starlin seemingly confirmed that Thanos would appear in both "Guardians of the Galaxy" and "The Avengers 2," the Marvel Studios president knows how to hedge the subject just enough to leave us with half a verification but still excited for the future.
MTV News recently caught up with Feige in anticipation of the September 25 Blu-ray release of "The Avengers" and asked him about the rumors surrounding Thanos. He didn't say absolutely that the Mad Titan will appear in both Marvel Cinematic Universe: Phase Two films, but he did say that Thanos was teased at the end of "The Avengers" for a reason.
"Clearly, there's a purpose to us putting him in the end of that movie. We do have plans for him," said Feige. "I wouldn't say we ever feel the need to rush anything one way or the other. We succeeded in Phase One because we stuck to our guns and stuck to the plan. That plan took place over many, many years and it ultimately paid off. I see Phase Two unfolding in the same way of us taking our time, us doing what's right for each individual movie, while folding in elements that will not only build up to the culmination of Phase Two, but even Phase Three."
Feige just seems to be excited about the fact that the Thanos reveal has gotten people interested in his backstory.
"Suddenly, you have a million people who had never heard of an Infinity Gauntlet or a Mad Titan learning those terms," said Feige. "I love that. I love when the experience goes beyond the movie theater and encourages people to look deeper into our universe. I was equally excited by the notion that people went out and tried shawarma for the first time."
Apparently there's a good chance that Damion Poitier, the actor who played Thanos at the end of "The Avengers," will be recast for the character's later appearances. "I think we feel pretty free to recast. That was cast for literally that one shot," Feige said. "Depending on what the role requires from future movies, we'll go from there."
"Guardians of the Galaxy" will be directed by James Gunn and is due in theaters on August 1, 2014, with "The Avengers 2" directed by Joss Whedon and coming out on May 1, 2015.
Are you glad Thanos will have such a presence? Tell us in the comments section below or on Facebook and Twitter.