Joss Whedon's "Much Ado About Nothing" picked up by Lionsgate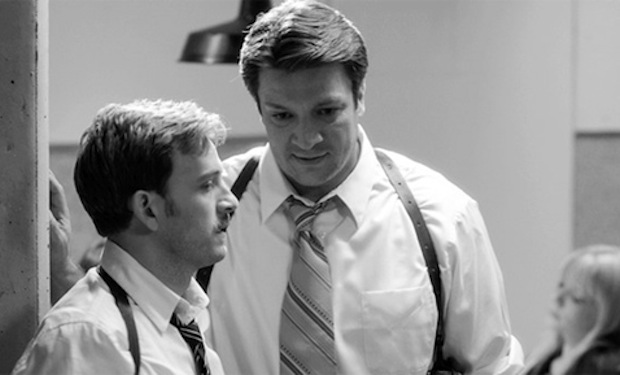 Posted by Terri Schwartz on
As promised, Joss Whedon debuted his adaptation of "Much Ado About Nothing" at the Toronto International Film Festival this year. It didn't come as much of a surprise to hear that audiences adored the film, and that studios were quick to snatch it up.
The Hollywood Reporter has learned that Lionsgate/Roadside has grabbed distribution rights to "Much Ado," along with Kristen Wiig's "Imogene" and Mark Ruffalo's "Thanks for Sharing." No word yet on when any of the three films will hit theaters, but we're hoping we get to see "Much Ado About Nothing" before the end of the year.
For those of you who need a quick refresher, Whedon filmed "Much Ado" in just 12 days during his vacation time after he wrapped "The Avengers." (He was supposed to go to Italy, but screw that.) Whedon called upon his circle of friends and television show regulars like Amy Acker, Alexis Denisof, Sean Maher, Fran Kranz, Nathan Fillion and even Clark Gregg to bring the adaptation to the big screen. This take on William Shakespeare's beloved comedy is set in the modern day and was filmed on location at Whedon's house.
It's worth noting that Lionsgate also distributed "Cabin in the Woods," which Whedon co-wrote and produced.
"We're so happy to once again be working with Joss Whedon after our great experience on 'Cabin in the Woods.' Who else can tackle horror, superheroes and Shakespeare all in one year?" Lionsgate president of acquisitons and co-productions Jason Constantine told THR. "We look forward to working closely with Bellwether Pictures to help audiences discover this wonderful and timeless comedy."
Are you looking forward to finally seeing "Much Ado About Nothing"? Tell us in the comments section below or on Facebook and Twitter.