Director Joe Dante talks "The Hole," horror and how 3D has a bad rap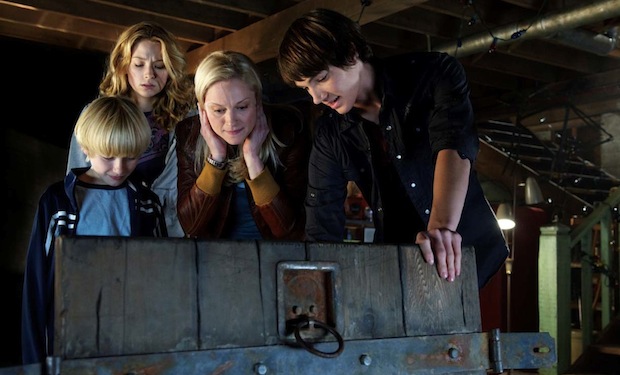 Posted by Terri Schwartz on
Back before "Avatar" changed the 3D game, "Gremlins" director Joe Dante created a little movie called "The Hole" with the intention of toying with how 3D can be used. Unfortunately, theaters have since been swamped with converted 3D films ever since "Avatar" proved the medium can be a box office boon, and "The Hole" is only now getting its time in the spotlight.
"The Hole" tells a story of a family who moves to a small rural town after living in the city. The two sons — played by Chris Massoglia and Nathan Gamble — discover a mysterious hole in the basement of their new home and, though it is locked and bolted, they manage to open it and become subjected to the darkness inside. It is at that moment that the 3D becomes a factor and takes the movie up to the next level. Since there weren't any big actors starring in the movie, Dante considered the 3D to be the draw all unto itself.
A lot has changed in the years since Dante made "The Hole," but the movie still has played around with the 3D genre in ways only directors like James Cameron and Martin Scorsese have tried. IFC had the chance to catch up with Dante in a recent phone interview and talk to him about what drew him to 3D and how times have changed since he first decided that this would be his next project.
IFC: First off, I just wanted to say that I was at the Comic-Con presentation for "The Hole" back in 2009 and I was really excited when I read that the movie was finally coming out.
Joe Dante: [laughs] Wow, it's been a long time.
IFC: It has been a long time! I'm just kind of curious what your journey with the movie has been since then? I know you went to a couple film festivals.
JD: We've done the usual festival route that you do with pictures and stuff, and we won an award in Venice for 3D, it was great. But it was pretty frustrating to see the theaters that we thought were going to be running our film clogged up with fake 3D movies that have been converted, which we didn't know about when we were planning our picture.
We were pretty careful about figuring out how many theaters were 3D capable and whether or not there was anything going to be available to play in them. And then, all of the sudden when we were finished, these big blockbuster "Clash of the Titans" kind of movies were playing and they were suddenly in 3D even though they hadn't bothered to make them in 3D. So we kind of got crowded out of the initial run of 3D, and then more and more films kept coming out and theaters were harder and harder to get and we didn't have a distributor because we didn't have any big stars and it was difficult to get a distributor for quite a while. So now finally this thing is seeing the light of day.
IFC: Unfortunately I had to watch this on DVD so I couldn't see the 3D effects as you meant it, so I was wondering if you could describe your process of shooting this in 3D. Obviously you did it before stuff like "Avatar" came out, so I'm curious what your mentality was in approaching the 3D element of the movie.
JD: The reason I recommended doing this in 3D was because I said this is sort of a small film and it's about fears and a lot of it takes place in a basement, so there's a possibility people will find it claustophobic. So I think if we use 3D correctly, we can draw people in, make them feel like this is part of their story and that they're in the basement with these kids and that they go down the hole and, rather than throwing things at them, try to draw them in. That was really the intent, basically. The 3D was sort of like an extra character for me in the movie. Not that it doesn't work okay in 2D — I mean, the movie has got a story and that's fine — but it really was designed to be experienced with the extra dimension.
IFC: How would you say 3D has changed since you made this movie?
JD: Well the equipment I used is probably obsolete. All this stuff changes so much that I'm sure the cameras are smaller now, I'm sure they're lighter. I was already happy with how small and light they were because I had done a previous 3D film for Busch Gardens called "The Haunted Lighthouse" that had been like a ride film, and that needed two 70 mm projectors hooked together to make a 3D image and it was very, very, very cumbersome. Comparatively these cameras were so much better. They were rock steady and had really good focus and were very easy to work with, and now I have a feeling that it would be even easier — and probably cheaper and simpler — to make a 3D film because the cameras are just getting smaller and smaller.
IFC: Would you be interested in shooting another 3D movie in today's moviemaking environment?
JD: Oh sure. I think 3D gets a bad rap. I think there's a lot of people who think it's just a gimmick. And there are some people who can't legitimately see 3D, that's another issue, but I think used correctly and used dramatically, 3D is a storytelling tool, and that you can enhance a story — maybe not every story, but certainly certain stories — with this particular technique.
IFC: Between this and "Gremlins," you make small, seemingly-innocent things seem so terrifying. How do you approach coming up with objects to use in your horror/thriller films?
JD: It's never really been intentional. Once I did "Gremlins" and I have these little ankle-biting creatures, then I found myself doing the sequel, then I found myself doing a feature called "Small Soldiers" where they were these toys and there were malevolent but also little, then I ended up doing "Looney Tunes" where Daffy Duck and Bugs Bunny were small, I kept thinking, "This is film two, film three, film four." And so there's film five or whatever which has another maniacal toy that can bite your ankles off, so maybe I just have a thing against ankles.
IFC: Seriously. Is there something in your past — like a clown or stuffed toy — that made you scared of this stuff?
JD: No, no, believe it or not, but I always found clowns rather… unpleasant, I was never actually afraid of them. [laughs]
IFC: Well you make a terrifying one in this film. You also have told several of your horror/thriller films through the eyes of children, so what do you find so appealing about telling a story that way?
JD: Some of the best horror films — there's a movie called "Invaders From Mars" that's told entirely from a kid's point of view and it was done by a great art director and he made the whole movie look like a dream, which was very influential to me, and of course I saw a picture called "Night of the Hunter" when I was a kid, which is a crazed preacher versus running away kids, which was also a very scary movie, so I think to view that kind of malevolence through the eyes of innocents is a particularly compelling way to tell a story. It hasn't recurred in my movies on purpose, because you look back and you go, "Oh, I see a pattern, [laughs] a pattern in my career that was never intended." But it does end up informing the things that I'm drawn to.
IFC: What keeps drawing you back to the horror and thriller genres?
JD: What keeps drawing me back is that's what people keep asking me to do! [laughs] Once you've done something that's done well, they want you to do more of them. That doesn't mean I wouldn't have loved to do Westerns or love stories or whatever, but that's really not viewed as my bailiwick.
"The Hole" hits theaters on September 28 (opening in LA, Atlanta) and will be available on DVD, Blu-ray iTunes and VOD on October 2.
Are you interested in seeing "The Hole" when it finally hits theaters? Tell us in the comments section below or on Facebook and Twitter.