First images of Jim Carrey in "Kick-Ass 2" hit the web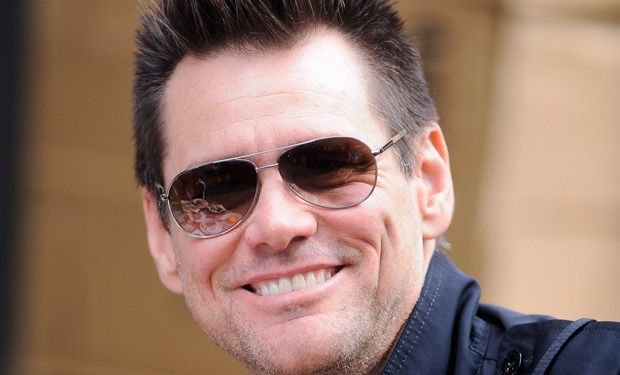 Posted by Terri Schwartz on
All eyes are turned to Toronto as "Kick-Ass 2" continues film up in Canada. There has been an onslaught of set photos hitting the web ever since production began this month, with all the characters from Mother Russia to Dr. Gravity being revealed to us early on.
Now it's time for the image we've all been waiting to see: Jim Carrey as Colonel Stars. Though the casting of Carrey at first seemed a bit farfetched, the self-professed fan "Kick-Ass" fan officially signed on board earlier this month. ComicBookMovie.com now has posted a bunch of images via NewsCom that show us what Carrey will look like in costume.
Carrey is almost unrecognizable as Colonel Stars. He looks grayer than ever, but also much more terrifying than we're used to seeing him. We love the cameo appearance of his pet dog (you can see it wearing an American flag mask), since we know some terrible things end up happening to that pooch.
Back when Carrey's casting was announced, Mark Millar released a statement on his website giving a bit of background information about how Carrey got involved and expressing his excitement for having the "Eternal Sunshine of the Spotless Mind" actor on board.
"We've been talking very informally about this for a little over two years now. We didn't quite know what Jim was going to be doing in the sequel, but the entire team loves him to bits and I've been a fan since I first saw him," Millar said. "I'm so genuinely excited about this. I can't wait to see what he does once the cameras are on."
"Kick-Ass 2" stars Aaron Johnson, Christopher Mintz-Plasse and Chloe Moretz. It also introduces Donald Faison as Doctor Gravity, Robert Emms as Insect Man, Lindy Booth as Night-Bitch, Claudia Lee as Brooke, Carrey as The Colonel, John Leguizamo as Red Mist's bodyguard and Morris Chestnut as Hit-Girl's guardian. Directed by Wadlow, it's due in theaters on June 28, 2013.
What do you think of Carrey's costume in "Kick-Ass 2"? Tell us in the comments section below or on Facebook and Twitter.