"Hulk" movie won't come until after "The Avengers 2"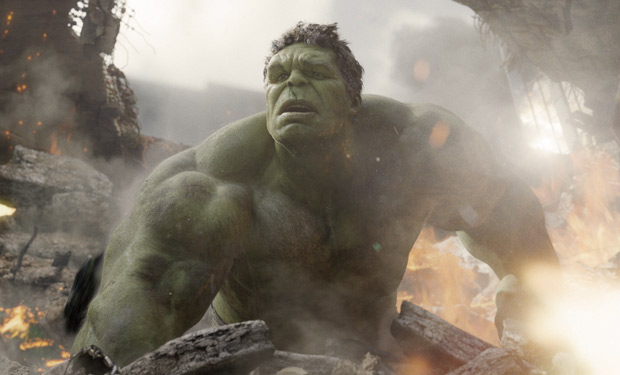 Posted by Terri Schwartz on
Marvel Studios has their plan for the Marvel Cinematic Universe locked down, and nothing's going to change that until after "The Avengers 2" hits theaters on May 1, 2015. But the studio is already thinking about what it's going to have for Phase Three, which means it's readying a new batch of superheroes to grace movie theater screens near us.
One of those superheroes could be the Hulk. The green monster has already had two standalone movies (though only one of them was in the MCU), but he hasn't survived well on his own. Since "The Incredible Hulk" hit theaters, Mark Ruffalo has taken over playing the character and only ever appeared in "The Avengers." Since the Hulk doesn't have his own standalone movie during Phase Two, many fans have wondered if he'd get one at all.
It turns out that he will, it just will take a while to happen. MTV News recently chatted with Kevin Feige, who said that plans for a new "Hulk" movie are being discussed.
"Do I think Hulk can carry a movie and be as entertaining as he was in 'Avengers'? I do believe that. I do believe he absolutely could," Feige said. "We certainly are not even going to attempt that until 'Avengers 2.' So there's a lot of time to think about it."
Feige then tossed around some potential Hulk storylines that the film could follow. Though the character has acted as both hero and villain in the past, it seems safe to assume that he'd be the former in a Marvel film. We already saw Bruce Banner and the Hulk seemingly come to terms with one another in "The Avengers," so we'd assume that a standalone movie — even five years down the road — would take place in the aftermath of that.
"I don't think there's a lot that we couldn't do someday, as the cinematic universe continues to grow and expand and get as big as the comic book universe," Feige said. "'Planet Hulk' is a cool story, 'World War Hulk' is a cool story. I think there's pitfalls of continuity-overload, and mythology getting so dense that it almost collapses in on itself [with those cosmic projects]. It happens every few decades or so in the comics. Apart from that, I'd say everything is on the table."
What Hulk storyline would you like to see explored in a future movie? Are you glad he'll likely be getting his own movie? Tell us in the comments section below or on Facebook and Twitter.