Have you watched the Chris Gethard Show yet?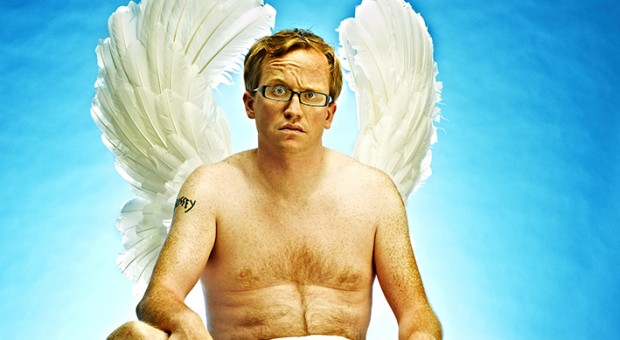 Posted by Melissa Locker on
As you may have heard 'round the old watercooler, we recently adopted a comic. Specifically, we adopted Chris Gethard. He really needed it.
But Chris has some seriously funny accomplishments under his belt, which helped pad his adoption resume. In addition to being a hilarious stand-up comic and renowned contestant on Bunk, he is the creator and host of The Chris Gethard Show. TCGS as the cool kids call it (not that we know any) is a variety and talk show that began as a stage show at the infamous Upright Citizens Brigade before becoming a weekly live public access show during the summer of 2011. The show has a fervent cult following, and is known for staging bizarre stunts such as using Twitter to book Sean "Diddy" Combs as a guest on the show, loading the entire audience on a bus to partake in a show that traveled to landmarks from Chris's childhood in New Jersey as the show was happening, and booking numerous television celebrities to meet a fan on public access TV in an effort to give her the best night of her entire life. The Chris Gethard Show has been written about in The New York Times, The Wall Street Journal, New York Magazine, The Hollywood Reporter, and dozens of other publications. So if you haven't watched it, you're REALLY out of the loop. Luckily we are here to help. Here are some of our favorite clips from the Chris Gethard Show. You're welcome:
How often do you get to watch two Spidermen fight with Wiffle bats? Not often enough. Rectify that by watching this over and over again:
Here's Chris getting his nipples clamped by a friendly neighborhood dominatrix:
Here a person dressed up as Optimus Prime uses a Kermit The Frog puppet to sing along to a muppets song while Chris is blindfolded. Nothing weird at all.:
Here's Dru Johnson, Master Impressionist:
The Chris Gethard Show, airs live online at www.thechrisgethardshow.com. Want to see the spectacle for yourself? Email zerolaughs@gmail.com for tickets.
Want the latest news from IFC? Like us on Facebook and follow us on Twitter @ifctv.