Gus Van Sant's "Promised Land" gets its first theatrical trailer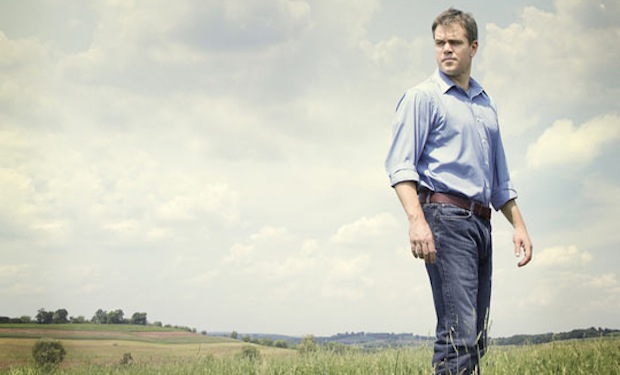 Posted by Terri Schwartz on
It's been less than a year since "Promised Land" was first announced, but already the first trailer for the Gus Van Sant movie has made its way online.
"Promised Land" has had a quick turnaround time so it could be a contender for the next Oscar season. The flick reunites Van Sant with his "Good Will Hunting" and "Gerry" star Matt Damon, who co-wrote the script with John Krasinski. The initial concept for the flick was created by Krasinski and "Away We Go's" Dave Eggers, and "Promised Land" was originally supposed to be Damon's directorial debut. Unfortunately his commitment to about a million and a half other projects kept him out of the director's chair, but it's clear that he was very dedicated to the film as a whole.
Every actor involved in this flick looks like they will be challenging him or herself in some way. This is a big step up for Krasinski, who has made a marked trend towards more heartwarming pictures with this year's "Big Miracle." But everyone from Damon and Frances McDormand to Hal Holbrook and Rosemarie DeWitt looks like they've put their all into this picture, which in many ways is a criticism on corporate America. We'll have to wait to find out how everything plays out before we decide just how critical Damon, Krasinski and Van Sant have been on the corporations that try to rule our country.
Here's the official synopsis of "Promised Land":
Corporate salesman Steve Butler (Damon) arrives in a rural town with his sales partner, Sue Thomason (McDormand). With the town having been hit hard by the economic decline of recent years, the two outsiders see the local citizens as likely to accept their company's offer, for drilling rights to their properties, as much-needed relief. What seems like an easy job for the duo becomes complicated by the objection of a respected schoolteacher (Holbrook) with support from a grassroots campaign led by another man (Krasinski) who counters Steve both personally and professionally.
"Promised Land" will come out in theaters in New York and LA starting December 28, and then will spread into a wider release in January.
What do you think of the first trailer for "Promised Land"? Tell us in the comments section below or on Facebook and Twitter.