Freaks & Geeks, Undeclared, Larry Sanders Show and more to air on IFC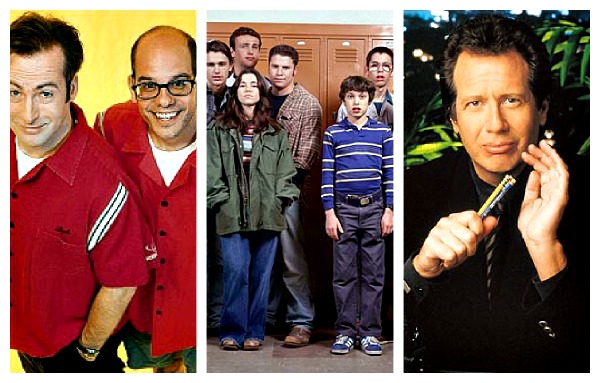 Posted by Melissa Locker on
Run an awesome cable channel, fill a website with killer content, and produce hilarious comedies all at the same time? No problem. Here at IFC we are serious multi-taskers. And we bet you are too. The only problem with our multi-tasking plan for world domination (and cheese fries) is that is all falls apart when you're sleeping. You're just lying there, only doing one thing at a time, which is pretty inefficient. Luckily we are in the age of machines (cue "The Terminator" soundtrack) who can help us with our multitasking. So while you're sleeping your DVR can be recording your favorite cult comedies, which we are airing during the DVR friendly hourse of 5:00am-6:00am ET/PT.
Yep, IFC is bringing back some of television's most critically acclaimed cult series including The Larry Sanders Show, Kids in the Hall: Death Comes to Town, Undeclared, Freaks and Geeks, Action, The Ben Stiller Show and Mr. Show during "Slightly Off" hours. This DVR-friendly part of the day is what we've dubbed the "Automat" and it runs every weekday from 5:00am-6:00am ET/PT. So set your DVR, sleep in, and then watch these shows while you're plotting your global takeover.
Don't miss these shows coming up on The Automat:
October
Kids in the Hall: Death Comes to Town
November
The Larry Sanders Show
December
Mr. Show

January
Freaks and Geeks
Want the latest news from IFC? Like us on Facebook and follow us on Twitter @ifctv.
The Automat airs weekdays from 5 a.m ET on IFC