Five reasons to watch Terry Gilliam's "Brothers Grimm" tonight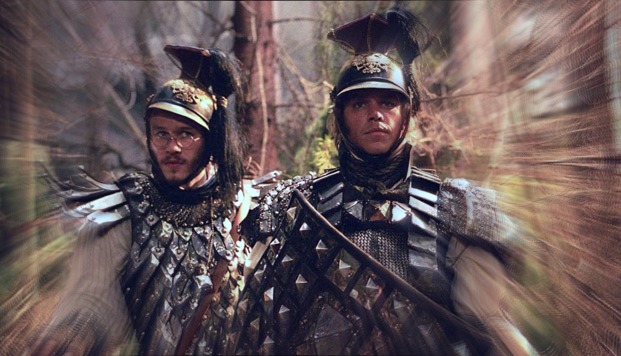 Posted by Melissa Locker on
Fairytales are having a moment. There's "Snow White and the Huntsman" and "Mirror Mirror" making waves at the box office, and Grimm has a primetime spot on the small screen, but before any of them, there was "Brothers Grimm." Directed by Monty Python's own Terry Gilliam, the fantastical film document the even more fantastical adventures of Wilhelm and Jacob Grimm (Matt Damon and Heath Ledger, respectively). However, instead of mere chroniclers of stories, in Gilliam's world, the Brothers Grimm are the most powerful and feared enemies of the armies of darkness. Or at least that's what tell everyone, when in reality they are merely theatrical con men, who travel from town to town staging the very hauntings and possessions they then conveniently exorcise – for a very hefty fee. However when several young girls disappear from a small village the men are called into real action. And when it turns out that the kidnappings come courtesy of the Mirror Queen (Monica Bellucci), a witch who needs the girls' blood to maintain her own beauty and immortality, well that's a fairy tale come to life. "Brothers Grimm" airs tonight at 10:15 p.m. ET.
Need more reason to watch? Here you go:
1. Heath Ledger
Gone too soon, man. Gone too soon.
2. Terry Gilliam
The director cannot possibly make enough movies to sate our desire to watch his movies. Also, he was in Monty Python. What else do you need?
3. Matt Damon
Two words: 30 Rock.
4. Monica Bellucci
Have you seen her in "The Matrix Reloaded"? No? Fix that right now and you'll know why you should watch absolutely anything she stars in:
5. Jonathan Pryce
A Gilliam regular he's had roles in "The Adventures of Baron Munchausen" and, of course, "Brazil"
Want the latest news from IFC? Like us on Facebook and follow us on Twitter @ifctv.
"Brothers Grimm" airs tonight at 10:15 PM ET; Sunday, Sept. 30 at 11:00 PM ET; and Tuesday, Oct. 9 at 10:30 PM ET.