IFC.com's 2012 Fall Movie Preview Guide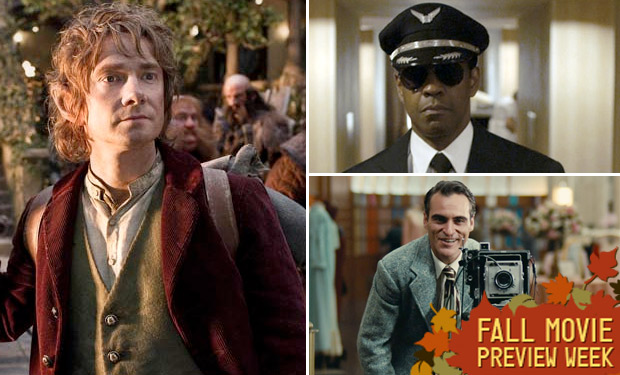 Posted by Bryan Enk on
---
12/7 – "DEADFALL" (Magnolia Pictures – Stefan Ruzowitzky – Crime/Thriller)
"Don't worry, little sis – it's a good sign when you feel a little bad." Eric Bana oozes suave villainy in the coldest-looking thriller since last year's "Hanna" (which also featured Bana running around in the snow). Addison (Bana) and Liza (Olivia Wilde) are two casino-robbing siblings who are left stranded in the middle of nowhere (with a ton o' cash) after getting in a car accident; little sis (who's super-hot even when it's freezing out) proceeds to seduce a young fella who happens to be driving by (Charlie Hunnam) and the crooks proceed to crash his Thanksgiving dinner as the cops (led by Kate Mara, playing a character named "Hanna," at that) descend on the idyllic cabin in the woods. "Deadfall" looks like the movie "Reindeer Games" (remember that one?) should've been – a sexy wintry thriller filled with seductions, double-crosses and holiday angst, courtesy of director Stefan Ruzowitzky ("Anatomy"); you can actually catch this On Demand starting Nov. 1 before it hits theaters on Dec. 7.
---
12/7 – "HYDE PARK ON HUDSON" (Focus Features – Roger Michell – Drama)
Let's just start counting the Oscar nominations now, shall we? This year's "The King's Speech" (it even has some of the same characters!) chronicles the relationship between President Franklin D. Roosevelt (Bill Murray) and his distant cousin, Margaret Stuckley (Laura Linney), over the course of the weekend in 1939 when King George VI (Samuel West) and Queen Elizabeth (Olivia Colman) visited upstate New York. The looming threat of World War II hangs over the proceedings, but this looks like a moving, witty and gentle comedy that will undoubtedly prove to be one of the holiday season's biggest crowd-pleasers. Murray will be pulling off the same hat trick that Adam Sandler pulled in "Punch-Drunk Love" as the unique context of the film (this certainly isn't your typical "Bill Murray movie") will make the star's performance seem even better than it actually is; like Sandler in Paul Thomas Anderson's film, Murray's certainly not stretching things here by playing a charming, witty cad, but the fact that he also happens to be portraying one of our most memorable Presidents in a historical drama will definitely earn him some "Best Performance Ever!" accolades.
---
12/14 – "THE HOBBIT: AN UNEXPECTED JOURNEY" (New Line – Peter Jackson – Adventure/Fantasy)
Peter Jackson's long-awaited follow-up (or pre-game, as it were) to his "The Lord of the Rings" series is finally a reality, with the first installment of what is now apparently a trilogy putting Bilbo Baggins (Martin Freeman) on his epic journey as he accompanies Gandalf the Grey (Ian McKellen) and a group of crusading dwarves to Lonely Mountain, a dangerous quest during which Bilbo will meet his fate and embrace his destiny as the bearer of the One Ring. There's been much controversy over Jackson's decision to shoot the film at 48 frames per second, a method which apparently makes for a very strange and artificial look, but who cares? We're just glad Jackson is back in Middle-earth and has embraced his own fate as the right man for the job after he took over the directing reins from Guillermo del Toro, who backed out due to the endless production delays that came from various legal entanglements. The trailer certainly proves that Jackson hasn't diminished his sweeping vision for this one; "The Hobbit" looks to be just as grand and glorious a cinematic experience as its predecessors (or successors, rather … you know what we mean). We're just sad that we now have to wait until Part 3 to finally see Smaug the Dragon (played by, of all people, Benedict Cumberbatch).
---
12/14 – "LES MISERABLES" (Universal – Tom Hooper – Drama/Musical)
Hugh Jackman is probably thrilled about finally getting to show off his incredible singing voice in a movie as the occasional Broadway star takes on the iconic role of Jean Valjean in director Tom Hooper's adaptation of the long-running, uber-acclaimed stage musical. If you like "Les Mis" (and who doesn't, really?) then you'll definitely want to see this big-screen take on the grandiose French tale of an ex-convict who finds redemption and revolution as he's relentlessly pursued by the obsessive (and misguided) Inspector Javert (Russell Crowe). The rest of the cast is to die for, too, with Anne Hathaway as Fantine, Amanda Seyfried as Cosette, Sacha Baron Cohen and Helena Bonham Carter as the Thenardiers (which is beyond awesome), Eddie Redmayne as Marius and "Les Mis" stage alum Samantha Barks as Eponine. Universal is releasing this on the same day as New Line's "The Hobbit" – the world should prepare accordingly for such a one-two punch of epic cinema.
---
12/19 – "ZERO DARK THIRTY" (Columbia Pictures – Kathryn Bigelow – Drama)
Director Kathryn Bigelow and screenwriter Mark Boal, the Oscar-winning team that brought us "The Hurt Locker," reunite for this chronicle of the ten-year hunt for al-Qaeda terrorist leader Osama bin Laden and his death at the hands of the Navy SEAL Team 6 in May 2011. While the subject matter is certainly both timely and exciting (and some might also say cathartic), with the film itself wrecked with controversy from the get-go (did Bigelow receive top-secret, uncleared information from a CIA informative while researching the project? Um, we'd have to guess "Yes?"), it remains to be seen whether "Zero Dark Thirty" will be as engrossing and insightful a character study as its predecessor or simply a movie where a bunch of people type frantically as they stare at their computer screens whilst others engage in tense meetings in ominous-looking conference rooms. "Hurt Locker" star Jeremy Renner is sitting this one out as he's currently busy with at least three separate action franchises, but a cast that includes Jessica Chastain, Chris Pratt, Joel Edgerton, Kyle Chandler, Edgar Ramirez and Harold Perrineau certainly sounds promising.
---
12/21 – "THE IMPOSSIBLE" (Summit Entertainment – Juan Antonio Bayona – Drama)
The key production staff (director, writer, production manager, cinematographer, composer and editor) of the 2007 dark Spanish fantasy, "The Orphanage," reunited for this much larger-scale horror tale based on one family's experiences during what is sometimes referred to as the "Boxing Day tsunami," a diaster brought on by an earthquake that occurred off the coast of Sumatra, Indonesia shortly after midnight on Dec. 26, 2004; with a death toll of 230,210-280,000, it is the sixth deadliest natural disaster in recorded history. "The Impossible" isn't exactly the happiest piece of cinematic holiday cheer, but we suppose a true-life survival tale starring Ewan McGregor and Naomi Watts is preferable to Angelina Jolie's Bosnian War romance, "In the Land of Blood and Honey," which was released around the same time last year. Expect some impressive (and harrowing) disaster sequences that will make the fictional and completely over-the-top Mother Nature pounding New York City took in "The Day After Tomorrow" look tame by comparison.
---
12/21 – "JACK REACHER" (Paramount – Christopher McQuarrie – Action/Thriller)
Tom Cruise takes a "shot" at another action franchise in this adaptation of "One Shot," one of Lee Child's many novels chronicling the adventures of Jack Reacher, an eccentric yet brilliant former United States Army Military Police Major who now wanders the country working as an investigator and gun-for-hire. Here, he's called in after a skilled sniper – and a former colleague – is arrested on suspicion of firing into a rush hour crowd and killing five people (with six bullets); though Reacher first believes the man is guilty, his subsequent investigation uncovers a conspiracy involving the Russian mob (led by, of all people, Werner Herzog). "Jack Reacher" probably won't be anywhere near the holiday hit that was last year's "Mission: Impossible – Ghost Protocol," but Childs' bestselling series definitely has a fan base – a fan base that seems to now be warming up to the idea of Cruise playing Reacher, a man with "sharp moral clarity in a modern climate of moral ambiguity," after some initial moanings and groanings.
---
12/21 – "THIS IS 40" (Universal – Judd Apatow – Comedy)
Judd Apatow's "sort-of sequel" to "Knocked Up" catches up with Pete (Paul Rudd) and Debbie (Leslie Mann) as they're staring down the barrel of the shotgun that is the big 4-0 and trying to come to terms with their marriage and their roles as parents of what seem to be increasingly more difficult children. Apatow's mix of gross-out humor with heartfelt human drama is starting to run a little thin; also somewhat problematic is the fact that Mann and especially Rudd seem to no longer offer any distinction to any of their roles in any movie they star in; these could be their characters from "Knocked Up" or their characters from another movie or brand-new characters and they'd probably play them just the same. Apatow goes for easy targets here – marveling over (and longing after) a younger woman's (Megan Fox) perkier, firmer breasts; petty confrontations while one party is on the toilet; the obligatory sequence involving getting high on some illegal substance – and the running time, in true Apatowian fashion, will probably be at least 20 minutes too long. However, also in true Apatowian fashion, he'll probably manage to make more geniune insights regarding the mystery that is the human heart than most other filmmakers.
---
12/25 – "DJANGO UNCHAINED" (The Weinstein Company – Quentin Tarantino – Western/Drama)
Santa's got a brand new bag! Quentin Tarantino's first holiday season release since 1997's "Jackie Brown" (yes, that was released on Christmas Day) is a self-described "southern" that teams up a former slave named Django (Jamie Foxx) with a mysterious bounty hunter (Christoph Waltz) as they traverse the Deep South in search of the notorious Brittle Brothers … and Django's own long-missing wife (Kerry Washington). Their journey leads them to the charming and ruthless Calvin Candie (Leonardo DiCaprio), the owner of a notorious slave plantation/entertainment venue known as "Candie Land," and his savvy majordomo, Stephen (Samuel L. Jackson). We love us anything Tarantino does, but we have to admit that the trailer doesn't quite rile us up the same way the trailer for "Inglourious Basterds" did over three years; it's also troubling that Kevin Costner, Kurt Russell, Joseph Gordon-Levitt and Anthony LaPaglia were all attached to the project at one point but all went on to bail for one reason or another (LaPaglia went on the record by saying the production was "a mess"). Still, again, it's Quentin, so we're sure everything's going to turn out just fine.
---
12/25 – "THE GUILT TRIP" (Paramount – Anne Fletcher – Comedy)
Perhaps the first-ever Oedipal road trip movie, "The Guilt Trip" follows an inventor (Seth Rogen) who finds himself accompanied by his somewhat estranged mother (Barbra Streisand) when he hits the road to sell his latest creation, a journey that will no doubt be filled with the sort of epic confrontations and revelations that can only come from when a mother and son are stuck in the same general area together for an extended period of time. Rogen's adjusting to his 30s nicely as he takes on a decidedly more grown-up role than usual (and one that probably calls for him to allow himself to be upstaged at every turn by his veteran co-star), with Streisand perfectly cast as the alpha-female matriarch that's quick to criticize and quicker to give unsolicited advice. Directed by ex-dancer/choreographer Anne Fletcher, who, after directing this and the Ryan Reynolds/Sandra Bullock team-up "The Proposal," seems to be right at home with comedies in which two conflicting personalities are at each other's throats in the most affectionate ways possible throughout most of the running time.