IFC.com's 2012 Fall Movie Preview Guide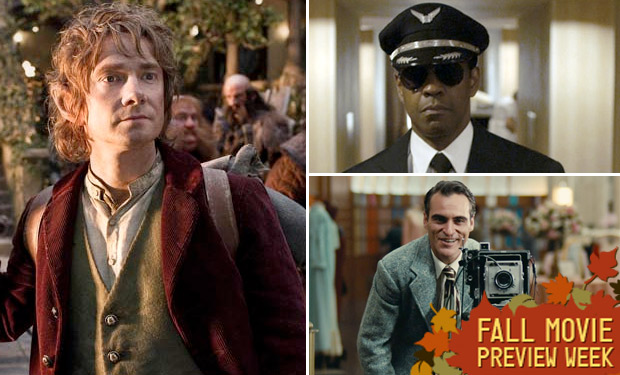 Posted by Bryan Enk on
---
11/2 – "THE ABCs OF DEATH" (Magnet Releasing – 26 directors – Horror)
Horror learns the alphabet in this anthology film featuring the work of 26 (!) directors, with each segment named after a letter (for example, "T is for Toilet" – let your imagination take you where it will for that one) as it "showcases death in all its vicious wonder and brutal beauty." 26 short films means this will probably work the same way as the rapid-fire joke barrage in "Airplane!" – if one doesn't strike your fancy, there's another one right around the corner that you might like better. No matter how this one turns out (and, inevitably, some segments will be better than others), you have to give the producers credit for tackling something that's both high concept and rather ambitious, though we imagine it won't be able to help but wear out its welcome by about halfway through (two dozen plus two is a lot, even if some of them are only a couple of minutes long). The directors include Angela Bettis, Lucky McKee's muse who proved herself a pretty decent director in her own right with the wonderfully creepy "Roman," and Xavier Gens, who brought us the extremist French horror flick, "Frontier(s)."
---
11/2 – "FLIGHT" (Paramount – Robert Zemeckis – Drama)
Director Robert Zemeckis has finally realized that the motion-capture animation he's been so fascinated with since 2004's "The Polar Express" is a creative dead end and made a welcome return to the good old-fashioned world of live-action moviemaking. Zemeckis and his cast actually had to leave the green screen garage to tell this tale of a pilot (Denzel Washington) who becomes a media sensation after pulling off a seemingly impossible emergency landing from which every single passenger walks away; his "heroism" is challenged when it's discovered that he was kind of drunk when he did it. Washington's aces at playing tortured souls (that shot of him in the trailer where he's in sunglasses and frowning up at the sky is pure Denzel), but the man we're really watching with this one is Zemeckis – does the man who brought us "Back to the Future," "Who Framed Roger Rabbit" and "Forrest Gump" still know how to tell a story in real physical environments (and with cast members wearing more than just mo-cap suits)? Here's hoping this one flies high and lands smoothly rather than crashes and burns.
---
11/2 – "THE MAN WITH THE IRON FISTS" (Universal – RZA – Action/Fantasy)
The grind house martial arts genre is alive and well thanks to RZA, who makes his directorial debut with this old-school kung fu adventure that proudly flaunts its B-movie mettle (the trailer unapolgetically proclaims that the film puts the "FU" in "KUNG FU"). Co-written with enfant terrible Eli Roth and "presented" by Quentin Tarantino (natch), "The Man with the Iron Fists" takes place in 19th century China, where a blacksmith (RZA) with a knack for creating elaborate weapons is forced to come to the defense of his village after it's invaded by a villain who looks a lot like Russell Crowe but has a cooler name ("Jackknife"). RZA developed the film as an homage to the martial arts films of the Shaw Brothers, who were certainly an influence on Tarantino's own "Kill Bill"; like "Bill" before it, "The Man with the Iron Fists" was almost a two-parter after the first cut ended up being four hours long, but Roth condensed the madness and mayhem down to a slim and trim 90 minutes. Whether this was the right move or not remains to be seen, but either way expect "Man" to eventually be one super-packed Blu-ray.
---
11/2 – "THIS MUST BE THE PLACE" (The Weinstein Company – Paolo Sorrentino – Comedy/Drama)
A musician has quite the bizarre midlife crisis in director Paolo Sorrentino's rock n' roll fable that's by default a must-see if only to witness Sean Penn's astonishing transformation into a perpetually melancholy, Robert Smith-esque rock star. Cheyenne (Penn), wealthy and jaded and just not feeling the music anymore, breaks out of his self-isolation in Dublin to reconcile with his estranged dying father in New York. He arrives too late but finds a new direction in his life as he embarks on a cross-country journey in search of his father's tormentor, a Nazi war criminal that is now hiding out in the United States. Definitely one of the stranger routes to self-discovery and getting your mojo back, no? Frances McDormand, Judd Hirsch, Harry Dean Stanton and Kerry Condon co-star, but this will be Penn's concert all the way as he mopes his way across the American landscape, a goth champion of all those who suffered at Auschwitz. The music comes courtesy of – who else? – David Byrne, who also makes a cameo appearance as himself.
---
11/2 – "WRECK-IT RALPH" (Disney – Rich Moore – Animation/Comedy)
Life imitates video games in this loving homage to the simple yet highly addictive indulgences of the Atari and early Ninetendo era. The inherent fatalism of these games is targeted as Wreck-It Ralph (voiced by John C. Reilly), the villain of a game that looks like a cross between Donkey Kong and Rampage, finds himself no longer able to handle the neverending loop of causing mayhem and being defeated, causing mayhem and being defeated – and all for the price of a quarter. He decides to bust out of his own game/prison but finds the video game world to be a complex existential labyrinth from which it's a lot harder to escape than he ever could've imagined. Generation X should get a kick out of this bit (8-bit?) of arcade-era nostalgia, which might inspire a worldwide dusting off of that old forgotten 2600 console in the closet; the voice cast includes Jack MacBrayer, Jane Lynch, Alan Tudyk, Ed O'Neill, Dennis Haysbert and Sarah Silverman as Ralph's unlikely companion, Vanellope von Schweetz.
---
11/9 – "LINCOLN" (DreamWorks – Steven Spielberg – Drama)
There are – oh so thankfully – no vampires to be found in Steven Spielberg's examination of the 16th President of the United States, with "Munich" scribe Tony Kushner adapting Doris Kearns Goodwin's book, "Team of Rivals." Spielberg is definitely in his element with a historical drama that showcases one of our most mythic Presidents, and Daniel Day-Lewis will no doubt deliver another impressive and completely immersive performance in the title role, the man who got us through the Civil War, preserved the Union while abolishing slavery and somehow kept the nation from going completely bankrupt upon the aftermath. As always, Spielberg can gather a dream cast like no one else, with the supporting players of "Lincoln" including Sally Field as Mary Todd Lincoln, Joseph Gordon-Levitt as Robert Todd Lincoln, Tommy Lee Jones as Thaddeus Stevens, Jared Harris as Ulysses S. Grant, Jackie Earle Haley as Alexander Stephens and David Strathairn as William Seward. This is one history lesson we can't wait to learn.
---
11/9 – "SKYFALL" (MGM – Sam Mendes – Thriller)
A November with a new James Bond movie is always better than a November without. 007's 23rd big-screen mission has him questioning his loyalty to superior officer M (Judi Dench) when her past comes back to haunt her (which, if the trailer is any indication, involves a lot of things blowing up). Most of the trouble points to a villain named Silva (Javier Bardem, sporting a blonde 'do), but Bond (finally) has some cool gadgets to help him this time around, courtesy of a clever MI6 technician that calls himself Q (Ben Whishaw). "Quantum of Solace" was enjoyable but admittedly a bit messy (which is usually the outcome when something starts shooting without a script); a class act like Sam Mendes seems like just the guy to put the franchise back on track now that all of the legal hootenanny that made for a four-year gap between films seems to be all settled. Daniel Craig returns to stare in the face of evil with those baby blues, with Ralph Fiennes recruited as M's associate, Gareth Mallory; meanwhile, the Bond Girls of "Skyfall" are Berenice Marlohe, Naomie Harris and Tonia Sotiropoulou.
---
11/21 – "LIFE OF PI" (Fox 2000 Pictures – Ang Lee – Adventure/Drama)
Director Ang Lee brings us what looks to be a gorgeous adaptation of Yann Martel's bestselling adventure novel about a man, an animal and the deep blue sea. "Life of Pi" follows a zookeeper's son (Suraj Sharma) who survives a shipwreck and is left stranded somewhere in the Pacific Ocean; after the circle of life takes care of the zebra, the hyena and the orangutan, his only companion on his small raft is a Bengal tiger, with whom he eventually bonds and fights for survival against the elements. The 3D clip of the "flying fish scene" released earlier this year was amazing enough, but the full trailer – which gives us a look at the initial shipwreck as well as other key moments from the novel – is absolutely breathtaking; this will probably be Lee's most visually exquisite – and emotionally soaring – film since "Crouching Tiger, Hidden Dragon." Since the rights to the book were optioned in 2002, several directors have been attached to direct, including M. Night Shyamalan, Alfonso Cuaron and Jean-Pierre Jeunet – we think Fox definitely ended up with the right man for the job.
---
11/21 – "RED DAWN" (MGM – Dan Bradley – Action/Thriller)
What chance do invading forces have against a resistance team consisting of Thor, Peeta Mellark, Lady Jaye and the hot Decepticon co-ed from the second "Transformers" movie? North Korea steps in for Russia in this updating of the 1984 cult classic as a group of ragtag teenagers (and Jeffrey Dean Morgan) rise up against the communist armies that would keep us from going to football games and making out in our cars. "Red Dawn," like its predecessor before it, manages to have a premise that is somehow harrowing, completely cheesy and astonishingly offensive all at the same time; this time around, though, it can't hide behind the charming cluelessness of Reagan-era militarism, making for what looks like a rather uncomfortable (and tasteless) experience all the way through. Shot in 2009 and delayed countless times over as MGM tried to come to terms with what they've done; Thanksgiving seems like a good enough time to bury it as any.
---
11/21 – "THE SILVER LININGS PLAYBOOK" (The Weinstein Company – David O. Russell – Drama)
Bradley Cooper gets to do more than just be a charming, ever-grinning doofus in director David O. Russell's adaptation of Matthew Quick's novel. The "Hangover" star (who's also appearing in "The Words" this fall) plays Pat Solitano, a former teacher who moves back in with his parents (Robert De Niro and Jacki Weaver) after eight months in a mental institution, determined to focus, stay positive and re-connect with his ex-wife. His mission takes an unexpected turn when he meets Tiffany (Jennifer Lawrence), the troubled girl next door who might just end up being his soulmate (or at least his dance partner and diner date). Even though its tone is considerably lighter, "Silver Linings Playbook" looks to be as intense (or at least as loud) a family drama as Russell's "The Fighter," with Cooper, Lawrence and De Niro bringing their A-game to the various confrontations and dysfunctions (see what a good script and good characters can do?). Chris Tucker makes his first appearance in a non-"Rush Hour" since "Money Talks" (1997) and – rather surprisingly – doesn't look to be bound and determined to upstage everyone and everything in sight.
---
11/30 – "THE FROZEN GROUND" (Lionsgate – Scott Walker – Thriller)
There is no hell quite like the Last Frontier in director Scott Walker's snowbound thriller based on the real-life 1980s hunt for Robert Hansen, a serial killer who kidnapped between 17 and 21 young women, taking them out to the Alaskan wilderness to turn them loose and hunt them down. Nicolas Cage plays Sgt. Jack Halcombe, an Anchorage-based state trooper determined to end Hansen's (John Cusack) 13-year reign of terror; when 17-year-old Cindy Paulson (Vanessa Hudgens, expanding her horizons a bit) escapes Hansen's clutches, Holcombe teams up with her to bring the killer to justice once and for all. Cusack's certainly been digging the villain parts these days with this and his turn as a convicted murderer in Lee Daniels' "The Paperboy," with Cage hopefully underplaying his blue-collar character as well as he did in Martin Scorsese's "Bringing Out the Dead"; Hudgens has the most to prove here, though, as she continues to run as far from Disney and "High School Musical" as possible with this first of a few much darker and edgier projects (she'll next be seen in Harmony Korine's "Spring Breakers" and as a homeless pregnant teen in "Gimmer Shelter").