IFC.com's 2012 Fall Movie Preview Guide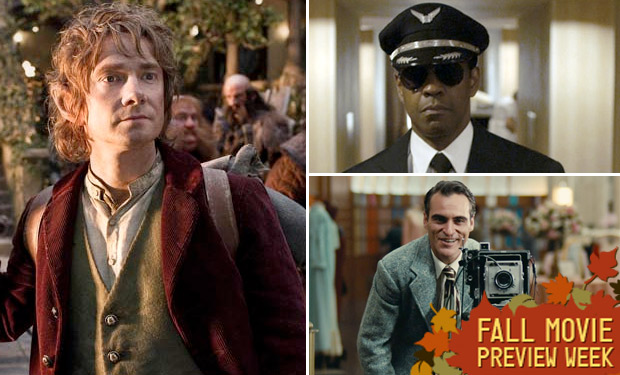 Posted by Bryan Enk on
---
10/5 – "TAKEN 2" (20th Century Fox – Olivier Megaton – Action/Thriller)
In case you've forgotten (and how could you?), "Taken" is the movie in which Liam Neeson punched out every single person in France as punishment for being even peripherally involved in the kidnapping and selling into sex slavery of his hapless daughter (Maggie Grace), who really should've just stayed home and played with the karaoke machine he got her for her birthday (which, for the record, is a way cooler gift than any ol' pony). Now, Liam's fists of fury are unleashed once again as someone else gets "Taken" – judging by the trailers, it's his ex-wife (Famke Janssen) who now seems to be his ex-ex-wife. Seriously, "Taken" is the "Citizen Kane" of kidnapping/sex slavery thrillers, and no one delivers the guilty pleasure goods quite like the towering Irish warrior-gentleman that is Mr. Neeson. Meanwhile, how is Maggie Grace managing to play characters who are even younger than the characters she was playing eight years ago? Whatever – let's leave the country and get in some fights again!
---
10/5 – "SINISTER" (Summit Entertainment – Scott Derrickson – Horror/Mystery)
Another case for never, ever moving into a house where the previously tenants were brutally murdered, "Sinister" stars Ethan Hawke as a struggling novelist and husband/father who discovers some old Super 8 reels in the attic that give clues to what happened to the family who were killed in the house nine months earlier. Thanks to a Skype session with Vincent D'Onofrio, we learn that it wasn't a psycho with an ax but an ancient pagan diety who likes to snatch the souls of children that was responsible for the grisly crime scene – a pagan deity that now has its demonic eyes on Hawke's kin. There's some good early buzz for this supernatural horror thriller from director Scott Derrickson, who proved he's got a good movie in him with the close-but-no-cigar 2008 remake of "The Day the Earth Stood Still"; Hawke's earnestness as an actor will probably serve him well in a situation that requires him to make baffling discoveries and occasionally jump out of his seat. The trailer pretty much lays out the beats of the first two acts (and a few from the third), but we have a feeling there are some genuine surprises in store with this one.
---
10/5 – "V/H/S" (Magnet Releasing – Matt Bettinelli-Olpin, Tyler Gillett, Justin Martinez, Chad Villella, David Bruckner, Glenn McQuaid, Joe Swanberg, Ti West and Adam Wingard – Horror/Thriller)
Terror goes analog as a group of thieves is hired with the seemingly simple task of breaking into a house and stealing a single VHS tape; they find the house full of the old cassettes, hours of "found footage" that prompt a six-part horror anthology film dealing with hauntings, possessions, demons, running and screaming through the woods and the occasional sexual indulgence (that probably won't go unpunished). At least one segment of "V/H/S" made at least one audience member at this year's Sundance Film Festival faint right into the aisle; the trailer certainly promises a wild ride of "Blair Witch" and "Paranormal Activity"-style horror shenanigans taken to even more lo-fi extremes, making for a "Creepshow" for the YouTube generation. Bettinelli-Olpin, Gillett, Martinez and Villella work collectively under the name "Radio Silence" (nice); Ti West is the man who brought us the low-budget gems, "The House of the Devil" and "The Innkeepers."
---
10/12 – "ARGO" (Warner Bros. – Ben Affleck – Thriller)
The CIA says hooray for Hollywood in this thriller based on supposedly real-life "declassified" events surrounding the 1979 Iran hostage crisis. Ben Affleck, who also directs, plays the agent who spearheads a seemingly gonzo plan in which the American and Canadian governments join forces to convince Iran that six U.S. foreign service members being held hostage are actually members of a film crew that were scouting near the American embassy for a science fiction film called "Argo." The second chapter of Affleck's Hollywood career continues to rock as he looks to be going for three for three as one of Warner Bros.' current go-to directors (he was recently offered the director's chair on the DC superhero mashup, "Justice League"); "Argo" is certainly as ambitious and iffy as the actual top-secret operation it depicts, but if anyone can pull it off, we think it's the man who called the shots on "Gone Baby Gone" and "The Town." And you gotta love that supporting cast: John Goodman, Alan Arkin, Kyle Chandler, Victor Garber (Affleck's fictional father-in-law after playing real-life wife Jennifer Garner's dad on "Alias"), Philip Baker Hall, Michael Parks (who recently worked with Affleck's pal Kevin Smith to great effect in "Red State") and Bryan Cranston.
---
10/12 – "SEVEN PSYCHOPATHS" (CBS Films – Martin McDonagh – Crime)
Martin McDonagh's "In Bruges" is one of the best crime comedies of all time, so to say that we have high hopes for his follow-up film, "Seven Psychopaths," is something of an understatement. McDonagh reunites with his "Bruges" star Colin Farrell for this dark yarn about Marty, a struggling screenwriter looking for any kind of inspiration to help him finish his screenplay; he gets more than be bargained for when he gets involved with his best friend, Billy (Sam Rockwell), an unemployed actor and part-time "dog thief" (hey, it's a living), and his partner, Hans (Christopher Walken), as they snatch the beloved canine of a psycho gangster (Woody Harrelson) who has no qualms about whacking anyone even vaguely involved with the kidnapping (dognapping?). McDonagh has a knack for bizarro characters and ultra-profane yet almost poetic dialogue, turning his crime stories into oddly endearing fables that might even teach you a thing or two about, well, life and stuff. Harrelson was a last-minute replacement for Mickey Rourke, who apparently didn't get on too well with the writer-director; the supporting cast also includes Olga Kurylenko, Abbie Cornish, Kevin Corrigan and, lo and behold, Tom Waits.
---
10/12 – "SMASHED" (Sony Pictures Classics – James Ponsoldt – Drama)
James Ponsoldt's pitch-black comedy had audiences buzzing (in more ways than one) at this year's Sundance Film Festival, to the point where we're not quite sure why Mary Elizabeth Winstead isn't being offered every movie that requires a hot twenty-something actress (which, let's face it, is just about every movie). "Smashed" follows a couple (Winstead and Aaron Paul) who love drinking almost as much as they love each other; their marriage is put to the test when the wife decides to get sober, thereby removing the element that had kept them so strongly bound to each other for as long as they can remember. Their friends and acquaintances are played by such welcome company as Nick Offerman, Megan Mullally, Mary Kay Place, Kyle Gallner and this year's Best Supporting Actress Oscar winner, Octavia Spencer, but this is reportedly Winstead's movie all the way as she jumps into her role with both fierce discipline and wild abandon, playing a woman who suddenly wants to experience life while not under the influence of the poison she so adores.
---
10/19 – "KILLING THEM SOFTLY" (The Weinstein Company – Andrew Dominik – Crime Drama)
Writer-director Andrew Dominik follows up his excellent anti-western, "The Assassination of Jesse James by the Coward Robert Ford," with a somewhat less dream-like meditation on man's inexplicable yet undeniable violent nature and the heavy price of immortality with this crime drama that follows Jackie Cogan (Brad Pitt), a professional enforcer called in to find out just who in the hell was crazy enough to rob a Mafia-owned poker game. Cogan takes a no-fuss, no-muss approach to his unpleasant line of work, preferring to whack his victims "softly" rather than hear them beg for their lives; his usual no-questions-asked policy is put to the test when he finds the culprits of this particular job to have a brazenness (if not a stupidity) that's worthy of respect, making them deserving of a more "untraditional" kind of punishment. A Pitt-Dominik reunion is classy enough, but Richard Jenkins makes things even classier as Pitt's associate, with Ray Liotta on hand as the goodfella that's been done wrong; the end result is a multi-layered, old-school '70s kind of thriller that's got big brains to go along with the big bangs.
---
10/19 – "NOT FADE AWAY" (Paramount Vantage – David Chase – Drama)
"The Sopranos" creator David Chase returns to suburban New Jersey with this nostalgic tale about three Italian-American kids (John Magaro, Will Brill and Jack Huston) who form a band and try to make it big, set against the backdrop of the turbulent yet undeniably rockin' '60s. Originally titled "The Twylight Zones" (which is, we're assuming, the name of the aforementioned band) before settling on a title that presumably references the 1957 Buddy Holly song (or, more likely, the more memorable 1964 Rolling Stones cover), "Not Fade Away" marks Chase's feature film directorial debut, with "Sopranos" alum James Gandolfini on hand to make him feel more at home as, we're assuming, the father of one of the future rock n' roll stars. Bella Heathcote, one of the few females in the cast of this fall's "Killing Them Softly," plays the girlfriend and muse of one of the band members, with other supporting players including Christopher MacDonald, Brad Garrett and Isiah Whitlock, Jr. All's been quiet with this one so far, but expect there to be some noise coming from the garage sooner rather than later, especially if it's going to make that Oct. 19 release date.
---
10/19 – "PARANORMAL ACTIVITY 4" (Paramount – Henry Joost, Ariel Schulman – Horror)
The cameras of "Paranormal Activity" are now mobile, thanks to Skype! Even if this incredibly successful horror franchise gets less scary (and less enjoyable) the more it insists on expanding and explaining its by now almost laughably convoluted mythology, you have to give Paramount credit for at least sticking to the lo-fi, "found footage" style of the original no-budget film (which is, to date, still the best in the series). Plot details are, as per usual with each new installment, being kept under wraps, though the trailer suggests we're back in the present day (after jumping back to 1988, where VHS never looked so good, for Part 3), with the incorporation of laptop video chatting allowing for less static camera angles (and probably plenty of hand-held shaky-cam as the user freaks out). Unfortunately, when we last left the "Activity," we had been introduced to the most unfortunate aspect (so far) of the film's increasingly ridiculous plot: a coven of suburban witches that are more or less responsible for unleashing the demon that's been stomping around various houses for over two decades. Hopefully, this spooky yarn will get back on track and maybe return to some of the narrative simplicity that made the first film (and most of the second) such a terrifying pleasure.
---
10/26 – "SILENT HILL: REVELATION" (Open Road – Michael J. Bassett – Horror)
We've never met anyone who saw the 2006 screen adaptation of "Silent Hill" and exclaimed, "Yes, more!," but here we have a sequel regardless – and one inevitably in 3D, at that. If nothing else, fans of the hugely successful Konami video game franchise should be amused that "Revelation" more or less follows the storyline of "Silent Hill 3," the installment that introduced survival horror connoisseurs to the cute and temperamental teenager, Heather Mason. Here, Heather (Adelaide Clemens, looking a bit long in the tooth for 17) is plunged into the world of Silent Hill, the "town that Hell calls home," after her father (Sean Bean) disappears and she comes to discover that she's not who she thinks she is; however, working out an identity crisis has to take a back seat when demonic nurses are looking to stab you with their scalpels and good ol' Pyramid Head is swinging his mighty scythe (or whatever it is) in your general direction. Bean, who spent most of the first movie looking haggard and yelling "Rose!," will probably be doing the same thing here (although replacing "Rose" with "Heather"); both Radha Mitchell and Deborah Kara Unger are back for more, with new players including Malcolm McDowell, Carrie-Anne Moss, Kit Harington and even Martin "Hey, It's a Living" Donovan.
---
10/26 – "CLOUD ATLAS" (Warner Bros. – Andy Wachowski, Lana Wachowski and Tom Tykwer – Science Fiction/Drama)
David Mitchell's startlingly original generations-spanning science fiction novel isn't so "unfilmable" when you play up the "everything is connected" aspect that the book only hints at; indeed, pitching this difficult but ultimately richly rewarding yarn as "like 'Babel' but with cooler sets" is probably what helped get it funded in the first place. "Cloud Atlas" interweaves six stories: an ocean voyage across the Pacific in 1849; a music composer's attempt to create a masterpiece in the 1930s; a big business conspiracy involving a nuclear power plant in the 1970s; the bizarre misadventures of an aging book publisher in the early 21st century; the rebellion of a clone in a dystopian future; and the shocking discoveries of a tribe in post-apocalyptic Hawaii. It's no use trying to describe how these tales are all "connected" here, but suffice to say you're in for quite the experience, courtesy of the Wachowskis and "Run Lola Run" director Tom Tykwer; the end result will either soar to astonishing cinematic heights or crash and burn into the earth's core – there will be no in-between.