IFC.com's 2012 Fall Movie Preview Guide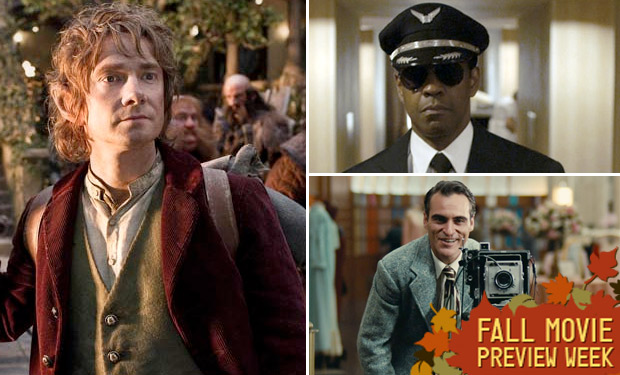 Posted by Bryan Enk on
We've finally exited the bombastic season of summer blockbusters, but by no means is Hollywood through with us. September through December is when studios release some of their most original and interesting films, often with an eye towards Oscar gold. Given that dozens of films are on the release calendar during this period, we've put together a handy guide showcasing some of the best and brightest of the fall fare. So with that in mind, take a gander at our substantive Fall Movie Preview Guide.

---
9/7 – "BRANDED" (Roadside Attractions – Jamie Bradshaw and Aleksandr Dulerayn – Sci-Fi)
What use does anyone have for subtlety when Max Von Sydow is out there forcing us to eat hamburgers, buy smartphones and have sex in cars? A variation on John Carpenter's "They Live" with something resembling a "Matrix"-sized budget, "Branded" stars Ed Stoppard as just another working stiff in a sprawling (and vaguely green-tinted, as these things usually go) metropolis who suddenly starts seeing the world as a series of Xbox 360 cutscenes gone stark raving mad, a glimpse behind the curtain of the Big Brother corporation that's controlling our instincts, desires and even personalities via some sort of implant. Consumerist satire is nothing new to science fiction (did we mention "They Live"?), but "Branded" at least has what looks like a unique gonzo visual style courtesy of the writing and directing team of Jamie Bradshaw and Aleksandr Dulerayn. Jeffrey Tambor and Leelee Sobieski are also in this, which just makes it all the weirder.
---
9/7 – "THE INBETWEENERS MOVIE" (Wrekin Hill Entertainment – Ben Palmer – Comedy)
Suburban teenagers Will (Simon Bird), Jay (James Buckley), Neil (Blake Harrison) and Simon (Joe Thomas) pack up their adolescent angst and raging libidos and trade the rainy doldrums of England for the sunny climes of Malia, embarking on a much-needed vacation that doesn't quite end up being what they expected. Seedy hotels, public humiliations, run-ins with drug dealers and more than a few sexual misadventures are the name of the game in this feature film adapted from the popular British television series (which this film brings to a definitive end), an inspired-looking bit of cinematic mayhem that could very well dethrone "Project X" as 2012's number-one party movie that parents hope their kids will never see. What better way to take the edge off of going back to school than by spending some time on a Greek island with a quartet whose coming-of-age always takes the most extreme route possible?
---
9/7 – "THE WORDS" (CBS Films – Brian Klugman and Lee Sternthal – Drama)
Want to plunge yourself into the deepest existential crisis you could ever imagine? Commit plagiarism! "The Words" follows an aspiring writer (Bradley Cooper) who finally achieves the success he's been craving when he publishes the next great American novel – an epic romantic tome that he didn't write himself. The consequences are dire when the truth comes a'callin', made all the more ominous by being embodied by a strange old man on a park bench (Jeremy Irons) whose cryptic storytelling reveals the reality behind the fiction … and vice-versa. After "Limitless" and now this, Bradley Cooper can play a grinning doofus whose new ultra-life comes with a very high price in his sleep, though the film itself seems a bit confused when the sudden appearance of the song "Demons" by Imagine Dragons over the last part of the trailer makes it seem like an MTV movie that should be starring Zac Efron and Miley Cyrus. Still, "The Words" earned some good buzz from Sundance earlier this year, and it's not like anyone should turn down the chance to see a supporting cast that includes Zoe Saldana, Olivia Wilde, Dennis Quaid and J.K. Simmons, who plays a businessman who has to tell his perpetually broke, pushing-40 artiste son that maybe writing should just be a "hobby."
---
9/14 – "THE MASTER" (The Weinstein Company – Paul Thomas Anderson – Drama)
Paul Thomas Anderson's first film in five years (following 2007's excellent "There Will Be Blood") comes with a bit of pre-packaged controversy as his post-war fable about a wandering soul (Joaquin Phoenix) who's "saved" by a spiritual guru (Philip Seymour Hoffman) bears more than a passing resemblance to the life story of L. Ron Hubbard and the rise of Scientology. Indeed, Anderson has tried to cut off any potential (and probably inevitable) grumblings at the pass by already showing the film to what could be either his greatest ally or worst enemy in this endeavor: his "Magnolia" pal and number-one Scientology celebrity champion, Tom Cruise. Cruise reportedly has "some problems" with the film but certainly doesn't seem to be all up in arms about it; hopefully, we'll be able to judge "The Master" on its own terms and not as the "propaganda film" some might claim it to be. The fact that Anderson has never made a bad movie certainly sets the bar pretty high; personally, we have a feeling this one might even end up being his all-time best.
---
9/14 – "RESIDENT EVIL: RETRIBUTION" (Sony Pictures – Paul W.S. Anderson – Action/Horror/Sci-Fi)
Milla Jovovich is back doing what she does best in the fifth (!) installment of the action horror series that no one really likes but apparently can't help but watch. It looks like business as usual (and once again in 3D, as with the 2010's "Afterlife") as Alice (Jovovich) grabs her double guns and teams up with a resistance movement that's determined to take down the ever-corrupt, ever-untouchable Umbrella Corporation, the uber-conglormerate responsible for turning most of the world's population into ravenous zombies and other mutant monsters. "Retribution" makes for something of a reunion as several series alums are making appearances (whether they died in previous installments or not), including Michelle Rodriguez (absent since the 2002 original), Sienna Guillory (as fan favorite Jill Valentine), Oded Fehr and Shawn Roberts (as supervillain Albert Wesker). What, no Mike Epps? What kind of show is Paul W.S. Anderson running here? Anyway, "Retribution" reportedly marks the "beginning of the end" for a franchise that somehow keeps getting resurrected almost in spite of itself.
---
9/21 – "DREDD 3D" (Lionsgate – Pete Travis – Action/Sci-Fi)
"I AM DA LAW!" Sylvester Stallone made a go at Judge Dredd, the judge, jury and executioner of the popular British comic book series "2000 AD," back in 1995 with a failed film adaptation that didn't stand a chance against opening opposite "Apollo 18" (or opening opposite anything, really). The character's definitely got a cult following, so it was only a matter of time before someone gave him an upgrade and a hearty R rating for some rather extreme "RoboCop"-level violence. Karl Urban, who can play anything from a Middle-earth warrior in "The Lord of the Rings" to a scowling Russian assassin in "The Bourne Supremacy" to, well, Bones in "Star Trek," plays Dredd this time around, a mighty and at times merciless enforcer of justice in the irradiated future world of Mega City One, a sparawling metropolis overwrought with crime and corruption. The film screened earlier this summer at the San Diego Comic-Con, where it received some praise for not pulling any punches in bringing to life a city where bullets fly like there's no tomorrow.
---
9/21 – "END OF WATCH" (Open Road – David Ayer – Drama/Mystery)
"So why do they call you Big Evil?" "'cause my evil's big." Writer-director David Ayer once again hits the mean streets of Los Angeles with this crime drama in which two LAPD officers (Jake Gyllenhaal and Michael Peña) make what seems like the bust of their careers when they confiscate a bunch of money and guns during a routine traffic stop. Unfortunately, this act of protecting and serving makes them the targets of a powerful drug cartel that likes to do things like shoot up homes with machine guns in the middle of the night – for starters. Ayer, who wrote "Training Day," "S.W.A.T." and "Dark Blue" and wrote/directed "Harsh Times," is obviously right at home with this kind of gritty cop tale, and with "End of Watch" he goes for a "found footage" kind of look to up the sense of realism and intensity. If only we didn't have such a hard time accepting Gyllenhaal as a grown-up – we still only see the kid from "Donnie Darko" every time we look at him.
---
9/21 – "HOUSE AT THE END OF THE STREET" (Rogue – Mark Tonderai – Horror/Thriller)
It was probably only a matter of time before someone put Jennifer Lawrence, the rising star of "Winter's Bone" and "The Hunger Games," in a white tank top and made her stake her claim as a modern-day Scream Queen. Lawrence plays Elissa, a teenager who moves with her newly divorced mother (Elisabeth Shue) to an upscale (and almost surely isolated) country community, where she becomes involved with the cute guy next door (Max Thieriot) who harbors a deadly secret involving murder and mayhem. Lawrence's perfectly art-directed grimy, sweaty cleavage should sell some tickets, though whether she's a true movie star outside the realm of Panem remains to be seen; meanwhile, we're having trouble with the fact that the hottie from "Adventures in Babysitting" is now old enough to have a teenager of her own. The film's already been nominated for Best Sound Editing by the Directors Guild of Canada, so we know all those creaking floors, high-pitched wails and various bumps in the night will at least sound good.
---
9/21 – "TROUBLE WITH THE CURVE" (Warner Bros. – Robert Lorenz – Drama)
It's been a while since baseball was used as a metaphor for the various unpredictable victories and defeats of … well, life, so leave it to Clint Eastwood, Hollywood's seemingly tireless MVP, to take us back out to the ball game. Eastwood plays Gus, a longtime talent scout who's got one good trip left in him; his estranged daughter (Amy Adams) accompanies him on his last swing for the fences, during which he encounters a longtime rival (Justin Timberlake) who's got eyes for his little girl. "Trouble With the Curve" marks Eastwood's first acting gig since 2008's "Gran Torino" and his first starring role in a movie he didn't direct himself since 1993's "In the Line of Fire"; calling the shots (and pitches) is Eastwood's longtime pal and producer, Robert Lorenz, making his feature directorial debut. Expect this one to be a grizzled yet gentle fable that might do for fathers and daughters what "Field of Dreams" did for fathers and sons.
---
9/14 – "THE PERKS OF BEING A WALLFLOWER" (Summit – Stephen Chbowsky – Drama)
Stephen Chbosky directs his own adaptation of his own novel, a "period piece" of sorts (it takes place in the early '90s, which, in many ways, might as well be 100 years ago) about a high school freshman (Logan Lerman) who's taken under the wing of two seniors (Emma Watson and Ezra Miller) as he deals with first love, the suicide of his best friend and other seemingly insurmountable challenges of transitioning into adulthood. The exceptional book definitely has its fans, but the real draw here is seeing Emma Watson in her first major post-"Harry Potter" role; she's apparently determined to still be seen as a student, unlike her colleague, Daniel Radcliffe, who jumped right into playing a widowed father in "The Woman in Black." Early buzz says that Chbosky has been blessed by John Hughes, which is certainly a "Perk"; God knows we're extremely overdue for a truly insightful, witty and unironic film about teenagers.
---
9/28 – "SOLOMON KANE" (Radius-TWC – Michael J. Bennett – Adventure/Fantasy)
"I am not yet ready for hell!" An old-fashioned morality tale told as an epic fantastical action-adventure, "Solomon Kane" stars James Purefoy as a brutal mercenary of Queen Elizabeth I who changes his violent ways when he finds out that he's headed straight for you-know-where. He successfully lives a life of peace until he's called back into action after an evil sorcerer (Jason Flemyng) kidnaps a Puritan girl (Rachel Hurd-Wood) and has her family slaughtered in front of her. Time to set stuff on fire and turn dramatically to the camera to say "Follow me!" in the mostly grimly determined way possible! This one's been held at U.S. customs for three years now, as other countries have been enjoying "Solomon Kane" since late 2009; the film now serves as a warm-up of sorts before director Michael J. Bennett unveils his big Hollywood debut, "Silent Hill: Revelation 3D," a month later. "Solomon Kane" also marks one of the last films of the late, great Pete Postlethwaite, who, along with Max von Sydow, provides old-timer gravitas to all the sword-swinging chaos.
---
9/28 – "LOOPER" (TriStar Pictures – Rian Johnson – Action/Sci-Fi)
We've been waiting almost 17 years for something to be referred to as "the next '12 Monkeys,'" and it looks like we're finally getting it in the form of Rian Johnson's new sci-fi action film – which, appropriately enough, also features the doomed hero of "Monkeys," Bruce Willis. Joseph Gordon-Levitt, the writer-director's unofficial muse (they previously rocked the house – or the high school, rather – with the noir mystery, "Brick"), plays the title role, a future-world assassin who incorporates time travel into his work; things go completely meta-bonkers when his latest target ends up being his older self (Willis), who manages to avoid being the victim of what would've been the most mind-bending case of murder-suicide in history. The trailer released a few months ago was amazing enough, but the extended look given at this summer's San Diego Comic-Con promises a film that's going to be as exciting and entertaining as it is thought-provoking and smarty-pants cool (just like "12 Monkeys" before it).