Exclusive: The Raveonettes in the studio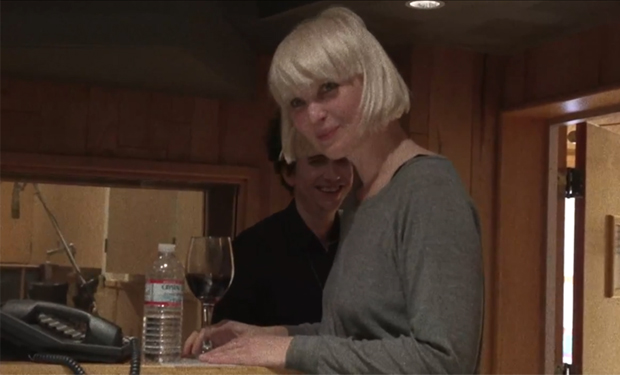 Posted by Brandon Kim on
After agonizing for months, with both physical (a thrown-out back) and mental anguish, The Raveonettes delivered their 6th album "Observator" on 9/11. The Danish duo, who've long stood out amid scores of fuzz pop bands wanted this one to be a return to form after their last record which singer/guitarist Sune Rose Wagner described as a more of a "dark score or soundtrack to an as-of-yet-unmade film."
It only took them seven days to record the album, but it seems to have been a long personal journey for Wagner, who first had to quit drinking, and then take it up again in order to remember what it was that he needed most — to be out meeting strangers and sucking the marrow of life. "I once read that Lars Von Trier writes his films in a similar kind of way," Wagner said. "He goes home, gets super drunk, and starts writing while his inhibitions disappear. That's sort of always worked for me too, but this time, I had to go the long way round to remember that."
Wagner and singer Sharin Foo glamorously decorated their sound with piano this time too. Here they are in those in between moments, having red wine, white wine, reveling in their recovered vibrancy.
video player loading
.
.
.
US tour dates:
September 26 Triple Rock Minneapolis, MN
September 27 Lincoln Hall Chicago, IL
September 28 The Firebird St Louis, MO
September 29 A&R Bar Columbus, OH
September 30 Magic Stick Detroit, MI
October 2 Phoenix Concert Theatre Toronto, ON
October 3 Corona Theatre Montreal, QB
October 4 Union Transfer Philadelphia, PA
October 5 Webster Hall New York, NY
October 6 Black Cat Washington, DC
October 7 Paradise Rock Club Boston, MA
October 8 El Rey Theatre Los Angeles, CA
October 11 Belly Up Tavern Solana Beach, CA
October 12 Bimbo's 365 Club San Francisco, CA
To drink or not to drink? Let us know in the comments below or on Twitter or Facebook!