Exclusive Premiere: Michael Zapruder "Florida"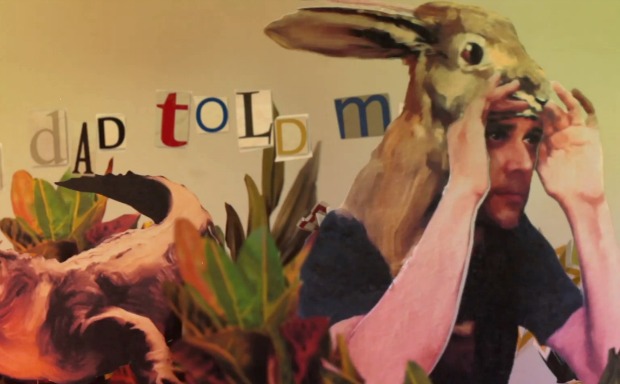 Posted by Melissa Locker on
People don't talk about the poetry of indie rock very often. But Michael Zapruder is looking to change that. His forthcoming album, Pink Thunder, is a collaboration between the singer-songwriter and 23 poets, three engineers, and a few dozen musicians, out October 16 on The Kora Records. Zapruder was inspired by the poets and their art when he met them on the Poetry Bus, a rock-style tour of performing poets, organized by Wave Books, which is co-run by Michael's brother, poet Matthew Zapruder.
The result is a collection of free-verse indie pop poetry featuring Zapruder's adept guitar work, minimalist rhythms and subtly colorful hooks along with lyrics inspired the poets. The first single off the album, "Florida", was inspired by a poem by Travis Nichols. Such free-form creativity isn't unusual for Zapruder. Way back in 1999, when the internet's potential was still nascent, Zapruder tasked himself with writing a song a week and uploaded it to his website. He collected the songs on an album "52 Songs," earning critical accolades and a reputation as an internet visionary, which he translated into a career as Pandora's music curator.
Zapruder's music distribution creativity didn't end with the advent of YouTube. His new songs will be sold as portmanteaus, a new release format for music: an album as an art show; a single as art-object. A portmanteau is composed of two parts: a digital music player enclosed in a little base or platform; and an object, related to the music, that sits on top of that base. Check some of them out here. Each song on "Pink Thunder" has its own unique portmanteau. If you're in San Francisco, you can see the portmanteaus at The Curiosity Shoppe from Oct. 18th-Nov. 18th.
In the video for "Florida," Zapruder combines his songwriting, love of poetry, and creativity with an incredible video directed by Jesse Yules (Grizzly Bear, Of Montreal, Owen Pallett), the video was inspired by illustrated animal books from the 70s, which were printed on watercolor paper and animated using thread and swivel brackets.
Watch Michael Zapruder's "Florida":
Want the latest news from IFC? Like us on Facebook and follow us on Twitter @ifctv.