"Dumb and Dumber" sequel officially titled "Dumb and Dumber To"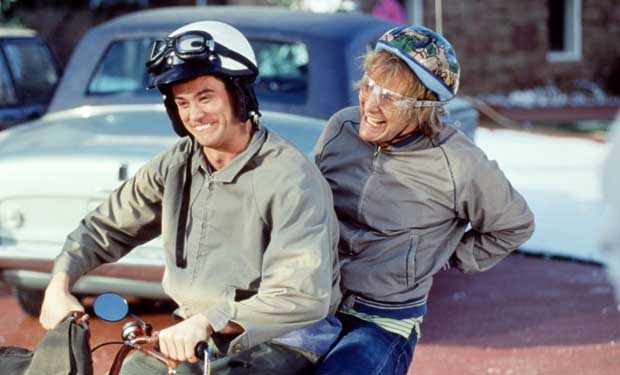 Posted by Terri Schwartz on
The Farrelly brothers have been working so hard on the sequel to the 1994 hit "Dumb and Dumber" that they've finally, finally, finally announced the official title for the flick.
"You also might be interested to know that we are almost done with the Dumb and Dumber To (sic) script," they tweeted last night. "I think you're going to like it."
Following early reports that Jim Carrey had backed out of the project due to lack of interest, the "Kick-Ass 2" star has rejoined the production alongside Jeff Daniels. The schedule for "Dumb and Dumber To" will have to work around Daniels' commitment to "The Newsroom," but the actor is optimistic about this return to a cult classic.
"Jim wants to do it. I want to do it. The Farrellys want to do it," he told Crave Online. "They want to rewrite the script a little bit and they aren't trying to jam it in before I have to go back and do 'Newsroom' in November. So they're going, 'Why don't we just do it right? Let's get everybody organized to go next May or June.' If everything works out on the business side, that's what we'll do but I think there's more hope than ever."
Bobby Farrelly recently talked to Digital Spy and said that they "will make this movie," and that some of the major plot points have already been figured out. That's good, since both brothers have now said they're close to completing the movie's script.
"The story revolves around the fact that one of them may have sired a child. They want to go and find the child because he's having a kidney problem and he wants to ask him for one of his kidneys," Farrelly explained.
He continued, "I can tell you that there is no growth out of either one of them and it's 20 years later. What is funny about the original is that they're grown men who are complete losers and when the studio came to us about a sequel, we were like, 'Loads of kids are losers and they're dumb.' We didn't see any value in the sequel so we backed out of it, but now these guys are in regular life and they're still basically children at heart."
Do you like the title "Dumb and Dumber To"? Tell us in the comments section below or on Facebook and Twitter.