"Cloud Atlas" clip shows film's unique visual style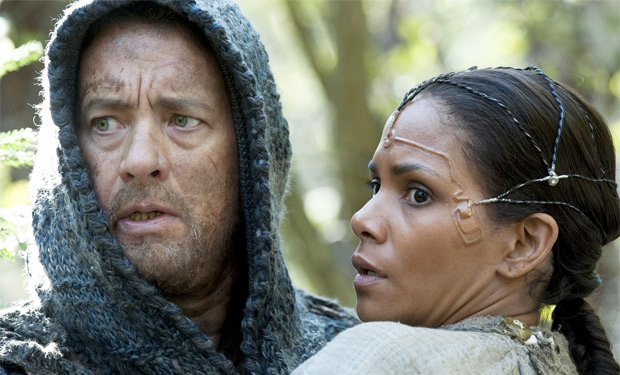 Posted by Terri Schwartz on
In the first clip from "Cloud Atlas," we get a sense of how all the various storylines in the movie fit together. Don't expect there to be big sections of the movie dedicated to the separate characters like they were in the novel. Instead, the Wachowskis and Tom Tykwer will flit seamlessly between the different narratives to tell one cohesive story.
It seems as if this scene is a pretty major on in the film, so be warned that it might be considered a spoiler for those of you who want to go into the movie fresh. Hopefully this happens relatively late in the film, since we don't want to lose even one Tom Hanks character early on.
Early reviews for "Cloud Atlas" have been glowing, and a lot of critics have applauded the Wachowskis for their use of the quick cuts between characters. There's a chance it might get a bit disorienting for viewers, but the swirling, non-linear way that this clip told the film's story has us very intrigued about how the style works in its full form.
"Cloud Atlas" was directed by Lana and Andy Wachowski and Tom Tyker. It stars Tom Hanks, Halle Berry, Jim Broadbent, Hugo Weaving, Jim Sturgess, Doona Bae, Ben Whishaw, James D'Arcy, Xun Zhou, Keith David, David Gyasi, Susan Sarandon and Hugh Grant, all of whom play various characters in the movie.
The official synopsis says, "'Cloud Atlas' explores how the actions and consequences of individual lives impact one another throughout the past, the present and the future. Action, mystery and romance weave dramatically through the story as one soul is shaped from a killer into a hero and a single act of kindness ripples across centuries to inspire a revolution in the distant future."
What do you think of the narrative style of "Cloud Atlas" shown in this clip? Tell us in the comments section below or on Facebook and Twitter.