Ari Graynor on her phone sex comedy "For a Good Time, Call…" and how it's less raunchy than you think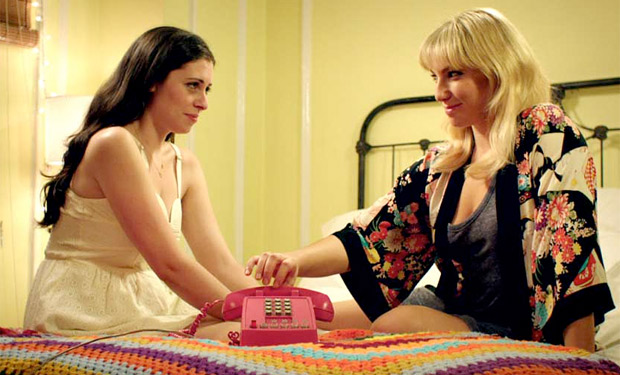 Posted by Jennifer Vineyard on
Call 1-877-MMM-HMMM, the fictional phone line set up in the phone sex comedy "For a Good Time, Call…" and you might hear the voice of Lena Dunham, confessing she used to think oral sex meant talking about sex. (A different celeb is featured each day). Or go to a feature on the film's website, and you can hear the film's co- stars entice you to make a make a Mad Lib of phone sex, mixing and matching phrases like "Squeeze my…" or "Put it in my…" with various body parts and orgasmic sighs. (Ari Graynor's squeal of "Balls!" is quite enthusiastic).
"It sounds so much raunchier and dirtier than it is," Graynor laughed when talking about the film's premise with IFC. "But we tie it up with a pretty pink bow. This is by no means a porno."
Graynor tried to make her dirty talk as funny and "not overtly sexual" as possible, but it was a "tricky line to walk." It helped when the caller was in the room, such as when Miller's husband Seth Rogen shot his cameo. (His character is seen in a bathroom, but during the shoot, he hid next to the bed while Miller and Graynor entertained him on the line). Other cameos included Kevin Smith and Ken Marino as callers.
video player loading
.
.
.
"On our first day of shooting, the first shot of the movie that we did was me on the bed for the coverage for what ended up being Kevin on the other line," Graynor said. "At the time, I was just reading my lines with the script supervisor, just dry reads, so I was so grateful and lucky to have Seth there for his scene. And he was so good at it!"
In the film, Graynor plays Katie (modeled after Lauren Anne Miller's co-writer and former roommate Katie Anne Naylon, who once worked as a phone sex operator), who goes into the business with her new roommate Lauren (modeled after Lauren herself).
"The movie is so meta," Graynor said. "You have me doing a version of Katie, Lauren doing a version of Lauren, and even Justin Long was doing a version of our director [Jamie Travis], which really cracked me up." (Long was first asked to play a caller-turned-love interest, but instead took the part of the gay best friend who brings the two girls together.)
Like the real-life Katie was when she did phone sex, the character Katie is a virgin for most of the movie — which might be surprising considering how open about sex she is.
"I think part of it about owning your sexuality and taking the shame out of it," Graynor said. "We have so many hang-ups, and so much judgment about women and sexuality that it's deeply unsettling and unfair. Think about how many films have so much violence and are PG-13, and hardly anyone registers it or comments on the fact that so many people are killed in them. But God forbid a woman has an orgasm — that's a ratings killer. So maybe we can help destigmatize that, get the culture to lighten up a bit.
While working on the film, Graynor was also doing "Relatively Speaking" on Broadway, which took a toll on her voice — "I was much lower and raspier, which I think worked well for this," she said. "And recording those lines in ADR felt oddly more like having phone sex anyway." She jokes that if her acting career doesn't pan out, she has a second career option now. "I wouldn't have thought of phone sex as my fallback position," she laughed. "But if I do it, I want a hot pink phone!"