Alia Shawkat and Adam DeVine talk season four of "Arrested Development"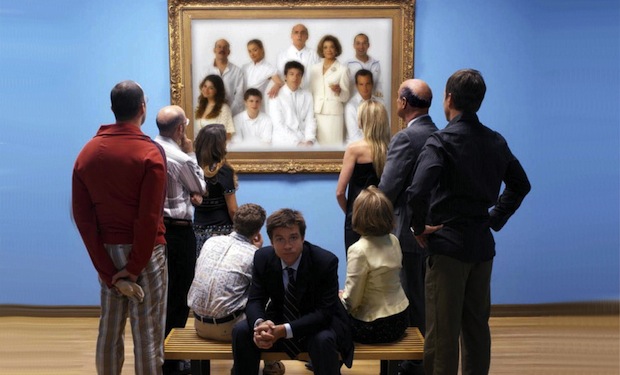 Posted by Terri Schwartz on
Production on the fourth season of "Arrested Development" has been very hush-hush and, as a result, we've been desperate for information. That's why we were so excited when two actors involved in the new season offered up some fun facts about the new episodes during recent interviews.
"Workaholics" star Adam DeVine told E! Online that the fourth episode of season four is called "Michael" and even let some plot details slip despite the fact he admitted to signing a non-disclosure agreement. We already knew that DeVine shot some scenes in an airport, but haven't had any context for that until now.
"[Michael] is trying to get out of town and I work at the airline that he's trying to get at. And I'm totally inept. I don't know how to print a ticket or get his bags on the plane, so he's having a hard time with me," DeVine said.
Where is Michael Bluth going — or coming — from? We'll have to wait until the episodes come out to know for sure. At least we know DeVine isn't the only one having fun on set, though. Alia Shawkat talked to Vulture recently about her experience filming season four.
"It's very surreal and awesome. I still feel like a teenager who's insecure when I'm on set around all of the funny adults, trying to talk, but at the same time, everything has changed, and you're trying to catch up," she said. "It's like the weirdest flashbacks, and it's been six years since we wrapped and it feels like no time has passed, and that's what's even weirder."
Shawkat added, "The scripts [for season 4] keep getting funnier and funnier, and you know, we just get to do some crazy shit."
Most importantly, she confirmed there won't be any "Call Me Maeby" jokes in the new season. Thank you for sticking to your guns, Mitch Hurwitz.
"Arrested Development" season four will air on Netflix at some point next spring. It will have anywhere from 10 to 13 episodes, and could be released all at once instead of weekly. This season features the return of the main cast and the addition of beloved recurring characters like Mae Whitman, Liza Minelli, Judy Greer, Ron Howard, Scott Baio and Henry Winkler as well as newcomers Isla Fisher, Terry Crews, John Slattery and the cast of "Workaholics."
What are you most looking forward to in season four of "Arrested Development"? Let us know in the comments section below or on Facebook and Twitter.