Adapt This: "Unknown Soldier" by Joshua Dysart & Alberto Ponticelli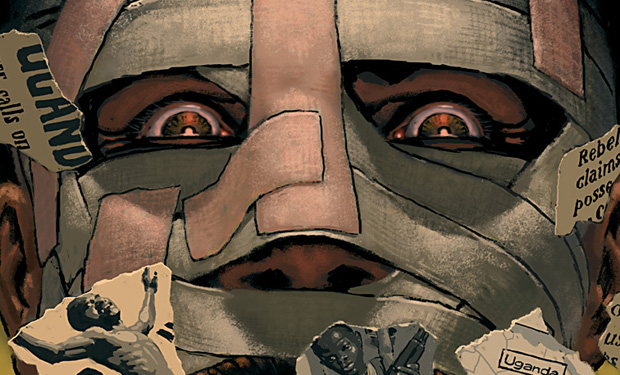 Posted by Rick Marshall on
With Hollywood turning more of its attention to the world of graphic novels for inspiration, I'll cast the spotlight on a cool comic book each week that has the potential to pack a theater or keep you glued to your television screens. At the end of some "Adapt This" columns, you'll also find thoughts from various comic creators and other industry experts about the books they'd like to see make the jump from page to screen.
---
This Week's Book: Unknown Soldier by Joshua Dysart & Alberto Ponticelli (Vertigo)
The Premise: After fleeing war-ravaged Northern Uganda when he was seven years old, Dr. Lwanga Moses returns years later on a humanitarian mission, only to find himself caught up in the atrocities committed by the savage Lord's Resistance Army in their guerilla war against the Ugandan government. When his first encounter with the LRA sends him into a violent rage that leaves one child soldier dead and his own face scarred beyond recognition, he discovers that there's something lurking deep within him that's not only comfortable amid the violence around him, but thrives on it. Struggling to reconcile the difference between the peaceful man he was and the ruthless killer he's becoming, Lwanga begins to think that his bandaged alter ego might be exactly what his enemies deserve.
The Pitch: The first volume of this bloody, brutal series by Joshua Dysart and Alberto Ponticelli didn't skimp on the reality checks, and offered a terrifying look at the savage, real-world war currently being waged in Northern Uganda and the surrounding African territories. A big-screen adaptation of the series — or its first volume, at least — would need to be similarly unflinching if it's going to be effective.
The war in and around Uganda has served as the setting for a number of films in recent years, including "Machine Gun Preacher" (based on the real-life story of Sam Childers, an American who operates an orphanage in South Sudan). And though Unknown Soldier is a fictional story, Dysart's meticulous research and the unique spin he puts on the character make it stand out from the crowd with a tone that's significantly more gritty and raw than much of what's been seen on the screen.
To that end, a movie based on Unknown Soldier certainly wouldn't be aimed at the typical comic book movie audience, though Dysart does give the title character a preternatural, Jason Bourne-like knack for military strategy and combat techniques. If the war in Uganda did give birth to a superhero, it's not hard to believe that the scarred — both physically and psychologically — result is the Unknown Soldier.
Casting Suggestions: It's easy to name-drop Denzel Washington as a fantastic choice for the role of Lwanga Moses, given the gritty, violent characters he's played to perfection in films like "Man On Fire" and "Training Day," but Hollywood isn't likely to provide a Denzel-level paycheck for a project as grim, gritty, and decidedly non-mainstream as an "Unknown Soldier" movie. A better option might be someone like "Gladiator" actor Djimon Hounsou, who's no stranger to violent subject matter and brutal action sequences, but hasn't found the right project yet to feature him front and center. Up-and-coming actor Anthony Mackie also seems like a nice fit for the role, having established himself with gritty dramas like the "The Hurt Locker."
---
Would "Unknown Soldier" make a good movie? Chime in below or on Facebook or Twitter.