Adapt This: "The Cross Bronx" by Ivan Brandon and Michael Avon Oeming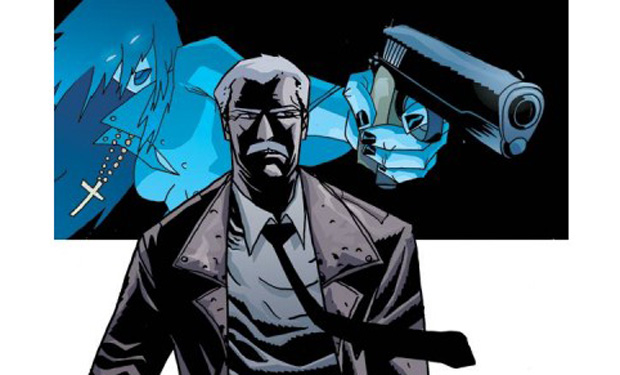 Posted by Rick Marshall on
With Hollywood turning more of its attention to the world of graphic novels for inspiration, I'll cast the spotlight on a cool comic book each week that has the potential to pack a theater or keep you glued to your television screens. At the end of some "Adapt This" columns, you'll also find thoughts from various comic creators and other industry experts about the books they'd like to see make the jump from page to screen.
---
This Week's Book: The Cross Bronx by Ivan Brandon and Michael Avon Oeming
The Premise: Detective Rafael Aponte thought he'd seen it all, but when a local gang is slaughtered by a mysterious killer, the investigation leads him to question everything he knows about justice, religion, and what we know about the world around us.
The Pitch: Like a great episode of "NYPD Blue" filtered through a horror movie, The Cross Bronx is the perfect balance of crime drama and supernatural mystery, and manages to straddle the line between the two genres masterfully enough to attract fans of both types of stories. While both genres are wildly popular on television these days, The Cross Bronx actually has some legitimate potential on the big screen, offering a complete story that draws from the best elements of horror and police procedurals.
Despite the supernatural angle, there's little need for the heavy effects that can make horror movies an expensive undertaking, since the story relies more on its gritty urban vibe than any paranormal elements to establish its tone. Creators Ivan Brandon and Michael Avon Oeming have also done a nice job of developing both the main character, Rafael Aponte, as well as the story's supporting cast, and there are some meaty roles with room to expand in the right actors' hands.
To its credit, The Cross Bronx feels like it's been written with an adaptation in mind, with the pacing and story structure of a three-act production — so the leap to the big screen should be fairly painless. Ideally, a filmmaker would focus on the darker, urban crime elements of the story, making each glimpse of the real killer in the story that much more eye-catching and memorable.
Casting Suggestions: It's easy to throw out Edward James Olmos' name as an actor who'd be perfect for the role of grizzled veteran detective Rafael Aponte, but with Hollywood usually preferring a younger-skewing lead, someone like Javier Bardem or Benicio Del Toro could bring the star power (and skeptical squint) that the character deserves. Of course, Jimmy Smits is also an option, though his time on "NYPD Blue" might make this role a little too appropriate.
More than anything else, the actor portraying Det. Aponte should have a clear connection to the latino community, as that aspect of the character plays a big role in the series.
---
Would "The Cross Bronx" make a good movie? Chime in below or on Facebook or Twitter.