Adapt This: "Prophet" by Brandon Graham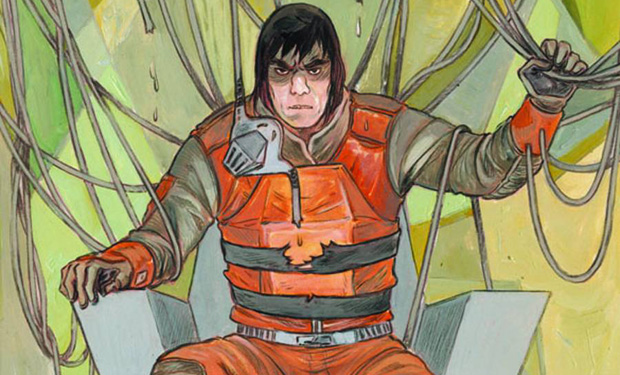 Posted by Rick Marshall on
With Hollywood turning more of its attention to the world of graphic novels for inspiration, I'll cast the spotlight on a cool comic book each week that has the potential to pack a theater or keep you glued to your television screens. At the end of some "Adapt This" columns, you'll also find thoughts from various comic creators and other industry experts about the books they'd like to see make the jump from page to screen.
---
This Week's Book: Prophet by Brandon Graham (Image Comics)
The Premise: In a future so distant that humans are a long-forgotten race, John Prophet awakes from cryo-sleep deep within the Earth and emerges to find a world very different from the one he remembers. His mission is to wake up his fellow humans scattered around the universe and kick-start the return of the Earth Empire and the rise of humanity.
The Pitch: Any movie studio or television network intrigued by the franchise potential of a sprawling space epic need look no further than Prophet, Brandon Graham's reinvented take on Rob Liefeld's time-tossed hero, John Prophet. Darker and more alien than the "Star Wars" universe but offering a much wider world full of storytelling opportunities, Prophet is the sort of project that might not find a home with mainstream audiences, but is likely to find a loyal — and vocal — fanbase in the sci-fi set.
In fact, what works against Prophet as a mainstream project is likely the same thing thing that will make it stick out from the crowd and earn more attention from genre fans. The universe of John Prophet has moved beyond humanity, leaving very few human characters for its main character to interact with and making it the ultimate "stranger in a strange land" scenario. Still, there's a case to be made that shows like "Farscape" and (to a much lesser degree) "Babylon 5" both managed to connect with audiences despite having a predominantly alien cast of characters.
Without giving too much of the story away, there are also a wealth of narrative possibilities in the Prophet universe that take John Prophet (or his fellow humans) to far-off planets where standalone, encapsulated adventures can happen. This gives the show a ready-made balance of episodic stories and an over-arching narrative that leads toward something larger and keeps audiences guessing.
Still, the network (or studio) that takes on Prophet would need to make sure the adaptation holds onto the more mature tone of the source material, as that aspect of the series goes a long way toward giving its main character a unique edge.
Casting Suggestions: There's no shortage of rugged, tough-guy actors who could do justice to John Prophet, and given some of the twists the story takes, there could even be multiple actors cast in the role. Good picks will be able to pull off the more savage elements of the character (a la Jason Momoa in "Game of Thrones") but also bring a level of silent, stoic strength to the role (much like Karl Urban does in "Dredd 3D").
The most important role to be cast in a Prophet adaptation probably isn't the lead character, though — it's the person responsible for bringing the on-screen aliens to life. Given how much of the story relies on John Prophet's interactions with alien races, finding someone who can be a true "world-builder" will likely mean the difference between success and failure for "Prophet."
---
Would "Prophet" make a good movie or television series? Chime in below or on Facebook or Twitter.