Adapt This: "Hotwire" by Steve Pugh and Warren Ellis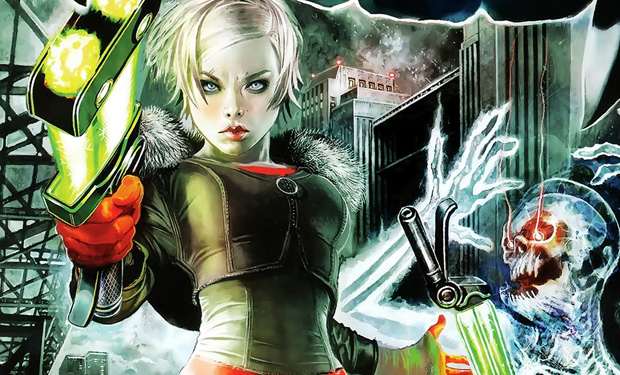 Posted by Rick Marshall on
With Hollywood turning more of its attention to the world of graphic novels for inspiration, I'll cast the spotlight on a cool comic book each week that has the potential to pack a theater or keep you glued to your television screens. At the end of some "Adapt This" columns, you'll also find thoughts from various comic creators and other industry experts about the books they'd like to see make the jump from page to screen.
---
This Week's Book: Hotwire by Steve Pugh, based on a story by Warren Ellis (Radical Publishing)
The Premise: London is overrun with "blue lights" (a.k.a. ghosts), but that isn't the problem. The problem is that the normally docile spirits have suddenly turned violent, and committed a series of grisly hauntings. Enter the Metro Police Station's resident Detective Exorcist, Alice Hotwire, a young, bratty agent who's too smart for her own good. As Alice investigates the blue lights' sudden shift in mood, what she discovers will challenge her own beliefs and put her at odds with the city and its police force.
The Pitch: A pretty girl with a razor-sharp wit who can kick all kinds of butt, a bunch of angry ghosts, and an arsenal of fancy weapons, vehicles, and other sci-fi technology. What's not to like about the big-screen potential of this story?
Like "The Girl With The Dragon Tattoo" mixed with a healthy dose of "Blade Runner," this story is a nice blend of cyberpunk and gritty investigative elements flavored with enough science-fiction and fantasy to keep things interesting and fresh. Steve Pugh and the story's original creator, Warren Ellis, have created a rich character in Alice Hotwire that's more than just the standard hacker archetype, all snark and style. Much like Lisbeth Salander in the Dragon Tattoo novels, Alice has very real flaws and vulnerabilities that make her moments of confident, ass-kicking action that much more memorable.
With the first, four-issue volume of Hotwire, titled "Requiem For The Dead," there's also a nicely encapsulated story arc that serves well as an introduction and general narrative for a feature-length film. Despite running through four issues, it's easy to see "Requiem for the Dead" formatted as a three-act story with a growing sense of spectacle that pays off with an exciting, effects-heavy, action-packed finale.
Given the right combination of director and a creative team capable of bringing the visual elements of the story to life, it's easy to see Hotwire manifest as a summer blockbuster-type production. Its futuristic London setting, the technology used the characters, and the costumes for Alice and supporting cast of police, victims, and ghosts all beg for a bit of slick, computer-generated shine and cyber-fueled style.
Casting Suggestions: Australian actress Emily Browning seems like a good fit for the role of Alice Hotwire, as she has a nice blend of sex appeal and action savvy — both of which are on display in "Sucker Punch." If the studio opts to skew a little older for the role, Michelle Trachtenberg ("Buffy the Vampire Slayer") is more than capable when it comes to dishing out Alice's snark and holier-than-thou attitude, and the action elements of the role might be a good change of pace for the talented actress. It's worth noting, though, that British actress Natalie Dormer ("The Tudors") looks the most like Alice of all the actresses mentioned here and has more than enough talent to make the role her own.
---
Would "Hotwire" make a good movie? Chime in below or on Facebook or Twitter.