Comedy Calendar: Your August Movie Options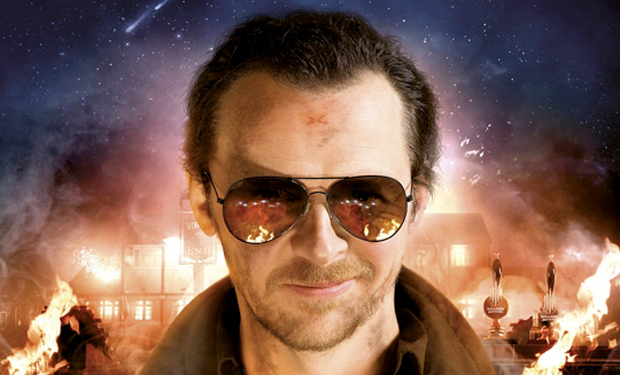 Posted by Tim Grierson on
Welcome to "Comedy Calendar," a regular column that tracks the month's most intriguing film comedies that will be coming to a theater near you.
Though it's technically part of summer movie season, August doesn't have nearly as many high-octane releases as the previous months do. Things start to slow down in preparation for the fall and the award-hungry prestige films that will be coming soon. But in the meantime, you can choose from several Sundance offerings — not to mention new films from the directors of Dodgeball and Hot Fuzz. Here's a rundown of this month's comedy options…
2 Guns (August 2)
What's It About: A DEA agent and a Naval Intelligence officer who don't know each other separately go undercover to infiltrate a Mexican drug cartel, neither realizing that their partner is a law enforcement officer as well.
Who's In It: Denzel Washington, Mark Wahlberg, Paula Patton, Bill Paxton and Edward James Olmos.
Why You Should Care: 2 Guns was directed by Baltasar Kormakur, who previously made another Wahlberg starring vehicle, Contraband. This action-comedy is rated R, offering a sexy, nasty alternative to a summer of superheroes and kids' movies.
The Spectacular Now (August 2)
What's It About: An alcoholic, party-hearty teen comes across a pretty, shy local girl, an unlikely friendship forming in the process.
Who's In It: Miles Teller, Shailene Woodley, Brie Larson, Jennifer Jason Leigh, Mary Elizabeth Winstead and Kyle Chandler.
Why You Should Care: This comedy-drama earned enthusiastic buzz after its premiere at the Sundance Film Festival, where it won a special jury prize for its acting ensemble. Based on Tim Tharp's novel, The Spectacular Now was adapted by Scott Neustadter and Michael H. Weber, the screenwriters behind (500) Days of Summer. And the trailers are definitely positioning the film to be this season's smart, sensitive, John Hughes-esque coming-of-age tale.
We're the Millers (August 7)
What's It About: A drug dealer needing to smuggle a large marijuana shipment from Mexico assembles a fake family that will avert suspicion, including a local stripper.
Who's In It: Reuniting after costarring in Horrible Bosses, Jason Sudeikis plays the drug dealer and Jennifer Aniston is the stripper. Also, you've got Emma Roberts, Will Poulter, Ed Helms and Nick Offerman.
Why You Should Care: Director Rawson Marshall Thurber previously made Dodgeball, and Sudeikis is no doubt hoping that We're the Millers will further his bid to transition from television — he recently confirmed he's leaving Saturday Night Live — to leading-man status on the big screen.
Planes (August 9)
What's It About: A sweet crop-dusting plane wants to compete in an air race. But there's a catch: He's afraid of heights.
Who's In It: This animated film features voice work from Dane Cook, Stacy Keach, Brad Garrett, Teri Hatcher, Cedric the Entertainer, Julia Louis-Dreyfus and John Cleese.
Why You Should Care: Advertised as "From Above the World of Cars," this Disney animated movie wasn't made by Pixar, but its talking vehicles have been fashioned to remind you of Lightning McQueen and his buddies. Disney had initially planned to put Planes only out on DVD, but instead it's going to get a theatrical release first. If your kids dug Cars, they're probably beyond excited for this, although we've already had one animated movie this summer about an underdog who competes in the big race: the under-performing Turbo.
In a World… (August 9)
What's It About: Set in the world of voiceover performers, In a World… examines the romantic and career foibles of a Los Angeles actress.
Who's In It: Lake Bell, who also wrote and directed the film. Plus, Fred Melamed, Demetri Martin, Michaela Watkins, Ken Marino, Rob Corddry, Nick Offerman and Tig Notaro.
Why You Should Care: Another crowd-pleaser from Sundance, In a World… is a very likeable romantic comedy, and it's got a great cast. Plus, seeing the inner workings of the voiceover industry — i.e. the people who narrate movie trailers with pumped-up pomposity — is quite fun.
Prince Avalanche (August 9)
What's It About: In 1988, two Texas guys get to know each other while painting traffic lines on an empty stretch of highway.
Who's In It: Paul Rudd and Emile Hirsch.
Why You Should Care: This quiet comedy-drama represents a return to director David Gordon Green's indie roots: When he started out, he made movies like George Washington before switching to broad comedies such as The Sitter and Your Highness. And both leads are charming in an understated way.
I Give It a Year (August 9)
What's It About: A recently married couple begin to wonder if they're built to last — an opinion secretly shared by their friends.
Who's In It: Rose Byrne and Rafe Spall play the lovebirds. Anna Faris, Simon Baker and Stephen Merchant lead the supporting cast.
Why You Should Care: Already available on-demand and through iTunes, I Give It a Year is the brainchild of writer-director Dan Mazar, who co-wrote Borat and Bruno. And in a summer that hasn't offered a lot of romantic comedies, this one might fit the bill.
Kick-Ass 2 (August 16)
What's It About: Kick-Ass and Hit Girl return, this time joined by an older vigilante named Colonel Stars and Stripes.
Who's In It: Aaron Taylor-Johnson, Chloë Grace Moretz, Jim Carrey and Christopher Mintz-Plasse.
Why You Should Care: The first Kick-Ass was a cult favorite, so there's an audience for a sequel. But the new film received a real high-profile boost by the fact that Carrey, who plays Colonel Stars and Stripes, announced that he wasn't going to do publicity for the film after experiencing "a change in my heart" about the film's amount of bloodshed. So expect the old "Do violent movies influence society?" debate to return to the forefront around Kick-Ass 2's release.
Austenland (August 16)
What's It About: A Jane Austen super-fan visits Austenland, a British resort that's like Disneyworld for all things Austen.
Who's In It: Keri Russell, JJ Feild, Bret McKenzie, Jennifer Coolidge, James Callis and Jane Seymour.
Why You Should Care: Debuting at Sundance, Austenland will cater to Austen worshipers. There hasn't been an indie chick-flick smash this summer: This could very well be it.
The World's End (August 23)
What's It About: In the midst of a pub crawl, a group of friends unexpectedly do battle with alien invaders.
Who's In It: Simon Pegg, Nick Frost, Paddy Considine, Martin Freeman, Eddie Marsan and Rosamund Pike.
Why You Should Care: Director Edgar Wright teams up again with star and co-writer Pegg to complete their loose trilogy of films that included Shaun of the Dead and Hot Fuzz. The reviews out of the U.K., where The World's End has already open, were pretty positive, which will hardly matter to these guys' rabid fan base.
Drinking Buddies (August 23)
What's It About: Romantic complications ensue for two employees of a craft brewery who have feelings for each other — despite being in relationships with other people.
Who's In It: Olivia Wilde and Jake Johnson are the employees. Ron Livingston and Anna Kendrick are their significant others.
Why You Should Care: Drinking Buddies was written and directed by Joe Swanberg, who previously made tiny mumblecore films like Hannah Takes the Stairs and LOL. (He also directed a segment in the V/H/S horror anthology.) This new comedy-drama is his step into slightly bigger-budget terrain, and it features his most high-profile cast to date.
You can follow film critic Tim Grierson on Twitter.