"Wizzywig" creator Ed Piskor talks hacking, hip hop, and his fascinating new graphic novel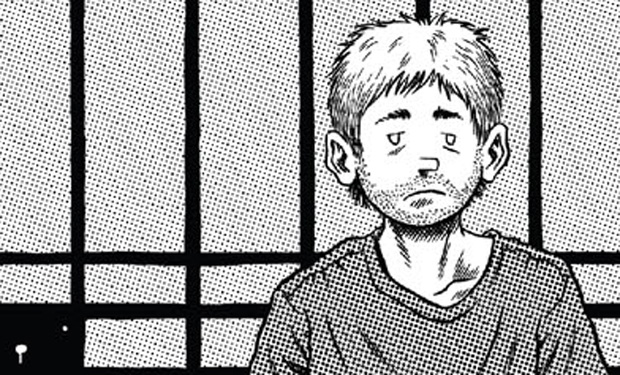 Posted by Rick Marshall on
With a nickname like "Boingthump," the main character of Ed Piskor's graphic novel Wizzywig isn't the typical comic book hero, but he's a guy you can't help rooting for all the same — even if he is one of the nation's most-wanted fugitives.
The recently published graphic novel chronicles the life of Kevin "Boingthump" Phenicle, a fictional computer hacker whose story is culled from the real-life experiences of famous hackers, scammers, and digital pirates. From his early days as a kid trying to get a few extra turns on Pac-Man and his discovery that perfect pitch could mean free pay-phone calls, through the years he spent on the run from the government (including an appearance on "America's Most Wanted"), Wizzywig is the story of a man who saw the loopholes in every system, and rarely shied away from using them.
What's more, Wizzywig is also one of the year's best graphic novels, combining a thrilling, dramatic tale of curiosity, risk, and consequence, with a fascinating study of what can happen when technology and the ways we use it evolve faster than the government's understanding of it.
IFC spoke with Piskor about the new, hardcover collection of Wizzywig that presents the amalgam of real-world stories that make up Kevin Phenicle's fascinating, fictional life.
IFC: Right at the start, I have to tell you that even though it clearly states that Wizzywig is "inspired by the incredible stories of real-life hackers," I kept having to remind myself that it's not actually a biography of a real person…
ED PISKOR: [Laughs] Yeah, it is a biography to a certain extent — in that it's a biography of like nine different guys crammed into one book.
IFC: Who are some of the real-life hackers whose stories found their way into the book in one form or another?
PISKOR: Well, there's this guy named Kevin Mitnick, and trailing just behind him is Kevin Poulsen. Both of these men were able to evade capture for years and years by the weird, verboten knowledge they had. They were able to game the system and create false identities and just stay under the radar. My thesis is that the only reason they were captured was because they simply got tired of running. The idea of disappearing and not being ble to have contact with your closest family and loved ones, that has to be kind of daunting after a few years.
There were other people the book was inspired by, too — like this blind phone-phreaker named Joe Engressia. He changed his name to "Joybubbles." He wanted to game the White Pages because there were no one-word names, like "Madonna." So he wanted his name to be "Joybubbles" and they still couldn't put a one-word name into the paper, so they put it down as first name "Joy," last name "Bubbles." That was a big victory for him.
IFC: Where did your connection with this subject begin? How did you get interested in hacking and the lives of hackers?
PISKOR: I was working on a book with Harvey Pekar called Macedonia, and there was a lot of labor involved in that one. It took me 14 months to put the book together, and it was right when podcasting was kind of new, which was perfect, because it's hard for me to keep myself in the drawing chair. For whatever reason, I put in the word "hacker" or "hacking" into one of those podcast aggregators, and this archive of a radio show called "Off The Hook" came up. There was a 25-year archive of this radio show which broadcasts from WBAI in Manhattan. The host of the show is also the publisher of a hacker magazine called 2600. I had some knowledge of different events — like stuff that happened with Kevin Mitnick — but the information I had on these subjects was all presented by major media outlets, so I just started listening to that audio archive from the first show, which was back in the '80s, close to 1990.
I listened to the entire archive, and what happened is that it really built on all of these dramas that developed in the hacker community. Sometimes they would interview someone for weeks on end, and then suddenly that person isn't there. And the host would get on to say that the person you got to know throughout the last few shows is now in jail and facing litigation. All of these dramas played out throughout the show.
IFC: That makes a lot of sense, because there's a character in Wizzywig who's a radio host, and he sort of leads the crusade to shed light on the main character's treatment…
PISKOR: Yeah, the host of the real-life broadcast and the publisher of 2600, his nom de plume is Emmanuel Goldstein, which was the fictional antagonist to Big Brother in the book 1984. And because I'm not original in any way, that radio-host character in Wizzywig is named Winston smith, who's the actual main character of 1984. The book is full of these little call-outs and geeky little tidbits that somebody who's into this scene will get and understand and appreciate, but it doesn't take away from the actual story if you don't catch them. It's just icing on the cake for people who are legitimately into this world.
IFC: So this radio show had a lot to do with your inspiration for Wizzywig, it seems…
PISKOR: Yeah, the show covered not only the history of hacking, but the history of high-tech and how the government was very slow and very draconian at first to understand and legislate against people who do weird things on the computer. There were a lot of weird cases where people were getting put in jail for years and labeled felons for very benign things that today you'd only receive a slap on the wrist for, if anything.