What to watch this weekend on IFC: A Bullet in the Face marathon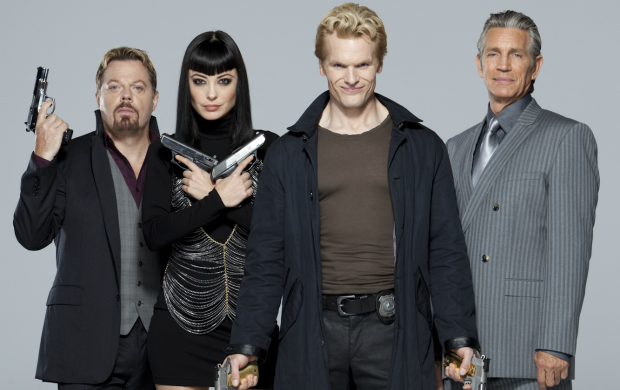 Posted by Melissa Locker on
This Sunday we're showing Alan Spencer's edgy six episode mini-series Bullet In The Face in a back-to-back block of action-packed blood-soaked thrills, chills and laughs. What better way to spend your last summer Sunday? Bullet in the Face is rooted in the dark worlds of graphic novels and film noir, but with a truly twisted sense of humor at its core. It's a completely demented high flying pulp-action-comedy-crime thriller with just enough sci-fi elements to keep viewers guessing. We're pretty sure you've never seen anything like it, unless of course you watched the series when it premiered earlier this month then you know you're dying to see it again.
Bullet In The Face stars Eddie Izzard and Eric Roberts as two viciously funny rival crime lords happy to wipe anyone in their way off the face of the earth. And who stands in their way? Everyone, but especially Gunter Vogler (Max Williams), a sociopath criminal who got pinched by the cops and turned. Turns out he has a knack for being a cop, a psychotic cop, but still.
Look for dynamic, dazzling performances by Izzard, Roberts, and Williams along with the rest of the cast including Kate Kelton, Neil Napier, and Jessica Steen.
Watch the trailer and then be sure to tune in for back-to-back episodes of Bullet in the Face starting Sunday at 5 p.m. ET:
video player loading
.
.
.
Want the latest news from IFC? Like us on Facebook and follow us on Twitter @ifctv.
The Bullet in the Face marathon kicks off on IFC on Sunday at 5 ET/ 4CT