What to watch on IFC tonight: Terry Gilliam's "The Brothers Grimm"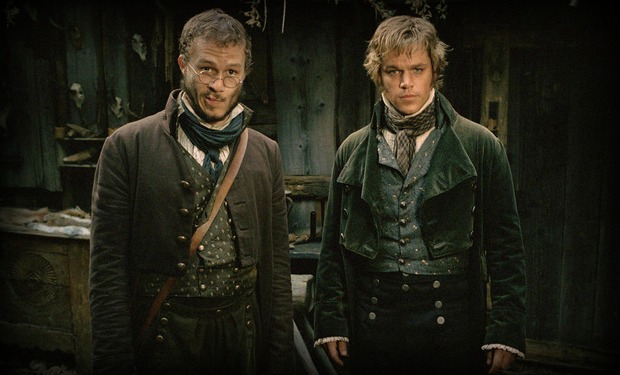 Posted by Melissa Locker on
Terry Gilliam makes some crazy movies. From "Time Bandits" to "The Adventures of Baron Munchausen" to "12 Monkeys" the former Monty Python star makes movies that create cinematic waves by pushing the envelope between high brow and lowbrow, reality and fantasy, fiction and fact, whimsy and whatever is the opposite of whimsy. His films are kooky confections with an acerbic undercoating that are endlessly entertaining and just plain fun to watch. Which is exactly why we love his movies so darn much.
One of his films that you may have missed is 2005's "The Brothers Grimm," which we are airing tonight at 8/7c. Now is your chance to rectify that mistake and see the movie. The fantasy revisits the famous Grimm fairytales chronicles the adventures of Wilhelm and Jacob Grimm played by noted handsome people Matt Damon and Heath Ledger. The brothers claim to be the most powerful and feared enemies of the armies of darkness, because that sounds so much better than con men. They spend their time traveling from town to town in French-occupied Germany in the late 18th century, staging hauntings, possessions and general supernatural nuisances in order to get paid to get rid of them. However, when several young girls disappear from a small French village the authorities task the Brothers Grimm with leading the investigation. The residents suspect dark forces …and it turns out they're right. The kidnappings come courtesy of the Mirror Queen (Monica Bellucci), who needs blood to maintain her own beauty and immortality and the Grimm brothers are the only ones who can stop her. Gene Seymour of Newsday called the film "a great compound of rip-snorting Gothic fantasy and Python-esque dark comedy" and he was right. It's a Gilliam film through and through, and for Gilliam junkies, it's a must see.
Watch the trailer then be sure to tune in tonight at 8/7c:
Want the latest news from IFC? Like us on Facebook and follow us on Twitter @ifctv.
"The Brothers Grimm" airs tonight at 8 PM ET; Monday, Sep. 10 at 8 PM ET; Tuesday, Sep. 11 at 1:00 AM ET; Friday, Sep. 14 at 10:30 PM ET; and Wednesday, Sep. 19 at 10:15 PM ET