"V/H/S" co-director Joe Swanberg talks horror, beer and independent filmmaking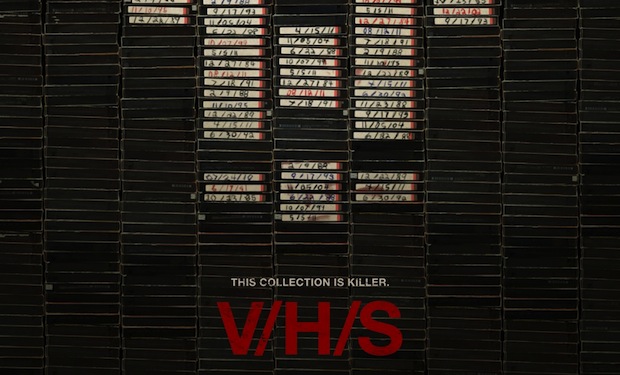 Posted by Terri Schwartz on
IFC: One of the things I noticed about the anthology and I'm sure was sort of a goal was that it took familiar horror conceits and subverts them. I'm curious what your inspiration was as someone who hasn't done much other horror work beyond, say, "Silver Bullets."
JS: And even "Silver Bullets" was very sort of abstractly related to horror, but definitely the closest thing I've done up until this point. Inspiration-wise, definitely YouTube videos, and imagery-wise, we just kind of tried to make it as realistic-feeling and looking as possible. And, honestly, the biggest influences for me right now in terms of that stuff are like Ti West and Adam and Simon, sort of like interesting filmmakers who I consider them to be filmmakers first and horror filmmakers second, you know? You could talk to Ti and Adam as much about boring art films as you could about horror films, and they know about all of it.
What these guys have been doing within horror is super interesting and, because they're friends of mine and collaborators of mine, I've sort of gotten a window into their thought process and sort of why they work in the horror genre and what they feel like they can accomplish through that. And additionally, just in my own career, I've been making a lot of movies lately and I was fearing that they were all sort of starting to hit the same audience over and over and over, and that there wasn't a lot of new ground being covered. That's like my biggest fear as a filmmaker is to just sort of get comfortable within a certain zone and then kind of keep doing the same thing.
So this movie came along right at a time where I was really excited to kind of challenge myself and try something new, so I really went in rather than, for instance, subverting the genre by doing a mumblecore version of horror, "V/H/S" seemed like a really good opportunity to do horror horror, and to really surprise people. And so I took it really seriously, the opportunity to like really make something scary and not make something that was like more realistic than less scary.
IFC: You still stuck a little bit of the relationship stuff you love in there, so that was fun.
JS: Yeah, I can't help it. [laughs]
IFC: Are there any other genres that you are interested in trying soon?
JS: Definitely. It's all interesting to me at this point. I had a real sort of revelation experience working on this movie called "You're Next" that I acted in that Adam Wingard directed. It was really cool to be on the set of my friend's movie and to see him sort of like taking on a really big task of making an action thriller and sort of having to visualize and shoot these really elaborate action setups with multiple cameras and stunts and all these kinds of things and I realized as a director I really want to have that skill set.
Even if I never make an action movie, I would still love to know how to shoot an action sequence. How to effectively cover a chase scene, or something like that. So I'm kind of open to all of it right now. I would be happy to dive into more genre stuff and just keep learning as a filmmaker and as a director how to get better at certain things. And I feel like all of that carries over even to relationship movies. Knowing how to shoot an action sequence certainly would help me also know how to shoot a dinner table conversation in a more interesting way.
IFC: You've been a big part of the independent filmmaking and mumblecore community, and that's a community that's changed a lot in the past decade. What elements of the process do you think are the most important to preserve?
JS: For me, the independent films that inspired me and that I fell in love with were tackling stories that were too small or bizarre or whatever for Hollywood to tell. That was kind of like, in the '70s and '80s, that was where American independent filmmaking fit into the picture was like everybody wanted to make studio movies but certain stories weren't going to be told by studios, so if you wanted to tell that story you had to figure out a way to do it yourself.
That's changed a lot. So now I feel like a lot of independent films are just Hollywood movies told on a smaller budget, and oftentimes with the same actors that are in the Hollywood movies. So I've been really still interested in attempting to use independent films to tell stories that just don't make sense on a bigger scale. Like I only need $20,000 to tell this story, for instance. I don't need to try to go out and raise $2 million and get big-name actors. It's been a really fertile sort of practice stage for me to be active as a filmmaker, and I believe the only way to get better at something is to keep doing it and practicing as much as possible.
On the bigger scale where it takes several years between projects, those directors are busy all the time but they're not necessarily busy on set directing actors, and that's the kind of thing I'm trying to be good at. The last three or four years for me have just been about making as much work as possible and really just trying to be active in that community as a director, as an actor, as an editor or whatever else it is. As I'm getting old — I have a son now, I have a family and a house — there are practical concerns that are starting to come in that will probably necessitate a change from doing just $20,000 movies.
IFC: I was going to say, it's interesting you're saying that about the big stars because "Drinking Buddies" has Anna Kendrick, Olivia Wilde, Jake M. Johnson and Ron Livingston. Those are really big names right now.
JS: Yeah, absolutely. "Drinking Buddies," I would almost call it my first film. It's like a reset for me of taking all the things that I've learned and all the work that I've made over the past seven or eight years and now trying to apply that skill set to a movie that is a conventional movie. It's still low budget and it's still improvised and sort of taking the process that I've developed and applying it to a bigger movie. But it's not "Silver Bullets" or it's not "Art History," these very sort of intensely rigorous art films that are very obviously going to appeal to a very small art house audience. Like, "Drinking Buddies" is a movie that's meant to appeal to everybody, and it's been fun to see if I can take the same way of working and apply that to a movie that's aimed at everybody, including the art house audience.
IFC: Can you talk a bit about what "Drinking Buddies" is about?
JS: Sure. Olivia Wilde and Jake Johnson play friends who work at a brewery in Chicago and Anna Kendrick plays Jake's girlfriend and Ron Livingston plays Olivia's boyfriend. I won't say much: it's a relationship movie about couples. It's about craft beer and love. [laughs]
IFC: What more does a movie need?
JS: That's what I'm talking about! It was a blast for me to be able to shoot a movie in a brewery. I'm a home brewer and a real beer geek, so it was really just a dream come true for me to make that movie.
What do you think of Swanberg's thoughts on independent filmmaking? Do you plan to see "V/H/S"? Tell us in the comments section below or on Facebook and Twitter.