"V/H/S" co-director Joe Swanberg talks horror, beer and independent filmmaking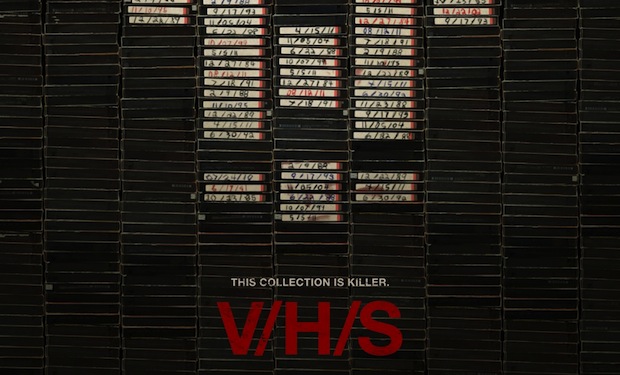 Posted by Terri Schwartz on
If you're a fan of horror movies, you'll probably love "V/H/S." The Sundance darling was the brainchild of indie filmmakers Adam Wingard, Ti West, Joe Swanberg, David Bruckner, Glenn McQuaid and the directing quartet known as Radio Silence, and features five various shorts that, when combined, present a stare-at-your-lap-for-a-third-of-the-movie tapestry of found-footage terror.
The film is finally hitting On Demand on August 30 and is due in theaters on October 5, and in anticipation of its arrival for public consumption, IFC had the chance to catch up with Swanberg to chat about his segment of the movie. His 17-minute-long short, "The Sick Thing That Happened To Emily When She Was Younger," tells the chilling story of a college student who turns to her long-distance medical school boyfriend when she begins to fear she is haunted by a ghost. The story is told through recorded Skype conversations, and ends up being one of the most unique takes on a classic horror trope that I personally have seen in many years.
Swanberg is best known for his work in the mumblecore genre thanks to films like "LOL," "Hannah Takes the Stairs" and "Silver Bullets," so it was a bit of a surprise to see his name on the roster for "V/H/S." But, as he explained during our conversation, his involvement in the anthology was just his way of starting off on a new direction of his career.
IFC: What inspired you to use a Skype conversation to tell your story?
JOE SWANBERG: I've been trying with a lot of my films to sort of chart the way communication's been changing. So my second feature "LOL" that I made is kind of all about technology and cell phones and laptops and how that stuff is helping and hindering communication. "Uncle Kent," a movie that I made two years ago, is about a guy who's sort of heavily into Chatroulette and Craigslist, so it's just interesting to me.
It's tricky stuff for films to deal with because the technology's changing so quickly that I think Hollywood is hesitant to invest a lot of money and research into movies that use technology that may not be relevant in a year or two. But with independent film and shorter stuff like the "V/H/S" segment, it's a really good opportunity to dive into something that may not be all that interesting for a feature film, like using Skype. I feel like getting to do a 17-minute segment in "V/H/S" was a lot more realistic — and having the whole thing taking place over Skype — than thinking about doing a feature film involving Skype.
IFC: But at the same time it was one of the most surprising because the bait-and-switch came out of nowhere, and that was largely based out of our preconceived notions of long-distance relationships. Can you talk a bit about the inspiration for that?
JS: Simon Barrett wrote the segment that I did and he's somebody who I've collaborated with as an actor. I've acted in a bunch of films that he's written that Adam Wingard has directed. So they sort of brought me into the project. I had acted in Ti [West]'s "V/H/S" segment, but it was really Adam and Simon sort of lobbying on my behalf so the producers would sign off, because I'm like nobody's first choice for a horror anthology. They believed in me and gave me that shot, but Simon wrote it knowing that I would direct it. We kind of talked about different ways to shoot it and felt like just going full in for the Skype thing made a lot of sense.
Also, it is one of these kind of things where basically everything on the Internet is an illusion or could be fabricated. It was really fun to play with that idea for this long-distance couple. And it's really scary to think that the person you're talking to who you're thinking is a long way away is actually right next-door. I think that's kind of an old horror conceit. That kind of goes back to the old scary story of the babysitter who is getting prank phone calls and they call the police and they say the calls are coming from inside the house or something. I feel like that's a great classic, and it's still really scary. The idea is still really scary. I think it's more scary when it's somebody you love and trust. That makes it way worse.