Shelf Life: Arnold Schwarzenegger's "Total Recall"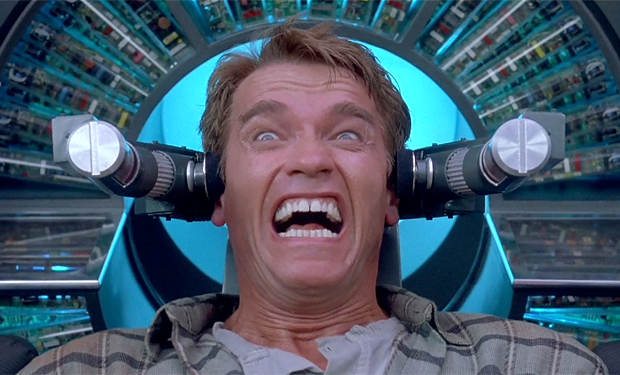 Posted by Todd Gilchrist on
"At that age" movies are not just a phenomenon that I've mentioned (or coined, perhaps) before in Shelf Life columns, they're almost literally the reason for it at all. There's a whole universe of films we see when we're kids, adolescents, or during other formative moments in our lives that stick with us or mean something. Needless to say that doesn't mean they're good, no matter how much we love them. But one part of being an adult is distinguishing between the things we embrace emotionally, and the things we process intellectually.
All of which brings us to "Total Recall." In 1990, I was 14 years old, and by then I'd been introduced to the world of R-rated entertainment, and in particular the oeuvre of Arnold Schwarzenegger. He was in so many ways – including literally – larger than life, and his films kind of exploded in my brain as a kind of adult escapism that I'd never encountered before. Nevertheless, my mom had to buy my ticket for "Recall," but it became yet another watershed moment in my evolution as a moviegoer. With the release of a remake and a spanking-new Blu-ray this week, it seemed like high time to revisit the film and see whether my halcyon memories held up.
---
The Facts:
After opening on June 1, 1990, "Total Recall" was a massive hit upon its release, earning more than $260 million during its theatrical run. Its development was a labyrinth of false starts and revisions: David Cronenberg and Dino DeLaurentis were both attached at different times in the 1980s, before screenwriters Ronald Shusett and Dan O'Bannon finally found a game collaborator in Paul Verhoeven. Verhoeven recruited several of his former collaborators, including actor Ronny Cox to play Cohaagen, cinematographer Jost Vacano and special effects designer Rob Bottin, who effectively used this film as a showcase for some of the last miniature and practical effects the industry would use before the advent of CGI permanently changed special effects.
Bottin, Eric Brevig, Tim McGovern and Alex Funke received Oscars – an Academy Special Achievement Award for visual effects. The film was also nominated for Academy Awards for Best Sound Effects Editing, and Best Sound.Meanwhile, the film maintains an 81 percent positive rating on Rotten Tomatoes.
---
What Still Works:
Viscerally, "Total Recall" is still a blast. Verhoeven, coming off of "Robocop," was working on all cylinders as a purveyor of gritty, gruesome action that actually possessed a thoughtful undercurrent, and like its predecessor, "Recall" satirizes consumerism, totalitarian control as well as examines man's control of his own body. The action is spectacularly violent – so much so that I literally remember reading local reviews talking about its violent content – but the glib and almost fun way that it indulges this not only resembles the tone of the action in "Robocop," but enhances the audience's embrace of such exaggerated and fantastical scenarios.
By 1990, Schwarzenegger was one of the biggest stars in the world, and he'd eased into a screen persona that didn't seem altogether far from his real personality – or at the very least, didn't require him to do a lot of heavy lifting, at least acting-wise. But as Roger Ebert observes in his review of the remake, Schwarzenegger's lumbering presence really complements this film's underlying concepts in an odd way, because he seems disoriented in a world (cinematically speaking) that functions so cerebrally. That's not to say that Schwarzenegger gives a bad performance, or he's unconvincing in the role, but that as Douglas Quaid, the actor is at once comfortable commanding the screen and out of his element working with material that's intellectually more complex than most of what he'd done before.
Finally, the greatest thing about "Total Recall" is that it's entirely possible that everything that happens in the film is in fact straightforward fulfillment of the "ego trip" Quaid pays for when he visit Rekall. As Malena, Rachel Ticotin appears on the viewscreen when he's choosing a companion for his vacation. He asks to go to Mars as a secret agent deep undercover who finds himself on the run from killers. And in the end, he saves the planet and gets the girl. Even the backgrounds and landscapes of Mars are viewed in the Rekall sequence, giving further credence to the possibility that he's simply acting out his fantasy and the story is not as multi-layered as it otherwise seems.
---
What Doesn't Work:
Although the special effects are slightly outdated – especially in an era of CGI – the practical make-up and other prosthetics are all top-notch, so I suppose that isn't necessarily a complaint. The film is oddly bright in its photography which seems to undermine the rest of its detail and style, but it's also a film which seems eager to hold nothing back and almost create a cartoonish, exaggerated depiction of this fantastical world.
---
What's the Verdict:
"Total Recall" may or may not be a movie that newcomers to it embrace, at least if they're more conventionally familiar with current special effects techniques and/or the more gritty and humanized approach of modern action movies. But everything that worked in 1990 continues to work now, and it retains all of the entertainment value it ever held, thanks in no small part to the collaboration between Schwarzenegger and Verhoeven. Ultimately, the film is a smart, fun, exciting and engaging sci-fi adventure that examines some deeper ideas – from biological to philosophical – without becoming either simplistic or didactic. In short, "Total Recall" is a great film, which is the only reason why it should even be considered for a remake – to get to recall all of those great qualities all over again.