Top 10 bullet scenes in movies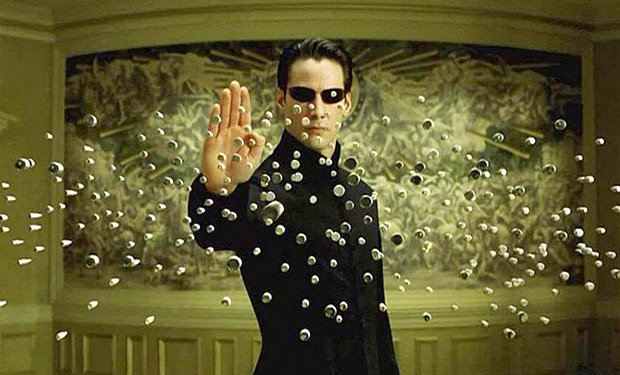 Posted by Bryan Enk on
"The Godfather" (1972) – "Sonny Pays the Toll"
One of the most iconic death scenes in the history of cinema, Sonny Corleone's violent demise at the tollbooth in "The Godfather" turned what had been a somewhat whimsical crime fable into a full-blown tragedy of almost Shakespearean proportions. Sonny's death comes as no surprise – the hothead eldest son of Vito Corleone was practically asking for some sort of karmic retribution from the start – but the sheer brutality of his murder still has the power to shock and amaze. And it's the kick to the face that's, well, the kicker – after all that blastin', one of the shooters still wasn't satisfied; he had to plant his boot in the dead man's mug. For Chrissakes, don't get involved with the Mafia.
---
"RoboCop" (1987) – "Just a Glitch"
Paul Verhoeven's somewhat, er, special sense of humor came out in full force with the introduction of ED-209 in "RoboCop," a lumbering, growling stop-motion behemoth who apparently can't tell when you've complied with his orders within 20 seconds. ED blasting the holy hell out of poor Mr. Kinney is, rather oddly enough, one of the film's funniest moments, even moreso when you take a look at the big picture – who the heck brings a giant malfunctioning armed robot to the conference room, anyway (ahem, Ronny Cox)? Just as amusing is everyone else's reactions once the shooting stops; there's a satirical air of desensitized "Well, just another day at the office" as the smoke clears. Get that glitch fixed, Dick.
---
"The Crow" (1994) – "Fire It Up!"
"Here's to Devil's Night, my new favorite holiday." And how does one celebrate Oct. 30th in the highly art-directed industrial wasteland known as Detroit? You do shots at everyone's favorite dive bar, The Pit, of course. Though not just any ordinary shots, mind you – the night before Halloween calls for something a little more decadent; namely, a bullet to go down with that cheap house whisky. Gang leader T-Bird one-ups everyone by chasing his with burning his own tongue with his cigar, just to show that no one knows how to party quite like David Patrick Kelly. Don't worry, they'll all get theirs before the sun comes up.
---
"Three Kings" (1999) – "Gunshot Wound 101"
David O. Russell's subversive, oddly playful approach to what could've been a harrowing war story turned "Three Kings" into a fun treasure hunt of a movie as George Clooney, Mark Wahlberg, Ice Cube and (for a while) Spike Jonze go searching for hidden gold during the last days of the first Persian Gulf war. Roger Ebert said it best when he called the film a "screw-loose war picture that sends action and humor crashing head-on into each other and spinning off into political anger." It's the kind of movie where we get a heavy visual assist from the CG animation team when Clooney describes exactly what a gunshot wound does to the inside of your body (it's not good). It's also the kind of movie in which a cow might just suddenly explode.
---
"The Departed" (2006) – "Going Down in the Elevator"
Anyone who had seen "Infernal Affairs," the Hong Kong action film on which "The Departed' is based, knew what was going to happen to Leo once that elevator door opened … but, let's face it, not many Yankees had seen "Infernal Affairs." Kudos to Martin Scorsese for keeping this moment for the American remake (though Leo is certainly no stranger to getting killed in his movies) and kudos to "Affairs" directors Wai-keung Lau and Alan Mak for having their hero go out so quickly and without fanfare; in a violent world, you never quite know when your time is up, and it might not ultimately make for a "cool" death scene. Anyway, this counts as one of the great "collective audience gasp" moments in cinema; the ridiculous CG rat in the closing shot of the film counts as another.
---
What is your favorite bullet scene? Tell us in the comments below or on Facebook and Twitter.