"Thor: The Dark World" gains "Star Trek" villain Alice Krige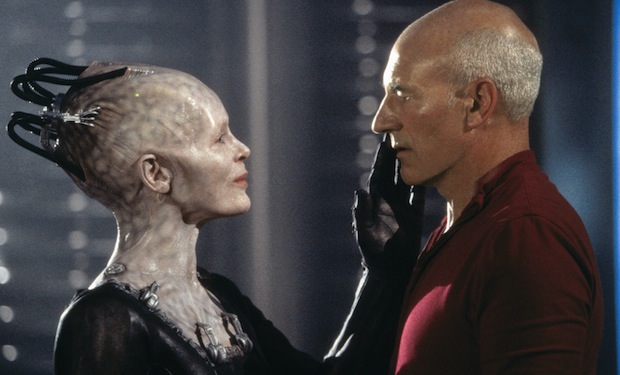 Posted by Terri Schwartz on
Fans might not recognize Alice Krige by her name, but they certainly will by her film resume. The actress is best known for playing the Borg Queen in "Star Trek: First Contact" and subsequent TV episodes and video games, as well as Morgana in "The Sorcerer's Apprentice" and Christabella in "Silent Hill." Now she's adding a new genre movie to her filmography: "Thor: The Dark World."
ComicBookMovie.com was on hand when Krige announced that she has a small role in the upcoming "Thor" sequel at the Star Trek: Las Vegas convention. According to the site, she "may not be recognizable in the film," which implies that she'll again be donning heavy make-up for the character she plays. Considering we know that the plot of this film centers around the Dark Elves of Svartalfheim, it could be that she is playing one of them. CBM speculates that she could be Alflyse, the queen of the Dark Elves.
There are still plenty of roles to be cast in this film and plenty more that we don't know about it. But that doesn't stop us from getting excited about the upcoming "Thor" sequel. In a recent interview, Tom Hiddleston teased that "Thor: The Dark World" is going to crank the Marvel universe up a notch.
"I don't want to give too much away. But I can guarantee that you won't be disappointed," he teased. "Alan Taylor's vision of 'Thor 2' is utterly brilliant. The journey continues in the most epic dimension and proportion imaginable. It's very, very exciting."
"Thor: The Dark World" is due in theaters on November 15, 2013. It stars Chris Hemsworth, Hiddleston, Christopher Eccleston, Natalie Portman, Anthony Hopkins, Zachary Levi and Idris Elba. The film will follow the plot line of Thor's confrontation with Malekith the Accursed and the Dark Elves of Svartalfheim made popular by the comic books.
Are you looking forward to "Thor: The Dark World"? Tell us in the comments section below or on Facebook and Twitter.