The 10 funniest Phyllis Diller moments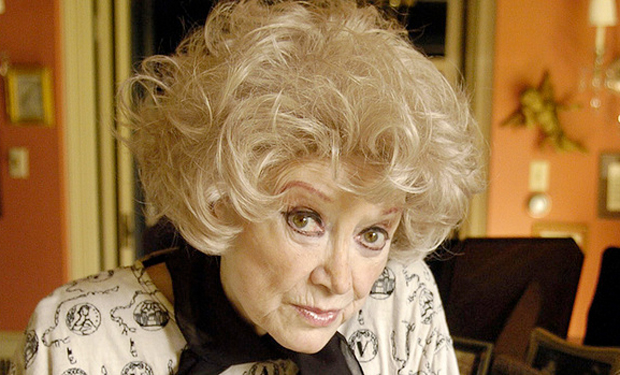 Posted by Andy Hunsaker on
We've recently lost the mighty Phyllis Diller at the age of 95, whom many consider to be the first nationally famous female stand-up comedian, and who undoubtedly influenced generations of comics to come. Bob Hope loved her after seeing this 37-year-old wife and mother work San Francisco's Purple Onion comedy club in the 1950s, complaining about her looks, her husband "Fang," and her own domestic ineptitude in the heyday of the idealized homemaker. She became a mainstay on Hope's television specials – not to mention Johnny Carson's "Tonight Show" as well. She was raucous, she was incisive, she was self-deprecating and always endearing. Here are 10 moments from her long and outstanding career.
---
"You Bet Your Life"
Phyllis Diller made her first ever television appearance on the legendary show hosted by the even-more-legendary Groucho Marx, whose compliments as to her comic abilities encouraged her to focus on making her stand-up comedy career successful.
---
Wardrobe Choices
As you saw from the previous clip, Diller's look needed some adjustment. Since her material so often focused on mocking herself, her trademark look became a wilder and crazier outfit every time around the horn. In this case, we see she chose something specific to help emphasize her bird-leg routine.
---
"The Liberace Show"
Diller might've been the only person in the world who could give Liberace a run for his money as far as outlandish fashion statements go. Here's a clip in where she actually gets into a piano duet with the pianist icon.
---
"Boy Did I Get a Wrong Number"
Bob Hope always liked Diller from the get-go, and he brought her into this 1966 film as his maid who gave him no end of guff, mocking his career and drinking all his hooch.
---
"The Pruitts of Southampton"
Diller had her own short-lived television shows as well – first in this sitcom about a wealthy family in a huge mansion who was secretly deep in debt. This one ran from 1966-67, and was eventually just retitled "The Phyllis Diller Show." Here's the original opening theme song complete with her trademark laugh, which just screams 'classic.'
---