"The Hobbit" special edition 3D glasses revealed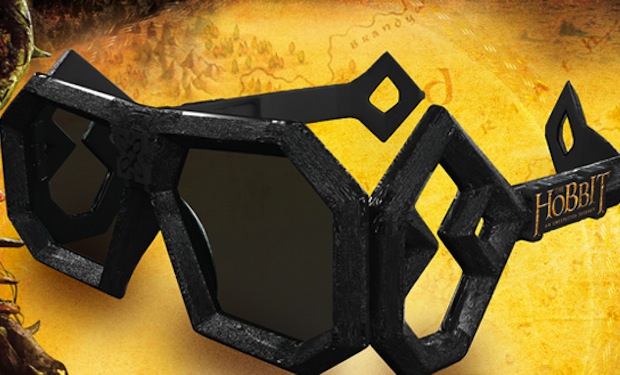 Posted by Terri Schwartz on
"The Hobbit" films are pushing the boundaries of film technology by being released both at 48 frames per second and in 3D, and now we're seeing some of the results of that.
HobbitFilm.it has posted the first images of the special edition RealD 3D glasses that will be distributed in select theaters for the release of "The Hobbit." A description for the glasses says that they're inspired by Middle-earth specifically for the upcoming film.
There has been some backlash to Jackson's decision to shoot at 48 frames per second, but he has said it will make the overall 3D experience better. We'll reserve judgment until we're sitting in theaters — hopefully wearing these glasses — and watching the movie.
Earlier this year, Elijah Wood talked about the experience of filming in 3D and said that the technology really looks great on "The Hobbit."
"I was on set for 'The Hobbit,' in [director] Peter [Jackson]'s little tent where he has the monitor that he watches, you're watching it in 3D. That is amazing, but at the same time, you're like, "Oh, okay, that's what we're doing here," Wood said. "It's an odd sense of just tuning into it and accepting it, but it's totally amazing. And, it's really cool to see the 3D on set, and to know what the images ultimately look like. The technology is so good now."
"The Hobbit: An Unexpected Journey" is due in theaters on December 14, with the next two films coming out the following two years.
Do you plan to see "The Hobbit" in 3D? Tell us in the comments section below or on Facebook and Twitter.