The five most kick-ass R. Lee Ermey movie roles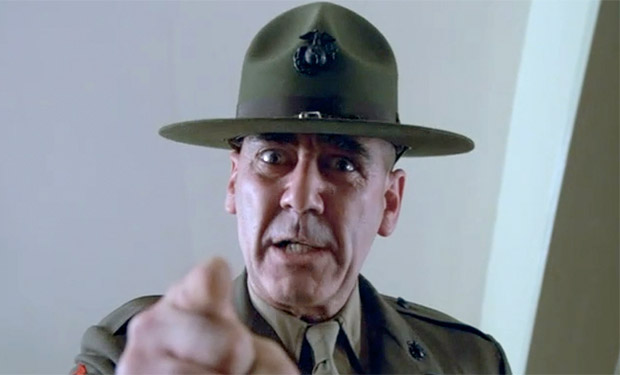 Posted by Scott Neumyer on
If there's a character actor on the planet that's better at yelling loudly at people onscreen than R. Lee Ermey, I'd be very surprised. The retired United States Marine Corps Drill Instructor-turned actor has been around for a long time and has racked up some of the most easily recognizable performances in cinematic history. In honor of Ermey's most famous role (as Gunnery Sergeant Hartman) in Stanley Kubrick's "Full Metal Jacket" hitting Blu-ray this week in a fabulous 25th Anniversary Digibook Collection, we decided to run down the actor's top five greatest, and most memorable, performances. Company…. Halt!
---
"Willard" (2003)
Glen Morgan's 2003 re-imagining of the 1971 rat-loving film "Willard" is easily one of the most underrated horror films of the last decade. A true slow burn of a film, "Willard" boasts amazing performances by the ultra-creepy Crispin Glover, R. Lee Ermey, Laura Elena Harring, and hundreds of rats both real and CGI. And while Glover's offbeat performance as the eccentric outsider tasked with taking care of his sickly, cantankerous mother is often praised as the film's greatest asset (and for good reason), R. Lee Ermey's turn as Willard's jerk of a boss is nearly as impressive. If there's anything that Ermey does well, it's berate people, humiliate them, and play up the mean old crank in his characters, and Frank Martin is no exception. By the time he eventually bites it, at the hands of many an angry rat, the audience is thrilled to see him go. It's a testament to Ermey's performance that he not only effectively gets under the skin of his fellow characters, but he also drives the audience equally as mad. Bonus points goes to "Willard" for an ingenious and absolutely perfect use of Michael Jackson's classic song "Ben."
---
"The Texas Chainsaw Massacre" (2003)
Nobody really wanted to give Marcus Nispel and Michael Bay's remake of Tobe Hooper's horror classic "The Texas Chainsaw Massacre" a shot, and I don't really blame them. The 1974 original is a seminal film in the genre and one that is nearly possible to replicate. What audiences didn't count on, however, was that Nispel's vision would actually be pretty interesting. His version of "The Texas Chainsaw Massacre" might not be the original, but it doesn't have to be. It's a fun re-imagining of the film and one that stands on its own pretty well. And much of that success is due to R. Lee Ermey's turn as the no-nonsense Sheriff Hoyt. He's loud, angry, and obnoxious but he's also one of the highlights of the film. Ermey makes the character evil to the core and, again, it's a relief when he's finally dispatched (this time via the hulking mass of a car being driven over his body repeatedly).
---
"Toy Story" Series (1995, 1999, 2010)
And so we come to the softer side of R. Lee Ermey. Since the film "Toy Story" film in 1995 until the most recent entry in the series hit theaters in 2010, Ermey has played the leader of the plastic Army men, Sarge, to perfection. It's not nearly the biggest part in a huge ensemble of excellent voice actors (the Army men don't exactly have a ton of screen time in the series), but it's a memorable one that helped introduce the grizzled voice of the character actor to a whole new generation of kids raised on Pixar awesomeness. Imagine an extremely toned-down version of Gunnery Sergeant Hartman and you'll have a good idea of what Ermey is doing here. Fun stuff.
---
"Se7en" (1995)
Probably one of the most overlooked roles in Ermey's illustrious career is that of the police captain in David Fincher's 1995 hit "Se7en." Ermey takes the limited role and makes it his own in a way that only R. Lee Ermey could do. The captain is quick-witted, impatient, and smarmy in a way that's completely unique and captivating. He's a no-nonsense guy that doesn't want to deal with all the B.S. and just wants to close his cases – something that neither Mills (Brad Pitt) nor Somerset (Morgan Freeman) are making easy for him. Ermey's role in "Se7en" is another one of those character actor parts that might make audiences say, "Hey, I know that guy! He's that guy from that movie!" but it's also an important one that's help make the Fincher thriller a classic.
---
"Full Metal Jacket" (1987)
R. Lee Ermey's role as Gunnery Sergeant Hartman in Stanley Kubrick's 1987 film "Full Metal Jacket" is easily the actor's (and, I would argue, cinema's) most memorable characters. The foul-mouthed, sharp-tongued Marine is the piece of the puzzle that keeps the first half of Kubrick's film together and has become so ubiquitous in pop culture that it's been parodied, copied, and even turned into an Internet meme numerous times. What is perhaps most amazing in all of this, however, is the fact that Ermey wasn't even supposed to play the drill instructor role when Kubrick was first putting together his classic. He was simply a technical advisor on the film until the legendary director heard the actor going on a drill instructor tirade and knew he was perfect for Hartman. So impressed, Kubrick even relinquished some of his storied control of the product by letting Ermey write and ad-lib much of his own dialogue. We'd say it worked. Ermey's scenes in "Full Metal Jacket" are some of the most recognizable in cinematic history.
---
What's your favorite R. Lee Ermey movie role? Tell us in the comments below or on Facebook and Twitter.