"The Expendables 3″ gains Nicolas Cage, while Clint Eastwood and Harrison Ford are considering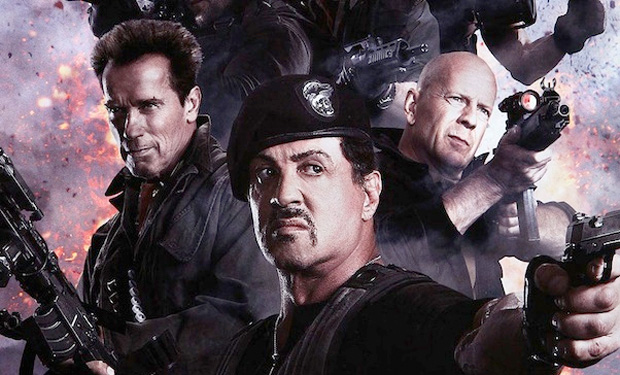 Posted by Terri Schwartz on
"The Expendables 2" might not be in theaters yet, but that doesn't mean that the folks behind the film franchise don't have their sights set high for number three.
Leading man Sylvester Stallone has managed to gather quite a collection of '80s action heroes for the first two "Expendables" movies. There's been plenty of talk about how "The Expendables 2" brings together Stallone, Bruce Willis and Arnold Schwarzenegger, but let's not forget that it also stars Chuck Norris, Jason Statham, Jean-Claude Van Damme, Dolph Lundgren, Jet Li, Terry Crews and Randy Couture. In a new interview with Total Film, producer Avi Lerner said that they plan to expand the cast even more for "The Expendables 3."
"We've approached Clint Eastwood to be one of the guys, we've got a character in mind for him. We're talking to Harrison Ford. [And we want] Wesley Snipes when he comes back from prison. I'll give you one more name, we've got Nicolas Cage to play [one of the characters]," Lerner teased. "And we're going to bring Mickey Rourke back, if he won't be too crazy. I like Mickey. And of course, all the existing stars [will return]."
Apparently there's even a chance Van Damme will be able to play his evil twin in the upcoming sequel as well.
"The Expendables 2" seems like a sure-fire success, so "The Expendables 3" is already expected to start filming this fall. If anything, "The Expendables" movies are a nod to their stars' careers, so it really is incredible that Lerner is talking to some of the names that he has been. The fact that Nicolas Cage is on board is one thing (we know he likes to poke fun at his own image thanks to "Kick-Ass" and "Drive Angry"), but Clint Eastwood and Harrison Ford? That would be truly incredible.
"The Expendables 2" is due in theaters this Friday. Don't let this awesome casting rumor ruin the fun you'll have when you see number two this week.
What action stars would you most like to join "The Expendables"? Tell us in the comments section below or on Facebook and Twitter.