Unrated "The Dictator" deleted scene is very NSFW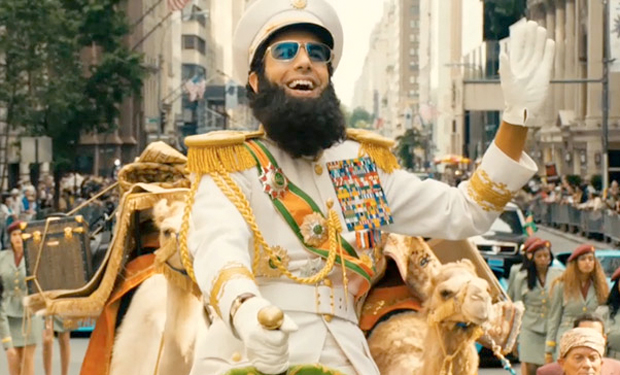 Posted by Terri Schwartz on
If you thought that the one thing "The Dictator" was really missing was a giant-breasted assassin being sent to kill Admiral General Aladeen, then you're going to be really happy to see this new deleted scene from the movie.
Don't watch this video if you're not in the privacy of your own home, because it is definitely not appropriate for the workplace. It features Busty Heart, the H-cup woman born as Susan Sykes, as the virgin guard Etra. In this scene, she surprise attacks Sacha Baron Cohen's titular dictator on orders of the Republic of Wadiya. Does she succeed? This clip cuts off before the fight is over, but it looks like Aladeen isn't going to be able to get the upper hand very easily. It serves him right to get beat up by the two things he loves most in the world.
Busty Heart rose to fame thanks to her appearance on the finale of the 2008 season of "America's Got Talent." She did show that she was capable of breaking boards with her breasts on that show, but she definitely didn't do it topless like she did in this scene. We understand why the clip had to be saved for the "banned and unrated" version of the film, since we don't know how people would have responded to seeing this in theaters.
As a refresher, the official synopsis of "The Dictator" explains that it is a comedy that "tells the heroic story of a dictator who risked his life to ensure that democracy would never come to the country he so lovingly oppressed." You can find the film on Blu-ray and DVD today.
Do you plan to pick "The Dictator" up on DVD or Blu-ray? Tell us in the comments section below or on Facebook and Twitter.