Ron Howard on "Arrested Development": "The scripts are hilarious"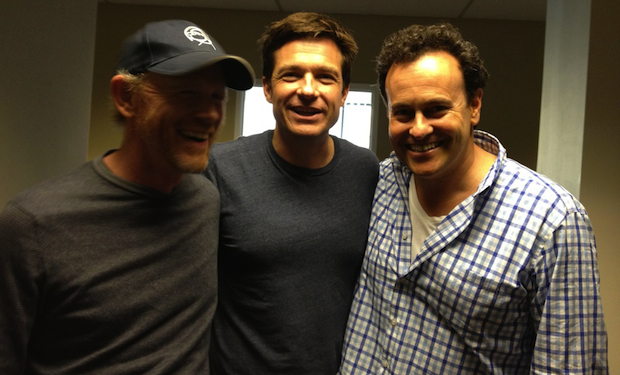 Posted by Terri Schwartz on
If anyone's been a big supporter of "Arrested Development's" long-anticipated return, it's been Ron Howard. The show's producer and narrator has been teasing us on Twitter about the new season. He and star Jason Bateman have seemingly teamed up to make desperate to find out if episodes like "Michael" are as good as they claim.
Fortunately, there's someone else around to do the digging for us. MTV News caught up with Howard recently and tried to pry anything and everything they could out of him about the upcoming season.
"It's great. People stopped believing me when I would say 'I think it's going to happen! I can't guarantee it, but I think it's going to happen!' It really is a thrill," he teased. "I visited the set last week. It's a blast over there. Mitch Hurwitz has such a remarkable, creative voice. It's the perfect set of actors to bring it to life. I'm so glad it's back. I'm a fan, too. The scripts are hilarious."
It's not surprising that Howard won't give away any specifics about the forthcoming 10-episode season, but he did say that creator Mitch Hurwitz is going back to the show's roots. If you like the first three seasons that aired on Fox, then you'll probably love this.
"Mitch isn't trying to recreate something," Howard said. "It's been away for a while, and part of the fun that Mitch has been mining and exploiting is, what's new to discover about these people? What's delightfully unchanged? He and the writing staff and the actors have a fantastic sense of that. They're pretty brazen, pretty bold and fearless. That's what made the show into something that fans really kept alive."
Like we've heard from star David Cross, the cast is just as excited to get back into character as we are to have them. Howard said that the attitude on set is very positive.
"[The cast] is in great form and dying to take the characters further," he said. "They're having the greatest time getting together and getting back into it. It's cool and bold and funny, and out there taking chances, just like it always did."
The fourth season of "Arrested Development" will debut on Netflix in one fell swoop at some point next year. It's currently filming.
Are you excited for the fourth season of "Arrested Development"? Tell us in the comments section below or on Facebook and Twitter.