Call-In Commentary: Watch the "Robot & Frank" trailer with director Jake Schreier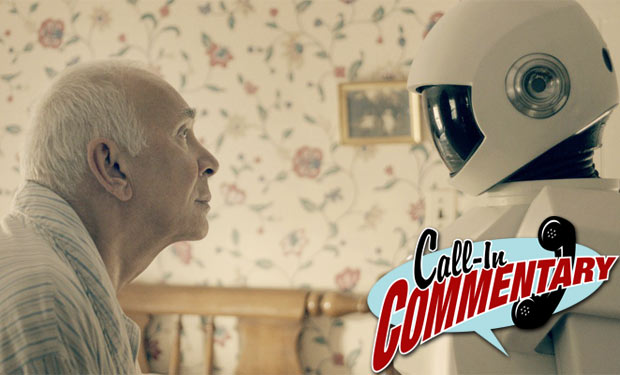 Posted by Brian Jacks on
It's surprising to think that one of the most humanistic films of the year co-stars a machine, but that's what you get with Jake Schreier's new movie "Robot & Frank." Legendary actor Frank Langella plays Frank, an elderly grump in the near-future whose children (Liv Tyler and James Marsden) worry constantly about him as he schlubs his way through his twilight years. Hoping to get his dad's life back in order, his son orders him a robot (voiced by Peter Sarsgaard), a digitally-powered unit designed to function as a butler and caretaker in one. Initially resistant to his new addition, Frank — a "retired" jewel thief — quickly realizes that his robot may be good for more than just fetching glasses of milk.
One of the cleverest and most original films of the year, "Robot & Frank" is funny, touching and a joy to watch. Which is precisely why we were thrilled that Schreier agreed to record a Call-In Commentary for us, where filmmakers provide a narration to their movie trailer. In the video below, the director takes you through the storyline and its many characters.
"Robot & Frank" opens in NYC tomorrow, and August 24 in Los Angeles and other major cities, opening wide on August 31.
video player loading
.
.
.
MORE CALL-IN COMMENTARIES:
– Watch the "Iron Sky" trailer with director Timo Vuorensola
– Watch the "Nitro Circus: The Movie 3D" trailer with director Gregg Godfrey
– Watch "The Imposter" trailer with director Bart Layton
– Watch the "Dark Horse" trailer with writer-director Todd Solondz
– Watch the "Snow White and the Huntsman" trailer with director Rupert Sanders
– Watch the "Bernie" trailer with writer-director Richard Linklater
View more Call-In Commentaries…
Will you be checking out "Robot & Frank"? Let us know in the comments below, or on Facebook or Twitter.