Rashida Jones on watching spy films for her upcoming "Frenemy of the State"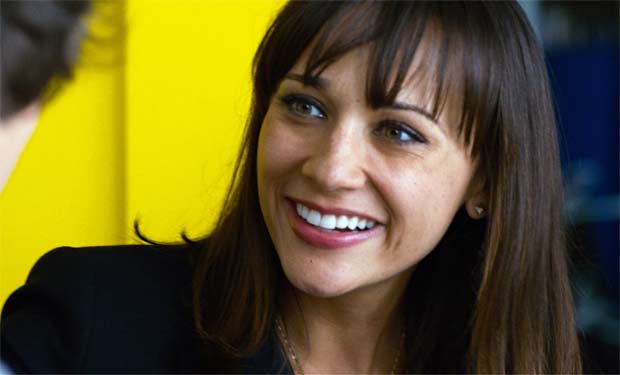 Posted by Jennifer Vineyard on
When "The Bourne Legacy" comes today, Rashida Jones will be one of the first in line to see it. At least that's the impression she gave IFC upon learning we had just seen it before sitting down to talk about her new film, "Celeste and Jesse Forever." "How is it? Is it good? As good as ['The Bourne Identity']?" she asked us, pressing for details.
Her interest was about more than just planning how to spend her weekend — just as she and her writing partner Will McCormack had previously gorged themselves on rom-coms for inspiration for "Celeste and Jesse," they're now watching spy films to prep for inspiration for their next writing project, "Frenemy of the State" — about a socialite who becomes a spy.
"We watched Bond movies, the 'Tinker, Tailor, Soldier, Spy' BBC series, 'The Spy Who Came in from the Cold' with Richard Burton," she said. "And we read Valerie Plame's book, ['Fair Game: My Life as a Spy, My Betrayal by the White House'] for lady spy things."
Jones started writing "Frenemy of the State" as a comic book with co-writers (and husband-and-wife) Christina Weir and Nunzio DeFilippis, which was later optioned by Universal Pictures and Imagine Entertainment. Jones and McCormack have finished the first draft and are on to the second, but this isn't a vanity project for the actress to star in.
"We wrote it for a 21-year-old," Jones said, "and I don't want to write something that I'm in again anytime soon. I think I want to keep them separate for now."
The protagonist of "Frenemy" is Ariana Von Holmberg, an heiress who uses her tabloid globe-trotting as a cover — if she's caught out on a ledge, she (or at least the CIA) can put out the story that she was "on a bender" to excuse her actions (never mind she's actually been sober for two years). She basically has to keep up the persona she cultivated when she was young and immature, because her fame is something more than a desire for attention. But there are drawbacks — she has to make her successes look like accidents, such as pretending she can't fight in a fight for her life. Her primary mission in the comics involves stopping a nuclear weapons deal.
"Spy plots are hard, really hard," Jones laughed. "I struggled with the spy part of it. The lifestyle stuff was easy, but the spy stuff was hard." She admitted to amnesia-envy — the plot twist behind "Total Recall" and "The Bourne Identity" which allowed filmmakers to "just create whatever you want and it just is what it is. It's such a good plot point."
Eventually, Jones would like to direct a film as well as write one, but not just yet. "Will and I have talked about maybe the next thing we write, me directing it, too," she said. "It wasn't the thing I grew up wanting to do, but as actors, we have a lot of sensitivity for other actors — what they need, what they don't need. So we'll see. But I would never direct myself," she conceded. "I couldn't do that."