President Obama calls Anne Hathaway the "best thing" in "The Dark Knight Rises"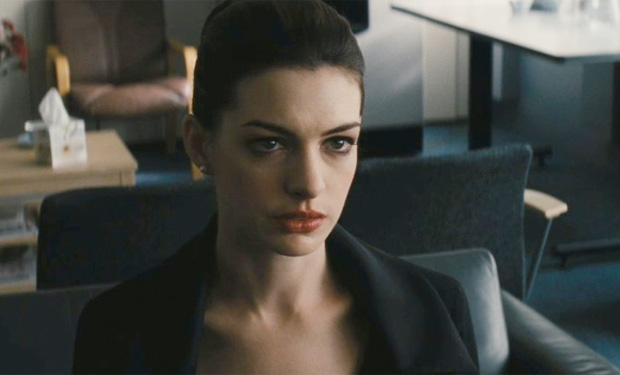 Posted by Terri Schwartz on
Anne Hathaway's performance as Catwoman in "The Dark Knight Rises" was so well received that there have already been discussions for giving her a spin-off movie. That's certainly a good mark of approval, but now she's gotten one better. While attending a fundraising event at Harvey Weinstein's home in Connecticut Monday night, President Barack Obama gushed about Hathaway's role in the film.
"She's spectacular," The Huffington Post reports he said about Hathaway, who was also in attendance. "I got a chance to see Batman, and she was the best thing in it. That's just my personal opinion."
It turns out he's not the only one who thinks that way. Early Oscar discussions are saying that Hathaway is "The Dark Knight Rises'" best chance at an Academy Award acting nomination. She would follow in the footsteps of Heath Ledger, who won a Best Supporting Actor Oscar for his role as the Joker in "The Dark Knight."
When asked if she would be interested in doing a later Catwoman spin-off film, Hathaway told Digital Spy, "If [Christopher Nolan] is interested, then I'm very interested. I think it would be lovely to see more of her but only if it's with the right people. She lives in this Gotham City and so it would have to be established by the people who have made this Gotham City. For me, at least."
Unfortunately, it doesn't seem like Nolan is too interested. While he might be convinced to produce the film like he is with Zack Snyder's "Man of Steel," he has said he's done directing movies in the Batman universe.
"Anne is incredibly precise and articulate about the psychology of the character. She's really built it from the ground up. It's just a delight to watch her perform. The things she does in those heels is not to be taken lightly. She's an incredible character and we're very excited to see her and hopefully we'll leave people wanting more," Nolan told Access Hollywood. "For me, Gotham and these characters, I'm done. I've told our story and I'm moving on. [But] I certainly think she deserves it, she's incredible."
What was your favorite part of "The Dark Knight Rises"? Tell us in the comments section below or on Facebook and Twitter.