Rachel McAdams gets kinky in trailer for Brian De Palma's "Passion"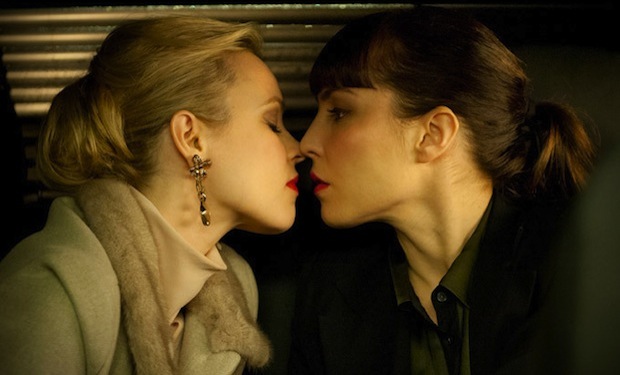 Posted by Terri Schwartz on
If you hadn't yet heard of Brian De Palma's latest directorial effort, "Passion," then now is the time to start paying attention.
The first trailer for the film has finally debuted now that it is coming close to its Toronto Independent Film Festival and Venice Film Festival debuts, and the flick looks rife with exactly what the title promises. Rachel McAdams and Noomi Rapace star as a career woman and her assistant (respectively) who enter into a game of sexual politics that likely won't end well for any of them.
McAdams, known best for her sweet roles in "The Notebook" and "The Time Travelers Wife," looks like she's having the time of her life in this film. This is the first time we've really seen her be able to step away from the romantic roles she's typically stuck in, with "Mean Girls" being the closest she's ever come to being this malicious. The trailer only teases the downward spiral Rapace goes on, but the below synopsis promises that she'll end up being just as manipulative as Isabel as McAdams is as Christine.
Here's the official synopsis for "Passion" from the TIFF website:
"Passion" is a remake of Alain Corneau's elegant thriller "Crime d'amour," which we presented at our Festival in 2010. De Palma follows the structure of the original while making it entirely his own. The film centres around two women: Christine (Rachel McAdams), an elegant, ice-cool blonde career woman who holds a senior position with a high-powered advertising agency; and her assistant Isabel (Noomi Rapace), a shy and reticent brunette. Christine has a silky smooth charm, but underneath her veneer of control hides a tangle of kinky sexual needs. Isabel, smart and creative despite her hesitance, harbours a growing ambition.

When Christine claims credit for a daring marketing campaign that was entirely Isabel's idea, the gloves start to come off in subtle ways. Isabel is initially disarmed by her boss' candour: as Christine explains it, stealing her idea was simply business. But things change when Christine humiliates Isabel in public. With the plot set in motion, De Palma uncorks all the stops and, with wild abandon, launches into a labyrinthine revenge story.

As Isabel schemes, Christine parries her thrusts with calculated bravura. De Palma relishes these kinds of baroque plots; here he lets rip with a series of set pieces in the style for which he is famous. McAdams and Rapace revel in the expanse De Palma always allows his actors, while the story twists and turns in unexpectedly. Scratch below the surface: passions rage.
"Passion" does not yet have a US release date.
Are you intrigued by this new trailer for "Passion"? Tell us in the comments section below or on Facebook and Twitter.